Hockey Hall of Fame
Announces 1999 Inductees

Wayne Gretzky Unanimously Elected In Player Category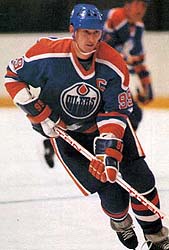 TORONTO (June 23, 1999) -- Jim Gregory, Chairman of the Hockey Hall of Fame Selection Committee, announced today that Wayne Gretzky, the NHL's all-time leading scorer, has been elected into the Hockey Hall of Fame in the Player Category. The vote was made today at the Annual Elections Meeting of the Selection Committee in Toronto.

"The Hockey Hall of Fame is proud to welcome Wayne as an Honoured Member," said Jim Gregory. "Wayne's contributions to the game of hockey at all levels are unprecedented and his election to the Hockey Hall of Fame is richly deserved."

Wayne Gretzky began his professional career in 1978 at the age of 17 with the Indianapolis Racers of the WHA. After eight games with the Racers he was traded to the Edmonton Oilers. In 1979 with the merger of the WHA and NHL, Gretzky's incredible assault on the NHL record book began. During the 1980's Gretzky won the Hart Trophy nine times and led the NHL scoring seven times. Gretzky currently holds over 60 NHL records.

"As a kid I never imagined that one day I would be in the Hall of Fame, but dreams do come true," said Gretzky. "I am overwhelmed with this honour and to be part of the Hall of Fame is a great tribute."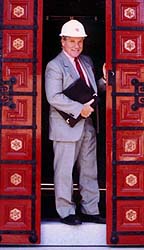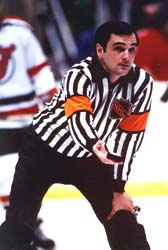 In the Builder Category, Ian "Scotty" Morrison was elected in recognition of his longtime contributions to the game. Morrison served as the NHL's Referee-in-Chief and Vice-President, Officiating from 1965 until 1986, before he was named President of the Hockey Hall of Fame. In his new position, Scotty was responsible for finding a future site for the Hall and the development of a new Hockey Hall of Fame. Morrison served as Chairman and Chief Executive Office of the Hockey Hall of Fame until his retirement on July 31st, 1998.
Veteran NHL referee Andy Van Hellemond was elected in the Referee/Linesman Category. Andy retired in 1996 after a stellar career that included officiating 19 of the previous 20 Stanley Cup finals. During his 25 year NHL career, Van Hellemond established a new standard for referees and 14 times was ranked the NHL's top official.
In addition, Russ Conway, Sports Editor of The Eagle-Tribune in Lawrence, MA, and a nominee for a Pulitzer prize for outstanding investigative journalism is the recipient of the Elmer Ferguson Memorial Award for his achievements in print media, as selected by the Professional Hockey Writers' Assocation. Richard Garneau is the recipient of the Foster Hewitt Memorial Award, as selected by the NHL Broadcasters' Association, in recognition of his long-time work as a colour commentator on French hockey telecasts.
The 1999 Induction Celebration will be held at the Hockey Hall of Fame on Monday, November 22nd and it will broadcast live on TSN in Canada and ESPN in the United States.