---

1998 Induction Weekend Celebration

---
Fri, Nov. 13 - Sun, Nov. 15, 1998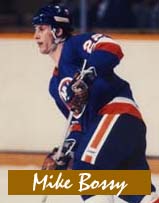 The Hockey Hall of Fame's 1998 Induction Weekend is fast approaching and there are numerous opportunities to meet and interact with some of hockey's greatest players of all-time. Throughout the weekend there will also be chances to win a number of great prizes, including a draw for 10 Royal Canadian Mint Limited Edition 1998 Hockey Hall of Fame Sterling Silver Inductee Medallion Collection, featuring our newest honourees (No purchase necessary to win prize).
FRIDAY, NOVEMBER 13
The weekend kicks off with former New York Islander and Honoured Member Mike Bossy appearing for an exclusive autograph session. In this rare signing appearance, Bossy will be in the WorldCom Great Hall between 2:30 and 4:30 pm, allowing one autographed item per person.




SATURDAY, NOVEMBER 14

Saturday is our Kodak Photo Day and Fan Forum. Four legendary Hall of Famers will be on hand for a question/answer session, followed by a photo opportunity with the Stanley Cup. Between these four gentlemen, they represent 26 Stanley Cup championships.

Starting off the day, 10 time Stanley Cup winner Yvan Cournoyer is at the Hall between 10:30 and 11:45 am. He is followed by an 8 time Stanley Cup champion Leonard "Red" Kelly between 11:30 and 12:45 am. Between 12:30 and 1:45 pm, 3 time Norris Trophy winner Pierre Pilote will be on hand and between 1:30 and 2:45 pm, another 5 Stanley Cups will be represented by Steve Shutt. Finally, Gerry Cheevers and his two Stanley Cups will be present between 2:30 and 3:45 p.m.

Meet and be a part of audience fan forums hosted by Gord Stellick. Cournoyer, Kelly, Pilote and Shutt will take questions from the audience in this rare opportunity to interact with your heroes. They will then proceed to the WorldCom Great Hall, where fans will have a chance to have their photo taken with a Stanley Cup champion and the actual Stanley Cup.

Also on Saturday, there will be numerous opportunities for the guests of the Hockey Hall of Fame to win great prizes. Prizes include hundreds of Kodak's one-time usage cameras and a pair of tickets to the Toronto Maple Leafs Hockey Hall of Fame game that evening versus the Ottawa Senators. (No purchase necessary to win prizes)

Please refer to the 1998 Induction Weekend Schedule for a complete list of times.




SUNDAY, NOVEMBER 15

Sunday's events feature a chance to meet our newest Honoured Members, the Class of '98. Former Quebec Nordiques superstar Peter Stastny, who was the second leading scorer during the 1980's (behind only Wayne Gretzky), will be inducted alongside his teammate in Quebec and a 500 goal scorer, Michel Goulet. Both will take centre stage from 1-3 pm in the Bell Great Hall for a signing session and will autograph only one item per person.
MONDAY, NOVEMBER 16: 1998 INDUCTION GALA
There are still a few tickets remaining for this prestigious event. To order your 1998 Induction Gala tickets, please call Kelly Massé at (416) 360-7735 ext. 212.
Also, please take note that the Hockey Hall of Fame will be closed to the public on Monday, November 16, due to preparation for the 1998 Induction Gala, which takes place that evening. We apologize in advance for any inconvenience that may occur.