29 APRIL 2011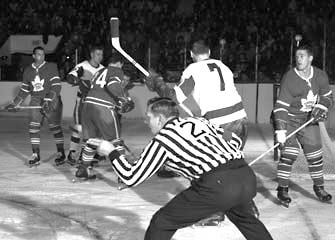 In his first year as an NHL referee, Frank Udavri was given many tough assignments. (Imperial Oil-Turofsky/Hockey Hall of Fame)

For fourteen seasons, Frank Udvari was one of the better referees in the National Hockey League, and for his diligence, fairness and unwavering control in games where situations could easily have gotten out of hand, he was elected to the Hockey Hall of Fall in 1973.

Born January 2, 1924 in Yugoslavia, the Udvaris moved to Kitchener, Ontario when Frank was a youngster. Although his later life was tied to hockey, Frank's earliest sporting inclinations leaned more heavily towards baseball, a game at which he excelled. But hockey was never too far away, and he discovered that he enjoyed coaching. While coaching a juvenile team in Kitchener, the referee failed to show up so Udvari pulled on his skates, grabbed a whistle and handled the game, even though his own team was playing. Both sides agreed that he had done a fine job and over the next three years, Frank refereed games for the Ontario Hockey Association.
Chicago's Stan Mikita arguing with referee
Frank Udvari during game action in 1961.
(Imperial Oil-Turofsky/Hockey Hall of Fame)

By 1951, Udvari was refereeing games in the American Hockey League. Although it was an apprenticeship that he hoped would lead to the NHL, his wait was abbreviated when early in the 1952-53 season, Georges Gravel was lost to the NHL for the season after undergoing a gallstone operation. Udvari was summoned to fill that spot. The learning curve was steep and Frank found some of the assignments quite challenging but his fellow officials and NHL president Clarence Campbell supported him fully and, in short order, he became one of the finest referees in the National Hockey League.

By the time Udvari retired from NHL action in 1966, he had missed but two assignments, both involving family illnesses. On August 1, 1966, Frank was named the NHL's Supervisor of Officials and conducted officiating schools across North America, at which he discovered future NHL officials Bob Hodges and Kerry Fraser, among many others.

Already an Honoured Member in the Hockey Hall of Fame and having been retired for twelve years, Udvari was overseeing a game between the New York Islanders and the Atlanta Flames on December 30, 1978 when referee Dave Newell was cut badly. Frank sprung into action, wearing Newell's striped sweater and borrowing an extra pair of skates from the Islanders' Bryan Trottier and took to the ice to complete the game. Ironically, at one point, he waved off a goal scored by the man who loaned him his skates!
Frank Udvari calls a penalty during a game between
the Maple Leafs and Blackhawks.
(Imperial Oil-Turofsky/Hockey Hall of Fame)
Frank Udavri discovered from a young age
that his calling was as a referee.
(Hockey Hall of Fame)
Kevin Shea is the Editor of Publications and Online Features for the Hockey Hall of Fame.