(December 27, 2002) -- The city of Kitchener was newly-named (it had been known as Berlin prior to the First World War) and populated by just 35,000 people when Milt Schmidt was born on March 5, 1918. "The rink that we had in Kitchener did not have artificial ice; it had natural ice, but it wasn't very good. As far as school hockey was concerned, all our games were played on outdoor rinks," recalls Milt.

"We had some pretty good street hockey games when I was young," Schmidt continues. "I was called into the principal's office quite often for not doing my homework because I was always on the ponds. In those days, the winter was so severe that we had ice outside for several months. One of the times I was called into the office, the principal said, 'What ever is going to become of you?' I said, 'Mr. Bain, I'm going to become a professional hockey player!' He said, 'Well, it's good to have an objective in mind, however, your school work is every bit as important.' I said, 'Yes sir.' Well, when I did turn pro, the first person I was going to invite to see me play when the Bruins went to Toronto (the closest NHL city to Kitchener) was Mr. Bain, but lo and behold, he passed away just before we played there so I wasn't able to show him that I did have an objective in mind and it came true."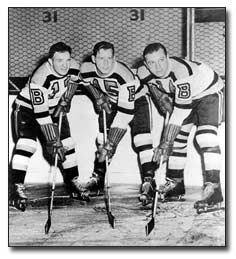 The legendary "Kraut Line" of Bobby Bauer, Milt Schmidt, and Woody Dumart

Schmidt began playing junior in his hometown at 14 years of age. "I wasn't the biggest guy in the world, but I was pretty aggressive," suggests Milt. "We had a coach by the name of Leo Quinn. He was a pretty rough customer but boy, he was a great disciplinarian. We either had to toe the line or say goodbye. I think I owe an awful lot to him." Schmidt had a sensational season playing centre for the junior Kitchener Greenshirts in 1934-35, leading the OHA with 20 goals, while teammate Woody Dumart was the OHA's points leader with 28. "I played with Bobby (Bauer) my last year of junior -- he was on a line with me. Woody (Dumart) was a defenseman at that time."

"I was invited to the Boston Bruins training camp in Saint John, New Brunswick through Bobby Bauer. He told Mr. (Art) Ross about me. I was only 17 years of age and was on the same ice surface as Dit Clapper, Eddie Shore and Tiny Thompson. My goodness gracious, they were great heroes of mine. Mr. Ross said, 'Milt, I think you have a future as far as hockey goes. I'd like to sign you.' I said, 'I can't compete with these fellas!' He said, 'You won't. You'll be going down to the minors for a year or two.'" Ross offered Milt $2,000 to join the Bruins' organization. "Two thousand! I decided that I wasn't going to turn pro," admits Schmidt. "I went back home and they had a job for me and I ended up making more than $2,000 in a year's time."

Milt Schmidt eventually signed with Boston in October, 1935, and with Bobby Bauer and Woody Dumart, was part of one of the most productive lines in NHL history. "Mr. (Art) Ross put the three of us together and sent us down to the Providence Reds." Milt explains. The Reds were Boston's American Hockey League affiliate at that time. "Albert Leduc was the coach down there," remembers Schmidt. 'Battleship' Leduc had been a warrior for the Montreal Canadiens between 1925 and 1933. "He was the one who gave us the name, the 'Kraut Line.' He said, 'All you fellas come from Kitchener/Waterloo. There's a lot of people of German descent from there. We gotta get a name for ya - the Kraut Line!' We didn't mind. It was a name that kinda stuck to us."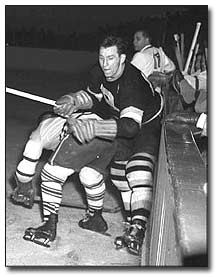 Milt Schmidt is pinned to the boards during the 1951 Playoffs vs Toronto. Schmidt was named the league's MVP at season's end.

In today's politically correct arena, a nickname like the Kraut Line would never exist. But that was before the pronouncement of World War II. With the eruption of war, the climate became a great deal more sensitive. "When we went into the service in 1942, they held contests in Boston to do away with the Kraut Line name. The person who won called us the 'Buddy Line.' It didn't last very long," laughs Milt. "After the war, we got back to Boston in 1945-46 and went back to being the Kraut Line again. It was quite a handle. We enjoyed it. We were all of German descent. My Mom and Dad were both born in Germany and came over to Canada at a very young age."

"I was 18 years of age when I signed my contract and started playing with the Boston Bruins in 1936-37. Two years later, in 1938-39, we won the Stanley Cup. It was the greatest charge I ever got out of playing hockey," confesses Schmidt proudly. It was quite a season for the Boston Bruins, who finished first that season - 16 points ahead of second place New York. After defeating the Rangers in the semi-final, Boston held off a challenge by the Toronto Maple Leafs and won the Stanly Cup four games to one in 1938-39.

The next season, the Bruins again finished first. Milt Schmidt and his linemates contributed significantly to the Bruins' successful season. Schmidt was the NHL's scoring leader in 1939-40, collecting 52 points, while Dumart and Bauer finished second and third in scoring with 43 points each. "There are several reasons why we had success that year," divulges the modest Schmidt. "The three of us roomed together in Brookline, Massachusetts. We had one big room, so that we were always together. After practices, we discussed things that we should work on. After a game, we'd say. 'Well, we did this wrong or did that wrong.' There was no nightlife or anything like that. We were all just children, you might say. I was the youngest of the three," Milt mentions. "We really worked at it and I think that had more to do with the success of our line than anything else. To finish 1-2-3; I don't know of any other line that did that before us and we were quite proud of the fact. Hard work - that was it."

But after winning the Stanley Cup in 1938-39, the Bruins lost the opportunity to repeat when they were expelled by the New York Rangers in the semi-finals. The Rangers went on to capture the Stanley Cup in 1939-40.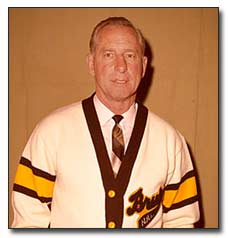 Coach Milt Schmidt

The Bruins did repeat in 1940-41, however. For the fourth consecutive year, Boston finished first overall during the regular season. Schmidt finished the season tied for tenth in scoring. Boston advanced to the Stanley Cup final and faced Detroit. The Bruins defeated the Red Wings four games to none to earn their second Stanley Cup championship in three seasons. It was the first time the Stanley Cup had been won in the minimum number of games during a seven-game series. Schmidt led all playoff performers with 11 points.

The Second World War broke out, and many NHL players interrupted their lives at the zenith of their careers to serve their country. Such was the case with the Kraut Line. "We left the Bruins in 1942 and had to prove to our Draft Board in the United States that we were going to go to Canada to join the Air Force," remembers Schmidt. "The three of us (Schmidt, Bauer and Dumart) flew up to Montreal and we joined the Air Force. They wanted us to report the next day, and we said, 'Hey! Wait a minute!' We only had the clothes we were wearing on our back. We had to go back to Boston to get our clothes then go from their back to our homes (in Kitchener) to see our families. When we got back to Boston, we told (Art) Ross about it and Ross knew somebody in the Royal Canadian Air Force. He called somebody there and we got a reprieve for about a month."

The Kraut Line played several more games before they were scheduled to report for active duty. On February 11, 1942 -- the final game before the Kitchener trio was to depart to serve Canada -- the Bruins spanked Montreal 8-1, and Schmidt, Bauer and Dumart earned 22 points between them. In tribute to the respect the trio had earned not just as hockey players but as proud Canadians, Bobby Bauer, Woody Dumart and Milt Schmidt received an emotional send-off at the Boston Gardens. "Much to their credit in spite of how tough we were playing against one another, after the game was over, both Montreal and Boston players hoisted us on their shoulders and carried us off the ice. The ovation from the crowd was fantastic," reminisces Schmidt, pausing to savour the moment. "It just goes to show that you can have pretty bitter enemies out on that ice, but after the game is over, we're all friends, and I think that has a lot to say about the people who play the game."

The Kraut Line joined the Ottawa RCAF in time for the playoffs in 1942 and dominated the series. Bauer collected 22 points, Dumart 35 and Schmidt 34 points. But they wouldn't return to the NHL until 1945-46. "We weren't too successful when we came back after being away from it for three-and-a-half years. When we went into the service, there was no red line but when we got back, they had introduced the red line. We had a tough time adjusting ourselves to that." The red line was adopted prior to the 1943-44 season, and was intended to speed up the game and reduce offsides. "It was by far and away a different hockey game," muses Schmidt. "It didn't take us long to catch on and once we got our sea legs, we didn't do too badly after that."

Milt Schmidt was selected to the NHL's First All-Star Team three times through his illustrious career (1940, 1947 and 1951) and was a Second All-Star once (1952). He finished top ten in scoring on five occasions, including 1950-51 when he was awarded the Hart Trophy, emblematic of the NHL's most valuable player.

The Kraut Line disintegrated when Bobby Bauer retired following the 1946-47 season, but for one glorious night, the line was reunited March 18, 1952 in a special tribute night. That evening turned out to be even more wonderful than expected - Milt Schmidt scored his 200th career goal that evening, while Bobby Bauer, who hadn't played an NHL game in five years, recorded a goal and an assist.

On Christmas Day, 1954, the playing career of Milt Schmidt came to a conclusion. "I had two bad knees at that time and I had to be taped up every day or I couldn't play. When I fell, I had a tough time getting up. I was 36 years of age. We were up in Chicago, and stayed over that night. The next morning, I walked to the train station with Lynn Patrick who was coaching at that particular time. I said, 'Lynn, I don't know how much longer I can last with these knees. As a matter of fact, what would your thoughts be about me retiring?' He said, 'Milt, I know what you've been going through. You make up your own mind about retiring. I wouldn't blame you one bit if you did.' He said he'd talk with Walter Brown, who was the Bruins' president, and said, 'You'll probably be the next coach.' I had no previous experience at all, but that's how I became the coach," Schmidt explains.

Milt Schmidt coached the Boston Bruins until the conclusion of the 1960-61 season, when Phil Watson was hired to replace the Hall of Famer. But Watson lasted slightly more than one season before Schmidt was back behind the bench where he stayed until the end of the 1965-66 season. Then, in the fall of 1967, Schmidt was named Boston's general manager, where he remained until 1972. That year, he was bumped up to a senior executive position. During his tenure in senior management, Milt helped guide the ascendancy of the Boston Bruins, watching Bobby Orr's career take flight and engineering the trade that brought Phil Esposito, Ken Hodge and Fred Stanfield to Boston. The Bruins won the Stanley Cup twice more (1970 and 1972); the first times since Schmidt helped lead the Bruins to the Cup as a player in 1941.

After winning the Stanley Cup in 1972, Milt Schmidt left the Bruins, and in 1974, became the first general manager of the Washington Capitals. Milt coached the woeful Capitals during parts of their first two seasons.

"Coaching was quite different than playing hockey, I'll tell you that," admits Schmidt. "The best part of my career was as a player. The coaching was tough and when I was a manager, there were ups and downs. But what more could a little, skinny kid from Kitchener, Ontario go through? It was quite an experience, and of course, one I will never forget! Once in a while, I just sit here and stare into space and think about the good times."

Kevin Shea is co-author of several hockey biographies. His most recent book is "Over The Boards - The Ron Ellis Story" (H.B. Fenn), released November 2002.