9 NOVEMBER 2004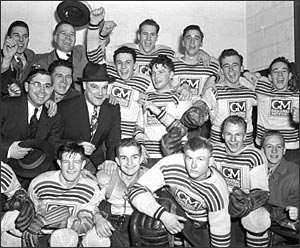 Ted Lindsay (pictured top row, third from the right) celebrates a Memorial Cup championship with his Oshawa General teammates including Father David Bauer (who had yet to enter the priesthood - kneeling front left) in 1944. Honoured Member Charlie Conacher (donning the hat) served as the team's coach.

"I was born in Renfrew," starts the man they tagged 'Terrible Ted.' "My Dad (Bert Lindsay) was a goaltender and played for the Renfrew Millionaires in the early 1900s. My Dad was not rich but he was quite well off but in 1929 when the Depression hit, he lost everything. I was the eldest of nine children. We moved to a place called Kirkland Lake in Northern Ontario. At that time, the British Empire was still in one piece and Kirkland Lake had the largest gold mines in the British Empire. During the Depression, gold was gold. They worked seven days a week, twenty-four hours a day."

Born Robert Blake Lindsay on July 29, 1925, Ted learned to play hockey on the frozen ponds and rinks of Northern Ontario. "I grew up in Kirkland Lake. That's where I consider home because I went to grade school there, my high school was there, my entire hockey was there until I went to St. Mike's in Toronto with Gus Mortson."

Although having a professional hockey player for a father proved terrific for the athletic genes Ted inherited, as he was growing up, he had ample opportunity to play hockey on the rinks that dotted the area around the Lindsay home. "Being from Kirkland Lake in the late 1920s and early thirties, the normal temperature in the winter would be anywhere from ten to fifteen between zero Fahrenheit. A cold spell would be 45 to 60 below. Every school had one rink. Some of them had two - one for hockey and one for skating so that the girls would get a chance to skate without us stupid boys shooting pucks at them and hitting them with sticks."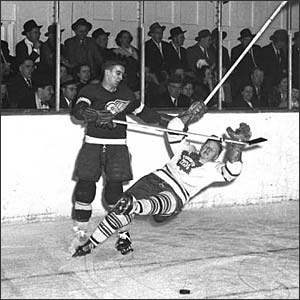 From the outset, Lindsay enjoyed the aggressive and fiery element of hockey - thus earning the moniker "Terrible Ted".

"My first pair of skates was given to me by a neighbour named Mrs. Brady, who gave me her husband Tom's skates," Ted smiles. "They were naturally too big for me but I put them on and in my little imagination, I would skate from one end of the rink to the other and across the rink in her backyard. Every second or third home had a rink in their backyard. When my Dad saw that, he decided I would get a pair of skates of my own. At that time, a pair of skates would cost $4.75 and they were 'Red Horner skates.' Red was a big defenseman for the Toronto Maple Leafs at that time. You couldn't even afford $4.75 for a pair of skates but my Dad found the money somehow. Then I started playing. One year led to another year, but I still never dreamed of playing in the National Hockey League even though we used to listen to Foster Hewitt out of Toronto on Saturday nights. But I was not necessarily a Toronto fan. In Kirkland Lake on a clear, cold night, you could pick up a strong Detroit station called WJR and in the middle-thirties, we would listen to them and follow a couple of tough guys in the late thirties named Jack Stewart and Jimmy Orlando; both defensemen. They played my kind of hockey and that's how I became a Red Wing fan, not ever thinking I'd play for them, I just liked those fellows."

Ted ended up playing his junior hockey with St. Michael's Majors of the Ontario Hockey Association in 1943-44. St. Mike's was traditionally a Toronto Maple Leaf stronghold, yet Ted never became property of the Maple Leafs. "I was going to go to St. Pat's in Ottawa and I was on my own. There was no draft at that time. I talked to Dad and said 'I think I'll go to St. Mike's.' Gus Mortson and I had grown up together in Kirkland Lake and played for Holy Name juveniles and eventually beat a very good Port Colbourne hockey club captained by Ted Kennedy. Don Gallinger was on that team, too. The next year, Gus and I decided to go to St. Mike's."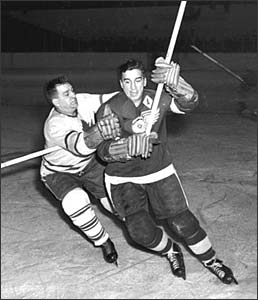 There was no stopping Ted Lindsay and his fellow Red Wings during the regular season between 1948-49 and 1954-55. In that span, Detroit finished first seven consecutive seasons.

But even though Lindsay was unaffiliated as he joined St. Mike's, the Toronto Maple Leafs still missed the enterprising winger. "It was interesting at that time in the National Hockey League that there never was a scout that went into Northern Ontario. They went west and they went into Quebec. Gus and I went to St. Mike's. I played for St. Mike's and the first game I played against the Toronto Marlboros, I got injured. My calf got cut. Gus Mortson was playing defense and (future Leaf) Jimmy Thomson was playing for the Marlboros. He was going down the ice and Gus put his hip out. Jimmy was a big guy and was skating hard and he spun Gus around on one skate like he was a figure skater and the back of Gus's skate punctured my calf muscle just back of the shinpad. I ended up right on the ice with nothing but blood. They took me from there to the infirmary at St. Mike's. The doctor fixed it all up. I had to keep it elevated to keep the swelling out. After I turned pro, Mr. (Frank) Selke was in Toronto at the tail end of the Second World War. He said to me, 'Do you understand how you became a Red Wing and not a Toronto Maple Leaf?' I said, 'No sir. I just thought it was an automatic thing.' He said, 'We got a call the day after you played your first game from a Mr .O'Neill, whose son was a wartime player named Windy O'Neill. His father was a great Maple Leaf fan and he called the Gardens and talked to Mr. Selke or Mr. (Hap) Day and said, 'There's a young boy on St. Mike's who looks like he might have a future in hockey.' I was in the infirmary at that time in St. Mike's. Mr. Day and Mr. Selke said, 'I don't know of any young forward. Let's go have a look,' The Gardens was our home rink at the time. They went out but I was on my back in the infirmary. There was a young guy named Joe Sadler. He was a great skater and could put the puck in the net. He got a goal and a couple of assists so it was natural for them to think this as the forward they were talking about. They put him on their (negotiation) list and forgot all about it. When I came back from my injury and went home for Christmas break, I think I had one assist. No one was looking at Lindsay to be a prospect in the National Hockey League. But when I got home for Christmas, we had ten days off and I skated as many hours as I could every day and when I came back after the New Year, things just fell into place - I was scoring goals, we were winning games and I was getting into fights and winning more than I was losing. One night, I came out of the old Barton Street Arena in Hamilton and a white-haired man in the intersection said, 'You Ted Lindsay?' I had my hockey bag over my shoulder and I said, 'Yes sir.' He said, 'I'm Carson Cooper, chief scout of the Detroit Red Wings.' He said, 'Did you ever think about playing pro?' My eyes went wide and I said, 'Yes sir. And as a matter of fact, Detroit is my favourite team.' He said, 'I'm going to put you on our list, but I have to check."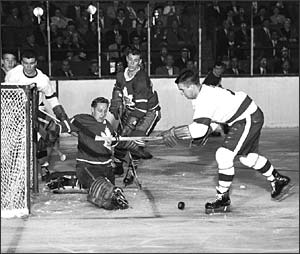 Ted led he league in scoring in 1948 with 33 goals and posted eleven 20+ goal seasons.

At that time, all hockey teams in the six-team league had a negotiation list. They were permitted to put twenty-five names on that list. If they wanted to add a player's name to their list, they would call the National Hockey League headquarters and ask, 'Is this certain player on the negotiation list of any of the other five teams?' Ted remembers the process scout Carson Cooper went through. "If Detroit had twenty-five names already, they would have to drop one to put Ted Lindsay on. That's how I became a Red Wing and not a Maple Leaf. If I hadn't gotten injured, I probably would have wound up playing for the Maple Leafs. They had a pretty good hockey team at that time and Detroit was in the process of re-building and it gave me a better opportunity and it worked out very well. I've often thought about it - I wonder how it would have changed my life. It would have changed my life family-wise, business-wise. I probably would have married a Canadian girl instead of an American girl. We just follow the path put in front of us."

After St. Mike's lost to the Oshawa Generals in the Ontario junior finals that year, Oshawa added Lindsay, Mortson and David Bauer for the Memorial Cup final against the Trail Smoke Eaters. The Generals, coached by former Leaf star Charlie Conacher, won the junior championship of Canada. Mortson and Lindsay, of course, went on to fine NHL careers, but Bauer joined the seminary, and as Father David Bauer, coached St. Mike's to a Memorial Cup championship in 1961 and is now an Honoured Member as a Builder in the Hockey Hall of Fame.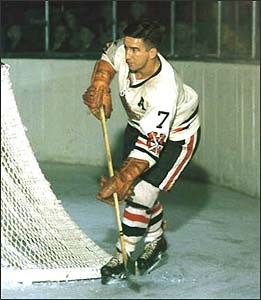 Following his efforts to start up a player's union, Lindsay was dispatched to Chicago in 1957 by an angry Jack Adams, Detroit's General Manager.

Lindsay joined the Detroit Red Wings for the 1944-45 season, and scored 17 goals with 23 points in his rookie campaign. The fiery winger was soon placed on a line with veteran Sid Abel and newcomer Gordie Howe. The trio was tagged the Production Line, and was one of the highest-scoring lines of that era. In 1947-48, Ted led the NHL with 33 goals. But in 1949-50, the trio dominated more than usual, finishing first, second and third in NHL scoring. "Winning the scoring championship was a team thing. In this case, it was a line thing. The Production Line of Sid (Abel) at centre ice and Gordie (Howe) on the right side and myself at left wing - we were one, two, three in scoring. I happened to be leading it so it was a wonderful thrill. You're playing with the best hockey players in the world; you're playing against the best hockey players in the world. That was a great thrill."

1949-50 was pivotal for another reason - the Detroit Red Wings captured the Stanley Cup that season, too. "To win the Stanley Cup was a dream," beams Lindsay. "When I was growing up, I never really dreamed about winning the Stanley Cup because I never really dreamed I'd play in the National Hockey League. I just followed one day, one month, one year after another and I kept getting better. But winning the Stanley Cup was just tremendous because you're recognized as part of the best team in the world and I was part of that team that contributed winning the Stanley Cup for Detroit."

The Red Wings must be given full credit for their outstanding success. For seven consecutive seasons (1948-49 to 1954-55), Lindsay and the Wings finished the NHL regular season in first place. "I've always said that we were a dynasty - there's no doubt about it. Montreal interrupted that but it never would have been interrupted if we didn't have a less than competent general manager in Jack Adams. In 1955, we won the Stanley Cup in the seventh game in overtime against the Montreal Canadiens. It was a lucky goal, but I don't care whether it was lucky or not, we were still the Stanley Cup winners. At that time, you had one goaltender, you had five defensemen and you had three lines plus two extra players. Mr. Adams traded nine players away from our championship team. That's fifty percent! That destroyed the nucleus of our team. The team still had (Red) Kelly, we still had (Marty) Pavelich, we had (Marcel) Pronovost, we had Howe and myself. We had (Terry) Sawchuk in the nets and we had Glenn Hall coming up. Montreal wanted Sawchuk at that time but Adams didn't want to give him to Montreal because it would have made them too strong. Well, they won the Stanley Cup five years in a row, even without him! But we could have used the players Montreal would have sent. We only had one weakness on our team, and that was defense. Bob Goldham was getting older but he still had a couple of good years left. I feel very strongly that we should have won those five Stanley Cups that Montreal won if Adams hadn't traded those nine players away. Four went to Boston, three went to Chicago. We got good guys back - wonderful guys - but they weren't winners. There is a certain chemistry. There are certain guys who can play their whole careers and never win anything. That's because they're not winners. Every time I see Henri Richard, I look at him. He won eleven Stanley Cups. I say, 'Henri, you're a lucky little son of a gun. Five of those should have been ours.' That's me wishfully thinking but Henri laughs because he's got the eleven Stanley Cups."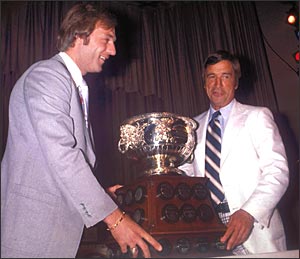 Ted Lindsay (right) presents the Art Ross Trophy
to 70s superstar Guy Lafleur.

Ted Lindsay played thirteen seasons with the Detroit Red Wings, collecting four Stanley Cup championships during that span - 1950, 1952, 1954 and 1955. But following the 1956-57 season, a season in which he led the NHL in assists and tallied a career-high 85 points in addition to be selected to the First All-Star Team for an unprecedented eighth time, Lindsay was traded to the Chicago Blackhawks along with Glenn Hall in exchange for Forbes Kennedy, Johnny Wilson, Hank Bassen and Bill Preston. The Hawks had missed the playoffs in ten of the previous eleven seasons. Like the rest of the hockey community, Ted knew that the trade was made at the expense of his role in constructing a players' association. "I was never concerned with statistics - scoring goals, my records. The only thing I was concerned about was winning. The association changed my life. It changed my career and it changed my stats. I went to Chicago for three years but I was never a Blackhawk. I was treated well by the fans and by management, but I only had mediocre years. I still had a Red Wing on my forehead, on my backside and over my heart. I was existing, nothing more. Then, I retired for four years."

But after moving away from his hockey life and entering private business, Ted Lindsay returned to the NHL in 1964-65. "Sid Abel talked me out of retirement when I was thirty-nine and I went back to play one more year in Detroit. It was the final year of the six team league. My stats would have been a lot different. I didn't mind that but it did make a difference."

After 1,068 regular season games, Ted Lindsay retired with 379 goals, 472 assists and 851 points - the highest scoring leftwinger to that date. In 1966, Ted Lindsay was entered into the Hockey Hall of Fame. "Going into the Hockey Hall of Fame was terrific. You play your whole career and then you're recognized. Going back into the 1920's and maybe even into the teens, there has been one heck of a lot of great hockey players who have played this game who are in the Hall of Fame, but there are a lot who didn't make it, so I feel very honoured to have been voted in. It's something they can't take away from me."

Lindsay later served as Detroit's general manager from 1976-77 until 1979-80. He also coached the Red Wings at the tail end of the 1979-80 season and into the beginning of the 1980-81 season.

With nine All-Star selections, an Art Ross win and the four championships won by Detroit, Ted Lindsay had several pinnacles from which to choose as career highlights. "Winning the Stanley Cup certainly was the highlight of my career. Making an All-Star Team was a phenomenal thing. Finally becoming captain of the Detroit Red Wings was a great honour. The greatest bunch of players in the world and to be their captain was very gratifying."

Kevin Shea is the Manager of Special Projects and Publishing at the Hockey Hall of Fame. His fourth book,
'BARILKO-WITHOUT A TRACE,' was published in October 2004 by H.B.Fenn.