(January 24, 2003) -- "A lot of people don't know my first name, because they always call me 'Boom Boom'," smiles Bernard Andre Joseph Geoffrion.

Some hockey players have earned nicknames that have immortalized them. One name - that's all it took - and you immediately knew exactly who fans were speaking about: 'Rocket,' 'Teeder,' 'Gump,' Turk.' But like the others, just recite the name 'Boom Boom' and hockey fans everywhere know immediately about whom you're speaking.

"I invented the slapshot when I was nine or ten years old. Everyday after school, I practiced behind the church," Boom Boom begins, explaining the genesis of his nickname. Geoffrion used his newly discovered weapon to wreak havoc on the Quebec Junior Hockey League. In 1949-50, playing for the Laval Nationale, Geoffrion led the league with 52 goals and 86 points; all in just 34 games. "There was a sportswriter named Charlie Boire who used to work for the Montreal Star. I was always practicing my slapshot. I was at the Forum after a practice and Charlie came up to me and said, 'Do you mind if I call you 'Boom Boom'? I said, 'I don't care.'" Boire used the tag to describe the sound of the puck leaving Geoffrion's stick, then banging off the end boards. "I realized that nicknames are always recognized if you produce, but if you don't produce, no one cares about a nickname."

Prior to the Amateur Draft, NHL teams signed prospects to a C Form, which made the player the property of the club that signed him. "It was always my dream to play for the Montreal Canadiens," admits Geoffrion. "There were only six teams when I played and I don't know whether I had a choice, because I think all the kids from Quebec belonged to the Montreal Canadiens, but I always wanted to play with the Montreal Canadiens. 'Rocket' (Maurice Richard) was my favourite. It was a thrill to play with my idol. The first time I sat beside him in the dressing room, I was tying up my skates and I looked up at Rocket and said, 'I doubt that I could ever reach your level, but Rocket, I hope one day to become like you.' If I was going to become somebody in hockey, it was going to be like the Rocket."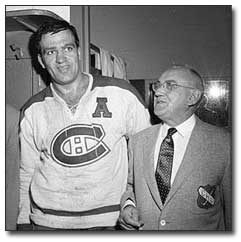 Geoffrion with Montreal
GM Frank J. Selke

Bernard Geoffrion played hockey with the same intensity as his idol. "I just wanted to play the game the way it was supposed to be played. I learned from Sylvio Mantha (coach of the junior Concordia Civics where Bernard played in 1946-47), Mickey Hennessy (coach of the junior Laval Nationale where Geoffrion starred between 1947-51) and Dick Irvin and Toe Blake (coaches who respectively led the Montreal Canadiens for the 13 seasons Boom Boom played there)."

Bernie 'Boom Boom' Geoffrion debuted with his favoured Montreal Canadiens on December 16, 1950. "Mr. Selke, the general manager, brought me up for a three-game tryout. Butch Bouchard was playing defense at the time and went to Selke and said, 'Why don't you give the kid a shot. He can put the puck in the net.' I was playing with Billy Reay and Paul Meger and in my first game, I scored my first goal. It was against Chuck Rayner of the Rangers at the Forum. It was a big thrill for me to wear the bleu, blanc et rouge of the Montreal Canadiens!" In his three games, Geoffrion scored two goals and added an assist. "They asked me if I wanted to sign and I couldn't care less how much it was for, I signed."

Boom Boom Geoffrion led the Canadiens with 30 goals in his rookie season, and was named the Calder Trophy winner of 1951-52. For Geoffrion, it was just a sample of what he could do. In 1954-55, he led the NHL in goal scoring with 38 and was the Art Ross Trophy recipient with 75 points. But that season was a most unusual one for Geoffrion.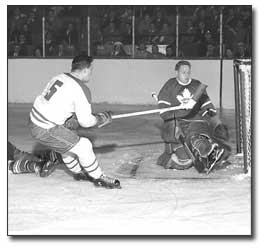 Boom Boom scores against
Leafs netminder Ed Chadwick

At the beginning of March 1955, Maurice Richard was leading the NHL in scoring. Geoffrion was second two points behind and Jean Beliveau was third three points behind Richard. The Montreal fans were elated - a Canadien hadn't won the scoring championship since Elmer Lach in 1947-48, and Rocket Richard had never won. Then, on March 20, Richard and Bruins' defenseman Hal Laycoe got into a stickswinging feud that saw NHL president Clarence Campbell suspend the Rocket not only for the three games remaining in Montreal's regular season schedule, but for the duration of that spring's playoff as well. The city was stunned. During the next game, a contest versus Detroit, the furious crowd rioted when Campbell took his customary seat at the Forum. A tear gas bomb was thrown and the Forum was evacuated. But looting and rioting took place in Montreal's downtown for four hours.

The Canadiens had to win both remaining games to earn first place. The Montreal fans wanted Richard to win the scoring championship, which put Boom Boom in a precarious position. He needed to collect points to help the Canadiens win, but if he passed the Rocket, it would infuriate the fans. "Doug Harvey told me, 'Listen. We came to win first place. You've got to score goals to help us win.' I said, 'You put the puck on my stick and if I have a chance to score, I don't care who I have to surpass. I get paid to play and score goals." Boom Boom earned a goal and two assists in the next game to put him ahead of Richard in the scoring race. The fans took a long time to forgive Geoffrion for 'stealing' the scoring championship from the idolized Richard. "I can assure you that I had more heartbreak in winning the trophy (Art Ross) than Richard had in missing it," sighs Boom Boom. "The Rocket never held a grudge against me. It wasn't my fault that Rocket got suspended."

The Montreal Canadiens proceeded to win an unprecedented five consecutive Stanley Cups between 1955 and 1960. "Even though the Islanders came close with four and Edmonton won four in five years, I want to be humble, but this record will never be beaten. You think about it - we beat some very good teams. Toronto and Detroit were very strong then. We only had six teams at the time. Today, it's hard enough for teams to win one, let alone five," states Boom Boom, who adds, "As far as I'm concerned, we had the best team ever in the National Hockey League." Facts back up Boom Boom's statement. No fewer than 10 players from that Montreal dynasty went on to be inducted into the Hockey Hall of Fame: Jacques Plante, Doug Harvey, Butch Bouchard, Tom Johnson, Maurice Richard, Henri Richard, Jean Beliveau, Bert Olmstead, Dickie Moore and, of course, Bernard Geoffrion.
Nineteen sixty-one was a career season for Geoffrion. He led the NHL in scoring for a second time, collecting the Art Ross Trophy with 95 points. Boom Boom won the Hart Trophy as the league's most valuable player, and was named to the NHL's First All-Star Team. But his most notable achievement was scoring 50 goals during the regular season; only the second player to accomplish this extraordinary feat. "Frank Mahovlich of Toronto and me, we were competing for the goal scoring lead. He was ahead of me, but he went into a slump. We were tied at 48, but Big Frank was tiring and I was hot. He stayed at 48, and I scored number 49 against Chicago. Then, we played the Leafs at the Forum. Gilles Tremblay beat Bob Pulford to the puck in the corner and passed it back to me. I didn't wait for a second, just took a slapshot and the puck went past Cesare Maniago! Let me tell you, that was exciting. The fans gave me a standing ovation. I was only the second guy to score 50 goals in a season, and it was great because my idol, the Rocket, was the first guy to score 50." The game took place on March 16, 1961. Geoffrion finished the season with 95 points to win the scoring race as well.

"After I scored 50 in '61, I got 23 goals the next two seasons and I scored 21 in 1964. Let me tell you, scoring 20 goals in the NHL then was like hitting .300 in baseball," explains Bernie. "But in 1964, they got rid of Mr. (Frank) Selke as the general manager. I went to meet with David Molson (the Canadiens' new owner). He asked me what I wanted to do when I finished playing hockey. I told him I'd like to stay in hockey in some capacity. He told me he'd like me to consider retiring and coach Montreal's AHL team in Quebec. He said that since my 50-goal season, I had tailed off, but sheesh, 20 goals was still pretty darned good. But he told me that if I went to Quebec for two seasons, he'd bring me to Montreal to coach the Canadiens. That sounded pretty good to me. But if I read between the lines, he just wanted to bring Yvan Cournoyer in to take my place. Hey, Yvan Cournoyer was a very, very good player but if I had realized what was going on, I would have made Yvan Cournoyer beat me for my spot instead of just handing it to him."

"I was with the Quebec Aces in the AHL for two seasons and both seasons we finished first. But the Rochester Americans best us out for the championship both years. Cripes, they had half the Toronto Maple Leafs on their team," says Boom Boom, shaking his head. "The owner of the team was Gerald Martineau. He had us over to dinner after the second season to congratulate me on another good year. The next day, I had Marlene and the kids in the car and we were driving back to Montreal for the summer. We stopped in Drummondvile to get the kids a Coke. Marlene asked me to get a newspaper. But when I bought the paper, I couldn't believe it. The headline said 'GEOFFRION FIRED.' I didn't want Marlene or the kids to know, but when we got to the car, Marlene asked me where the paper was. I said, 'Oh, it's in the back but there's nothing new in it,' but she took it and found out I was fired."

Geoffrion continues recalling the events. "David Molson told me I would be coaching the Montreal Canadiens, so I set up a meeting with him. But he said, 'Boom, Toe Blake is still our coach. All I've got to offer you is to coach the Junior Canadiens.' But it was $6,000 a year. I reminded him of his promise, but he just said, 'Sorry, but that's all I've got.' I was really mad. I wasted two good years, and I could have been playing. I wanted to come back. I wanted to come back to show Montreal I could still play. I knew Montreal wouldn't protect me in the draft because Yvan Cournoyer was now playing. Emile Francis from the New York Rangers picked me in the draft. I said to him, 'Where do I sign?' The Rangers hadn't made the playoffs the year before and that season, we made the playoffs. The first game I played at the Forum (in Montreal) as a New York Ranger, I scored on Charlie Hodge."

The Rangers finished fourth in 1966-67, with Geoffrion contributing 17 goals and 25 assists to the attack after not playing for two seasons. Boom Boom played one final season in New York, retiring after the 1967-68 season. His health had been troublesome and at the end of the season, a duodenal ulcer finally brought an end to the playing career of Boom Boom Geoffrion.

"Emile Francis told me that if I couldn't play, I'd be the next coach of the New York Rangers." Francis had been coach and general manager for the previous two seasons. Geoffrion coached the Rangers for part of the 1968-69 season, but health problems forced him out of the job part way through the season.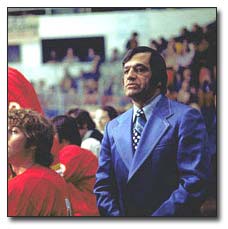 Coach Geoffrion behind his Atlanta Flames' bench

In 1972, general manager Cliff Fletcher hired the effervescent Geoffrion to coach the expansion Atlanta Flames. In just their second year of existence, the Flames made the playoffs, but Boom Boom found his health affected and resigned in the midst of his third season. "I loved Atlanta. I loved everything about Atlanta. I still live there today. My kids are here and my grandkids are here. We all just love it here."

In 1979, Montreal was coming off a Stanley Cup win but Scotty Bowman, who had been the coach, wanted the opportunity to be general manager of the Canadiens. Without such a vacancy, Bowman left to be coach and general manager of the Buffalo Sabres. The call that Bernard Geoffrion had waited 15 years for finally came. "Irving Grundman called me and asked me how I'd like to coach the Montreal Canadiens. It would be a dream come true. I had grown up in Montreal and the Canadiens were my team. I played junior in Montreal looking ahead to wearing le bleu, blanc et rouge of les Canadiens. I had a lot of success as a member of les Canadiens. And when I left as a player, it was so someday I could coach the Canadiens. But it didn't happen. And now I was getting a chance," states Geoffrion. But coaching the Montreal Canadiens wasn't all that Boom Boom had dreamed about. "I had three guys telling me what moves to make. How can you coach like that? It's impossible." Toe Blake was Vice President of Hockey and traveled with the team. Claude Ruel was a coaching advisor while general manager Irving Grundman also offered his input. "But it wasn't just me - the Montreal Canadiens were unfair to my son Danny. He had been a first round draft pick of the Canadiens and they wouldn't let me play him. He was as good as just about any player on that team but they made me leave him on the bench. I had dreamed about coaching the Montreal Canadiens, but it was a nightmare." After 30 games, and with the team in first place, Bernie 'Boom Boom' Geoffrion resigned as coach of the Montreal Canadiens.

"Lookit, the Montreal Canadiens were very good to me, but I was very good to them too. There are things I wish could have been different but I have no regrets. Look, I got to play hockey for my favourite team. I got to play with my boyhood hero, the Rocket. I had some success and the team had some great successes. I earned a good living because of hockey. And I met my wife through hockey too." Marlene Geoffrion is the daughter of legendary Howie Morenz and was an excellent figure skater. Marlene was skating in an event at the Montreal Forum the same evening some star junior players were introduced to the crowd. Howie Morenz Jr., who knew Boom Boom through the junior ranks, introduced Geoffrion to his sister and the rest, as we say, is history. "Yeah, this year, Marlene and I will be married 51 years," beams Boom Boom. "I am a happy man. I've got a great wife, three great kids and eight grandchildren I adore. My health is good. Life has been good to Boom."

Kevin Shea is co-author of several hockey biographies. His most recent book is "Over The Boards - The Ron Ellis Story" (H.B. Fenn), released November 2002.