15 MARCH 2005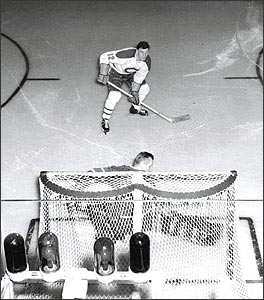 After an All-Star junior career in his hometown of Montreal, Dickie Moore joined the Montreal Canadiens during the 1951-52 season.

Born Richard Winston Moore in Montreal on January 6, 1931, Dickie Moore's remarkable skill and superior determination made him a key component in the most extraordinary dynasty in the history of the National Hockey League. Between 1956 and 1960, the Montreal Canadiens collected an unprecedented five consecutive Stanley Cup championships, with Moore contributing by winning the league scoring championship in both 1958 and 1959.

"I grew up in a large family — nine boys and a girl," begins Dickie, recalling his childhood. "My father really governed by the steel fist. He made sure we obeyed the rules and had an appreciation for life."

"I really wanted to be a hockey player from five years old," he continues. "At seven years old, I broke my right leg very badly. It was a bicycle accident. I had a cast from my foot right up to the top of my leg. Through my whole career, the muscle in my thigh never developed. At seven, Larry Zeidel, who grew up on the corner of my street, pulled me around on a coaster." Childhood friend Zeidel went on to a long hockey career himself, with stops in Detroit, Chicago and Philadelphia. "It hurt me when I got hurt. My father went after the man who ran over my leg. I was nervous that I wouldn't be able to skate the next year. It came around and I was able to participate in all the sports."

Developing hockey skills in the 1930's and forties was substantially different than we know today. "Our family built a rink right beside our house. We used to bring the firetruck in and they'd water the rink for us. All the kids in the area used to come and skate there. My brothers taught me to skate and taught me the game," Moore remembers with great fondness.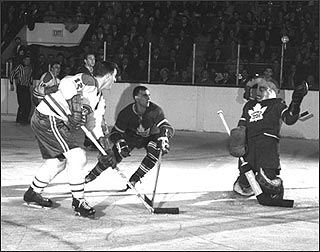 In spite of a succession of career-threatening injuries, Moore emerged as a highly productive winger, winning the Art Ross Trophy as scoring champion in 1957-58 and 1958-59.

Although he grew up in Montreal, Dickie Moore did not cheer for the Canadiens at that time; ironic, considering his later affiliation. "It was all radio broadcasting when I was growing up," Dickie explains, referring to the immense popularity of Foster Hewitt's broadcasts of Toronto Maple Leaf games. "I latched on to Gordie Drillon, who was playing for the Toronto Maple Leafs at that time. I used to try to copy him on the ice, on the street — wherever we could play hockey. It was a lot of fun." Like his hockey idol, who led the NHL in scoring in 1938, Moore would also become a productive winger. Dickie twice led the NHL in scoring.

Dickie Moore was always his own man, and when he decided he didn't like the hockey association at Park Extension in Montreal when he was thirteen, he started his own hockey team. But it took the help of a sibling to get him noticed by an NHL team. "The leader of our family — you won't believe it — was my sister," Dickie laughs. "Dolly was only 5'1" but what an athlete! She was a great catcher on the top ladies' baseball team. She played hockey. In the track finals that decided who would go to the Olympics, she was leading the field by five yards when she stumbled and didn't cross the finish line. I was sitting in the stands. I couldn't believe it! To watch her was the saddest part of my life. She was in her thirties at that time so it was the end of her career. They offered to pay her trip to the Olympics and she said, 'I didn't win so I'm not going.' She opened the door to get all my brothers try-outs with the Royals. I think they were richer than the Canadiens at the time. I followed suit. When I became fifteen, I got a try-out with the Royals. My brother Jimmy was already playing there."

Moore played a partial season with the Montreal Junior Royals in 1947-48, but became a full-time member the following year. In 1948-49, with Dickie's offensive prowess more than evident, the Royals went on to become the first Memorial Cup champions from Quebec. "We eliminated the Barrie Flyers, we beat Halifax then and we beat the favoured Brandon Wheat Kings," Dickie recalls. While playing with the Royals, Moore attracted NHL attention. "Jo Jo Graboski came by. He was a scout for the Toronto Maple Leafs. He said, 'Are you interested in joining us?' I said, 'Sure.' He said, 'We'll get in touch with you.' Frankie Orlando was looking through the bus window and knew Graboski. He went to Frank Selke and said, 'Watch out! The Leafs are after Dickie!' I was working at the CPR at the time and Selke called me up and said, 'Can I see you?' I said, 'I can't get away from work.' I had a feeling why he wanted to see me and I was waiting for the Leafs to call me." Nonetheless, the Canadiens registered Dickie Moore as their property.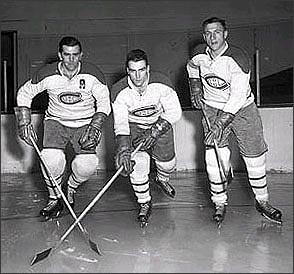 With Moore at left wing, 'Rocket' Richard at right and centred by Maurice's younger brother Henri, the Montreal Canadiens made hockey history, winning five consecutive Stanley Cup championships between 1956 and 1960.

The next season, the NHL's Montreal Canadiens stacked their Junior Canadiens' club, with Moore moved from the Junior Royals to the Junior Canadiens. For a second straight season, Dickie collected better than a point per game, and for a second consecutive season, he was part of a Memorial Cup championship. "It was a great league. A lot of fun; a lot of challenges," smiles Moore.

The parent Montreal Canadiens summoned Dickie to join them during the 1951-52 season. "I joined the Canadiens at Christmas in '51. I joined a great line — 'Rocket' Richard and Elmer Lach." Dickie contributed 18 goals and 33 points in less than half a season in his debut NHL campaign. "I stayed there (with Richard and Lach) for awhile and then Elmer retired and Jackie Leclair centred the 'Rocket' and me and after that, the 'Pocket' (Henri Richard) came along. I played nine seasons with the Pocket and the Rocket."

Dickie flourished with the Canadiens. In his sophomore season, he was part of his first Stanley Cup championship, beating the Bruins for NHL supremacy in 1952-53. Then, from 1955-56 to 1959-60, the Montreal Canadiens won the Stanley Cup in five successive seasons. Moore led the NHL with 36 goals and won the scoring championship with 84 points in 1957-58. The following season, Moore was both the assist and point leader (55 and 96 respectively) as his team won the Stanley Cup. "It was quite an honour to be part of the Canadiens' dynasty, but the big thing was when Toe Blake became coach. He made a big difference in the team' fortunes but he made a huge difference in my career. A couple of years before, Toe Blake said, 'The best thing that could happen to you is to get traded.' The coach at that time (Dick Irvin) and I didn't get along too well. Toe saw this and said it would be better for me and maybe for the team." Dickie continues to express his appreciation for the role Toe Blake played in his career with Montreal. "When Toe became coach, I was elated. He kept me on the team. I was lucky to have a guy who believed in me. You're only as good as how somebody can lift you up to the heights where he thinks you can play. Toe Blake had that in him. When he joined the team, we went on to win five consecutive Stanley Cup (championships), and I was fortunate to win two scoring championships I attribute that to the coach."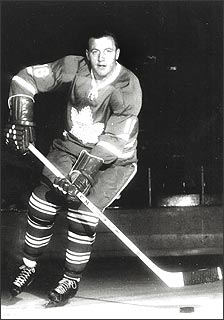 The Toronto Maple Leafs claimed Dickie in the 1964 Intra-League Draft and talked the veteran out of retirement to play the 1964-65 season.

But after twelve seasons, six Stanley Cup championships, two scoring titles and six seasons with better than twenty goals, Dickie Moore's career in Montreal came to a conclusion. "The Canadiens were going to trade me after twelve years. I refused. I said, 'Nobody trades me. I can make a living where I am. I had started a rental business in 1961 during my career. The Canadiens were getting fed up with me and I said, 'Look, I'm giving you 100%.' That year, I had scored 24 goals, but they decided to get rid of me. My salary was up too high and they could get a kid for $7,500. That's what I started for. My final salary with the Canadiens was $21,500." Dickie was hurt by the corporate decision. Deeply hurt. "It was a surprise. I didn't think it was fair. I had scored 24 goals the previous year. I said to Mr. Selke, 'Am I the culprit? Are you blaming our loss to the Leafs on me?' I didn't think that was right. Selke gave me a lot of accolades about my career but I got mad. I drove to Ottawa to see my brother Tommy. I told him I was upset. I said, 'I'll show them. I can build a business and make a living.' I started the business in 1961. That was my goal. The business is very successful." Dickie Moore Rentals is one of the more successful companies renting, leasing and selling heavy equipment.

Dickie retired and ran his burgeoning business while his former teammates skated through the 1963-64 campaign. But a crafty Punch Imlach, general manager of the Toronto Maple Leafs, gambled on Moore and claimed him in the 1964 Intra-League Draft. "When Punch Imlach drafted me, the Canadiens got mad at me, thinking I had orchestrated it. I was hurt (at the suggestion). They asked me to reconsider, but I told them, 'No. You let me go. I told you I still wanted to play hockey.' I got a call from King Clancy (of the Leafs) who told me I'd been claimed by the Leafs and asked me if I'd consider playing. I said, 'Sure, I'll consider,' and I asked to meet Punch. I had called some friends to find out about Punch Imlach. I called Jean Beliveau and I called Bert Olmstead and they gave me the lowdown. They told me he was a great person and a great coach. Let me tell you something, I never met a nicer person."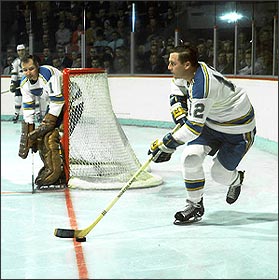 After two years of retirement, Moore returned to the NHL to join the expansion St. Louis Blues in 1967-68. The fledgling Blues challenged the Canadiens for the Stanley Cup that spring.

The Leafs were coming off their third Stanley Cup championship and hoped that Moore could add leadership while contributing some offense. "I went to Toronto to sign the contract. I told Punch, 'I can't guarantee I can play.' I had shattered my kneecap that year. A grinding wheel in my shop shattered and went right into my kneecap. They wanted to remove it (the kneecap) but I said, 'You can't. I'm going back to play hockey.' I said, 'Clean it out as best you can. If I can't walk, then we'll remove the kneecap.' He said, 'You're crazy,' and I said, 'Don't worry. Leave that to me.' And today, I'm still wearing that kneecap. It bothers me but it didn't bother me enough that I couldn't walk or couldn't skate."

"After the first week skating, I went to Punch and said, 'I can't do this.' He said, 'I signed you. I'm paying you. You're staying with me.' He said, 'Dickie, go skate at Tam O'Shanter (a Toronto area arena) every day, twice a day by yourself.' After three weeks, I went back to the team and I played. I was so gratified. But then, I collided at centre ice and I fell on my tailbone. It was killing me. Punch sent me home to rest. It was so appreciative to be treated so well. I made it back for the playoffs."

In spite of his injuries, Moore accounted well for himself. Playing 38 games, he tallied six points, but more importantly, added an intangible element to the Maple Leaf team. In the first game of the playoffs that spring, Toronto met the Canadiens. Dickie Moore scored in the first game, but Montreal went on to eliminate Toronto and proceeded to win the Stanley Cup.

"The next year, Toronto wanted to sign me again," continues Moore. "I said, 'Punch, what I want is for you to sign on the dotted line that you guarantee I'm going to play.' I said, 'If I can't play, I'll go back to work at Dickie Moore Rentals.' He said, 'By the rules I have to offer you a contract, so if I was you, I'd take it but it's up to you, Dickie.' I said, 'I don't want to put the team in jeopardy. I enjoy the fellas but that's it for me." Dickie retired for the second, but not last, time.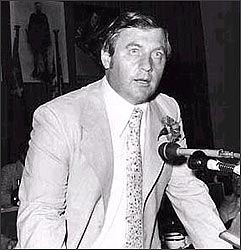 The Hockey Hall of Fame added eight new members in 1974. Joining Dickie Moore in the Players' category were Billy Burch, Art Coulter and Tommy Dunderdale, while Carl Voss was elected as an Official and Charles Hay, Tommy Ivan and Anatoli Tarasov as Builders.

Away from the rink and busy overseeing his rental business between 1965 and '67, Dickie was shocked to be summoned back to the National Hockey League in December 1967. "I was playing with the Oldtimers in Montreal once a week," he starts. "During that time, I got a call from Cliff Fletcher, who was working with Scotty (Bowman) in St. Louis. I knew Cliff from the Montreal days. He said, 'Scotty wants to know if you'd make a comeback.' I said, 'I don't know, Cliff. I got my business going.' But I went around to some of my customers and they said, 'Dickie, we'll support you 100%. Go and play hockey.' I had so much support from my customers to make a comeback."

Moore worked hard to attempt a comeback with the expansion St. Louis Blues. "I lost twenty pounds to make the comeback, practicing by myself. I picked up a youngster to act as a goaltender. I did a lot of skating and decided to go play with them." The team was littered with former Canadiens, including Red Berenson, Jean-Guy Talbot and Jimmy Roberts. Scotty Bowman was behind the bench. "My first game was in Los Angeles. I flew from Montreal to Los Angeles. I had my winter coat on when I arrived at the hotel," Dickie laughs.

Having retired twice, fought off numerous injuries and at thirty-seven years of age, Moore played twenty-seven games for St. Louis, scoring 5 goals and 3 assists. But the Blues surprised all, and backstopped by veteran Glenn Hall, went to the Stanley Cup final against the familiar Montreal Canadiens. Although the Blues were swept in four straight games, they bowed out proudly with a gutsy effort, and Dickie Moore concluded his NHL career with a terrific finale. In eighteen playoff games, he scored 7 goals and 7 assists. "My season with St. Louis was extra-special," Moore smiles.

Dickie Moore retired at the end of the 1968 playoffs, having accumulated 261 goals, 347 assists and 608 points in 719 regular season games, plus 46 goals, 64 assists and 110 points in 135 playoff contests. Twice the NHL's scoring leader, Dickie was chosen for the NHL's First All-Star Team twice and the Second Team once. Impressively productive yet resilient to the pain of leg, knee, shoulder, hand and wrist injuries, in 1974, Dickie Moore, a true warrior, was elected to the Hockey Hall of Fame.

Kevin Shea is the Manager, Publishing and Editorial Services of the Hockey Hall of Fame.