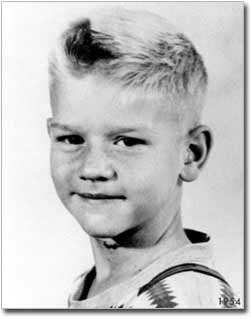 At the time of this photo in 1954, Bobby Orr had already found his balance skating on the frozen Seguin River and had graduated to organized hockey in the Parry Sound minor hockey system.
(Photo credit: Bobby Orr Collection)

(May 4, 2004) -- The Hockey News recently compiled a list of the greatest NHL players of all-time as chosen by a panel of experts. Wayne Gretzky placed first on the list, but Bobby Orr was selected Number Two. In the words of The Hockey News, Orr was "... a player whose ascent only stopped when incendiary desire and ability burned through the body that carried them."

The nurses at St. Joseph's General Hospital in Parry Sound, Ontario wondered if there would even be a beginning for the baby born to Doug and Arva Orr on March 20, 1948. Yet, in spite of a difficult birth, the couple's third child not only survived but emerged as one of the greatest hockey players ever. His name — Robert Gordon Orr.

Bobby Orr's hockey career began as a wobbly four-year old on the Seguin River under the watchful eyes of his father. "Bob really ran around on his ankles, but he picked it up fast," remembers Doug Orr. The next year, the five-year-old was registered to play Squirt in the Parry Sound Hockey Club league, where he played against boys two and three years older. Bucko McDonald, a local politician and former NHL defenseman, coached Bobby as a peewee and moved him from forward back to defense, a move that was opposed by many but that greatly aided Orr's development.

At a March 1960 bantam tournament in Gananoque, Ontario, NHL scouts noted Orr's dominance and began aggressively pursuing the talented 12-year old. The Boston Bruins immediately decided to subsidize the town's minor hockey program, hoping to curry favour with the Orrs for the day that Bobby would be eligible to sign a contract with their organization. Although virtually every one of the NHL teams scouted Orr, Bobby's parents left all hockey decisions with their son, who, on Labour Day 1962 at the age of 14, chose to sign with the Boston Bruins' organization. "They were a team of the future," explains Bobby. "They were re-building and I wanted to be part of that building program." Bobby felt that the Bruins represented his best and quickest route to the NHL.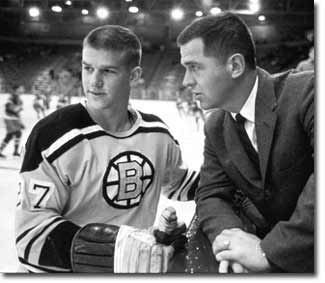 Bobby Orr attends his first Bruins' training camp and, wearing Number 27, confers with rookie head coach, Harry Sinden.

That fall, although still attending Grade 8, the 5'5" and 125 pound Orr was assigned to the Oshawa Generals. Bobby commuted to Oshawa's games from Parry Sound during 1962-63, and as a 14-year old rookie, was named to the Second All-Star Team. In 1963-64, Orr moved to Oshawa and boarded with a local family. In each of the next three seasons, Bobby Orr was named to the OHL's First All-Star Team.

Bobby led the Generals in scoring in 1965-66 with 38 goals, 56 assists and 94 points — good for third in the league. The Generals earned a berth in the Memorial Cup championship, but with Orr suffering a groin injury early in the series, Oshawa was defeated by the Edmonton Oil Kings.

During the summer, Bobby Orr signed a two-year deal with the Boston Bruins. The Bruins missed the playoffs seven consecutive seasons prior to 1966-67, and the franchise eagerly awaited the arrival of Orr to guide them out of the NHL's basement. Although Bobby won the Calder Trophy as Rookie of the Year and was a Second Team All-Star, the Bruins missed the playoffs once again.

Then, during the summer of 1967, the Bruins acquired Phil Esposito, Ken Hodge and Fred Stanfield from Chicago and introduced rookie Derek Sanderson. Combined with an existing nucleus of Gerry Cheevers, Johnny Bucyk, Ted Green and Bobby Orr, Boston's fortunes shifted dramatically. That spring, the Bruins participated in the playoffs for the first time in nine years.

In 1968-69, Phil Esposito won the league scoring championship and was selected most valuable player. Orr was named best defenseman, and for the second consecutive season, was voted to the NHL's First All-Star Team. But the NHL's biggest reward had still eluded the 'Big Bad Bruins.'

In 1999, The Hockey News asked experts to select the most important regular season performance in NHL history. Bobby Orr's extraordinary 1969-70 season was the panel's first choice. That season, Orr became the first defenseman to lead the NHL in scoring, collecting 33 goals and 87 assists for 120 points and outscoring runner-up Phil Esposito by 21 points. He not only collected the Art Ross Trophy, but won the Hart Trophy as the NHL's most valuable player, was named the Norris Trophy winner as best defenseman for the third consecutive season and was selected to the First All-Star Team for a third straight time. The Boston Bruins went on to win the Stanley Cup — their first in 29 years — with Orr winning the Conn Smythe Trophy as the league's most valuable playoff performer. "I never thought there could be such a day," Orr beamed at the time. "This is what every kid dreams of, scoring the winning goal in a Stanley Cup overtime final. Wow! I can't find words to express what I feel."
Bobby accepts the Calder Trophy from NHL president Clarence Campbell in 1967. Orr was named to the Second All-Star Team, yet had just turned nineteen.

Why was Orr's 1969-70 campaign selected as the greatest season ever? 'Orr changed the way the game was played. (He) expand(ed) the job description of all defensemen who followed. No longer was it accepted for defensemen to join the offense, it was expected of them if teams were to have success,' wrote The Hockey News:

The 1970-71 regular season gave every indication that Boston would repeat as Stanley Cup champions — 57 wins, just 14 losses plus 7 ties for a league best 121 points. Bobby demolished his own point total, collecting 139 points, yet finished second in the scoring race to Phil Esposito's 152. Incredibly, the top four NHL scoring leaders were all Bruins: Esposito, Orr, Johnny Bucyk and Ken Hodge. Orr won his second straight Hart Trophy, fourth consecutive Norris Trophy and was selected to the First All-Star Team for a fourth straight season. In the first playoff round, the Bruins ran into rookie netminder Ken Dryden and the Montreal Canadiens, who upset Boston in seven games, stunning the hockey world ... but no one more than the Boston Bruins.

The Bruins returned for revenge in 1971-72. They finished first in the regular season again, earning 119 points — two shy of their record pace of 1970-71. Orr was particularly driven, collecting 117 points to finish second to teammate Esposito in the scoring race. Bobby also collected another Hart Trophy, yet another Norris and for a fifth straight season, was named to the First All-Star Team.

The Bruins met the New York Rangers in the Stanley Cup final. Playing on a severely damaged knee, Bobby Orr dominated the series, leading his Bruins to a six game series victory and a chance to cradle the Stanley Cup once again. Orr scored his second Stanley Cup-winning goal and was awarded the Conn Smythe Trophy as the playoff MVP — the first player to win the award twice.
On January 16, 1968, Orr participated in his first NHL All-Star Game. He earned one assist and wore Number 5, deferring to the more senior Jean Beliveau for sweater Number 4.

Bobby continued to dominate whenever he was healthy. In each of the six seasons between 1969-70 and 1974-75, Orr collected more than 100 points. In '73-74, he led the NHL with 90 assists on his way to earning 122 points. The following season, Bobby was awarded the Art Ross Trophy once again as the NHL's leading scorer, scoring a career-best 46 goals and a league-leading 89 assists for 135 points, his finest offensive season in the NHL.

But the 1975-76 season brought changes. Trades dismantled the 'Big, Bad Bruins,' including Phil Esposito's departure to the New York Rangers. The season was painful in another way for Orr. He managed to play just 10 games due to injury-riddled knees. Contract negotiations hit an impasse between Bobby and the Bruins. It marked the end of an era marked by excellence, intensity and courage. It spelled the end of his career as a Boston Bruin. Unable to negotiate a new contract with the Bruins, Bobby became a free agent and on June 21, 1976, signed with the Chicago Black Hawks.

Bobby's knees had long given him trouble, but the 1976-77 season was particularly challenging. After just twelve games, a specialist flushed bone particles out of the knee. Upon his return in January 1977, Bobby was able to play just eight more games before concluding that he could not continue. Yet, he had earned 23 points in the 20 games in which he did play.

Bobby had yet another surgery and was advised to take a year off to rest his knees. He didn't commence skating until January 1978, but when he returned, was unable to execute the moves his head dictated. After just six games, Bobby informed the Black Hawk organization that he was unable to continue playing. On November 8, 1978, one month into the new NHL season, Robert Gordon Orr laid his professional career to rest at the tender age of 30.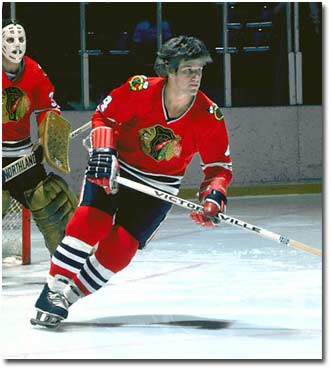 Orr signed with the Chicago Blackhawks on June 24, 1976, but only managed to play 26 games, earning 27 points on knees that forced his retirement during the 1978-79 season.

Other defensemen have surpassed Bobby Orr's offensive statistics, but the question of longevity must come into play. Without the debilitating injuries to his knees, how much more spectacular could the career of Bobby Orr truly have been?

Robert Gordon Orr added 'OC' after his name in 1979 when he was awarded the Order of Canada, Canada's greatest civilian honour.

In a ceremony held in Montreal on September 12, 1979, Bobby Orr was enshrined in the Hockey Hall of Fame, joined that evening by Henri Richard, Harry Howell and builder Gordon Juckes. Orr's inclusion was extra special: the Hockey Hall of Fame's selection committee waived its traditional three-year waiting period following the completion of a player's career, inducting Orr less than a year after he had been forced to retire. Bobby reflected on what it meant to be inducted into the Hockey Hall of Fame, stating "I grew up with the same dream that most boys in Canada have — to play in the NHL. This is a tremendous way for it to end."

It was impossible to get a ticket for the Bruins' game January 9, 1979 against the Soviet Wings. It was a very special evening for Boston, as their hero, Bobby Orr, was having his number retired by the Bruins. Johnny Bucyk presented Orr with a home Number 4 jersey, which the crowd urged Bobby to wear one final time. "I've been thinking for a week to try to think of what to say," Bobby laughed. Then, as he pulled the sweater over his head, the fans erupted into an extraordinary ovation as a circular banner bearing the name Robert G. Orr and the Number 4 was raised above centre ice. "I love you so much," he said, choking back tears. "I spent ten years here and they were the ten best years of my life!" After shaking hands with Senator Ted Kennedy and each of the current Bruins, Orr saluted the crowd and walked off the ice to the deafening chant of, 'Baw-bee! Baw-bee! Baw-bee!' The Number 4, now raised to the rafters, would never again be worn by a member of the Boston Bruins.

The Town of Parry Sound opened the Bobby Orr Hall of Fame on July 18, 2003, with the guest of honour in attendance. "This is probably the most difficult thing I've ever had to do — to stand here and tell you how I feel," he stated, "I've been a very lucky guy. I played on championship teams. I played for Canada. I've won some awards and I'm very proud of those accomplishments. But I don't think there's anything greater than to come home and to be recognized at home." Bobby smiled, then introduced his family — sisters Pat and Penny and brothers Ron and Doug, their respective spouses and families. "Thank you for the sacrifices you had to make so I could chase my dream." He then thanked his father, Doug, for unconditional support through the years. "My Dad was my biggest supporter. He never put pressure on me."

Bobby then spoke emotionally of his grandmother and mother. "I know they're watching," Orr said, pausing to bring his emotions under control. After a moment, the crowd clapped appreciatively at Bobby's deep affection for his mother and grandmother. "I know how thrilled they'd be." Before introducing his wife Peggy, with whom he celebrated his thirtieth wedding anniversary in September 2003, his oldest son Darren and Darren's wife Chelsea, Orr pronounced July 18, 2003, " ... the most marvelous day of my life! I am so thrilled."

Today, Bobby devotes an enormous amount of his time to developing the next generation of hockey greats, operating a player agency named the Orr Hockey Group. "Developing better people should be the number one goal for any coach when dealing with kids. In trying to develop better people, we are going to develop more and better pros. We're going to have more kids playing, and we're going to have a better chance of finding those players Minor sports in a community is for fun and recreation." Although his hockey talents placed him among hockey's best of all-time, it's as an ambassador to hockey that truly ranks Bobby Orr as one of the absolute greats of the game.

-

Kevin Shea is the Hockey Hall of Fame's Manager of Special Projects and Publishing.