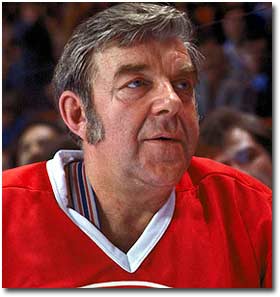 Lorne 'Gump' Worsley makes a return visit to the Forum during a Montreal Canadiens alumni game.

(April 6, 2004) -- "I was born May 14, 1929," begins the story of 'Gump' as told by Lorne John Worsley. "My parents were living in a three bedroom flat on Congregation Street in Point St. Charles, which is a suburb of Montreal. It was the Depression, so there wasn't a lot of money floating around."

Worsley was a small boy, but enjoyed playing hockey in his neighbourhood. "I played for a guy named Phil Walton. He owned a grocery store in our neighbourhood. I was playing forward but was getting knocked around a lot because I was so small. Walton said, 'You intend to play hockey for a living?' I said, 'I hope so,' so he said, 'You better get in the net.' That's why I ended up in the goal."

Although growing up in Montreal, Worsley didn't cheer for the locals. "I hated the Canadiens," admits Worsley. "My favourite player was Dave Kerr with the Rangers." Davey Kerr started his netminding career in 1930-31 with the Montreal Maroons, the favoured team of Gump's father. Kerr later spent seven years with the New York Rangers, won the Vezina and was named to the NHL's First All-Star Team in 1940.

Lorne Worsley picked up an unusual nickname as a boy. "I was about nine or ten years old. A fella I hung around with in Montreal named George Ferguson started calling me 'Gump.' I had hair that stuck up like Andy Gump, the comic strip character. The nickname came because of that." But the childhood tag remained for the rest of his life. "It's my own fault because when I went to play junior, you had to fill out a form and they asked for nickname and I put 'Gump' down and it stuck."

Although still smaller than most of his peers, Gump discovered he was better than most of the competition. "I was about seventeen when I realized that I could make hockey my career. I tried out for the Verdun Cyclones in 1946." Worsley made the team and played for the Quebec junior team two years; from 1946 to 1948. "Verdun was a Rangers-sponsored team so I automatically belonged to the New York Rangers. There was no draft back then."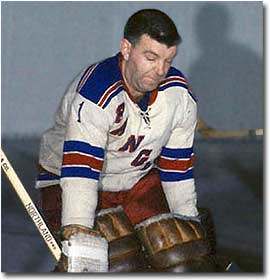 Worsley earned rookie-of-the-year honours in 1952-53 despite his Rangers finishing last in the league.

"I went to three training camps with the Rangers before I went to New York to stay," explains Gump. "The Rangers assigned me to the (New York) Rovers of the old Eastern Hockey League." After turning pro in 1949-50, Worsley spent three years bouncing back and forth between leagues.

Finally, in 1952-53, Gump Worsley looked like he was ready for the National Hockey League. "Charlie Rayner helped me out a lot at training camp that year." But Gump was sent to the Saskatoon Quakers of the Western Hockey League at the start of the season. "Rayner got hurt during the exhibition schedule. I was playing in Saskatoon at the time that I got called up. So I started off in Detroit. That was a great place to start. It was the season opener and we lost." The New York Times sports page read 'Worsley Stars in 5-3 Loss.'

"Charlie Rayner was a big help in my rookie season," states Gump. "I guess he knew he'd be retiring at the end of the season. He really taught me a lot." The team was an interesting mix of veterans likes Don Raleigh, Leo Reise and Rayner as well as prospects like Harry Howell, Andy Bathgate and Worsley. Yet, the team finished a distant sixth and ended the season in the cellar. "I was surprised when I won the Calder Trophy because we only won 17 games that year. We finished in last place. Winning the Rookie of the Year was a big thrill of course."

After a solid rookie season in goal, Worsley was shocked to discover he was to spend the 1953-54 season with the Vancouver Canucks of the Western Hockey League. "When I reported to camp in 1953-54, I figured I was the Rangers' goaltender. But they had purchased Johnny Bower from Cleveland during the summer. I asked for a $500 raise and I got sent to Vancouver. It had to be about the money." The Rangers finished a respectable fifth, but still missed the playoffs.

"I was back with the Rangers for the start of the 1954-55 season," smiles Gump. This time, Bower went to Vancouver and Worsley was the Rangers netminder. But the sad-sack Rangers missed the playoffs yet again.

Phil Watson was named coach of the Rangers at the start of the1955-56 season — much to the eventual dismay of Worsley. "Phil Watson was a jerk. If we won the game, it was because of him. If we lost, it was us." But the Rangers finished third; just two points out of second place. The team was in the playoffs for the first time in six seasons. "I was one of his whipping boys," admits Gump. "He'd say, 'You can't play goal with a beer belly. 'I'd say, 'I don't. I'm strictly a rye man.'"
Worsley played on four Stanley Cup championship teams during his tenure with the Canadiens.

The Rangers went to the playoffs in three consecutive seasons under Watson's tyrannical rule, but never finished higher than 1957-58's second place slot. Then, during the summer of 1963, Gump Worsley, Dave Balon, Leon Rochefort and Len Ronson were sent to the Montreal Canadiens in exchange for Jacques Plante, Phil Goyette and Donny Marshall. "I was with Muzz Patrick (general manager of the New York Rangers) the night before I got traded. I asked him, 'Am I being traded?' He said, 'No, you'll be a Ranger for the rest of your career.' So I came home and one of my buddies called me and said, 'You've been traded to Montreal.' I said, 'Oh yeah, sure. Tell me another one.' He said, 'Turn on the radio.' So I was sitting in my backyard and I turned on the radio and sure enough, I'd been traded." The blockbuster deal was consummated June 4, 1963. "That was tough," nods the Gumper. "To come and play at home was tough."

Worsley is still mildly bitter at the New York Rangers organization. "To this day, I've never been told by the Rangers that they traded me. Frank Selke (the Canadiens' general manager) called me and told me they had traded for me. That's the only official word I got."

The move back to Montreal was a new lease on life for the netminder, but injuries got in the way of his best laid plans. Gump was sent to he American Hockey League's Quebec Aces to recuperate and didn't return to the parent club until late in 1964-65. That season, he shared netminding duties with Charlie Hodge, and the two backstopped the Montreal Canadiens to a second place finish, followed by the Stanley Cup. "We beat Chicago 4-0 in the final game. We were winning 3-0 at the end of the first period. It was a long game, I can tell you that!" For Gump, after twelve NHL seasons, he was finally able to taste championship champagne. "That first one is a special one, I'll tell you! Nothing matched that thrill. My hometown Beloeil had a parade for me that summer."

The next season, with Worsley shouldering most of the netminding duties, the Canadiens finished the regular season in first place. Gump played 51 games to Hodge's 26, and the two combined to win the Vezina Trophy for the lowest team goals-against average. "That was another first for me and a real thrill. Charlie Hodge and I got along well together," Gump states about his goaltending partner and roommate.

It was a superb season, and Gump acknowledges, "Things were going so well that it was great to go to the rink everyday." That spring, Worsley and his Montreal teammates earned a second straight Stanley Cup championship. Against Detroit in the final, Game 6 went into overtime. "In the third minute of overtime, Dave Balon had the puck behind the net, shot it out and hit Henri Richard and the puck went in behind (Roger) Crozier," recalls Worsley.

The NHL doubled in size to twelve teams in 1967-68. Charlie Hodge was lost to the Oakland Seals in the expansion draft, but nonetheless, Worsley and new partner Rogie Vachon guided the Montreal Canadiens to the Stanley Cup that spring. Then, a lot changed in Montreal the next season. "We changed coaches from Toe Blake to Claude Ruel. We didn't see eye to eye. The fans were getting on my nerves. And we were travelling a lot." That proved to be Gump's undoing. "The Forum was being renovated and we played the first eight games of the season on the road. I hated flying."

Gump was off on a medical leave from late November until just past New Year's, then split the remainder of the schedule with Vachon. Then, Worsley broke a finger during the playoffs. Nevertheless, Montreal captured its fourth Stanley Cup championship in five years.

In 1969-70, Gump Worsley had clearly had enough of hockey and retired — at least, for the first time. "I was at home. I had quit the Canadiens. Wren Blair (of the Minnesota North Stars) called me at home. I told him, 'You can't talk to me,' and he said, 'I got permission from Sammy Pollock to talk to you.' I said, 'Okay, what do you want?' He said, 'I want you to come play with Minnesota.' I said, 'You're crazy! I'm forty years old.' He said, 'I know how old you are.'"

Worsley joined the North Stars, sharing goaltending duties with Cesare Maniago. The young team also boasted former Canadiens' Clause Larose and Danny Grant as well as fledgling stars Bill Goldsworthy and J.P. Parise. The next season, they added Worsley's friends Ted Harris and Bobby Rousseau. "They were good years. That was a good time to play, I'll tell you. We had a pretty good team, you know." Gump enjoyed four full seasons in Minnesota. "That was a good place to live. I was too old to start over again and buy a new house at forty. I'd been in my house for eighteen years. Now, I've been in the same house fifty-three years. I live about twenty miles outside Montreal in Beloeil."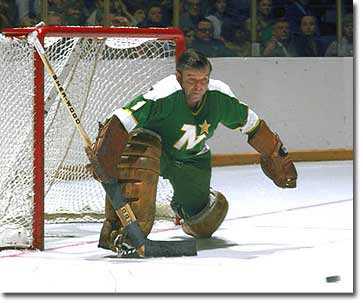 When first asked to come play for the Minnesota North Stars in 1970, Worsley responded "'You're crazy! I'm forty years old.'"

It was 1973-74 and Gump Worsley started the season still playing without a mask. "I never really did wear a mask. The last six games I wore one. I was retiring and Wren Blair told me, 'You better put on the mask and save your eyes.' It was awful warm. And you still ducked." By then, only Andy Brown of the Pittsburgh Penguins was still playing bare-faced. "The main occupational hazard is trying to stay alive while facing up to forty or fifty shots a game, and some of those shots fly 115 miles an hour. The toughest shot I ever faced was from Bobby Hull. In 1965, I got hit by a shot from Hull. It hit me on the right cheek. I was lucky; the flat side of the puck hit me, not the edge."

While discussing Hull as the finest shooter he ever faced, Gump names other outstanding players he competed against. "Bobby Orr was the best defenseman I ever saw. Doug Harvey, too. Glenn Hall and Johnny Bower were the best goalies I ever played against. "

After the 1973-74 season, at the age of forty-five and having played twenty-one NHL campaigns, Gump Worsley announced his retirement. "The final goal against me was by Dave Schultz of the Flyers. I remember the first one too — Ted Lindsay," Worsley laughs. "I was going to retire in 1970-71 and Blair said, 'Play one more year and I'll pay you one year to play and four years to scout.' That's how I got into scouting. I scouted ten years. I discovered Bobby Smith."

It is a much different game today than it was during the years Worsley played; a fact Gump readily admits. "When I broke in, there were only six goaltenders in the National Hockey League." Worsley stops and collects his thoughts. "We were the best in the world."

Kevin Shea is the Manager, Special Projects and Publishing at the Hockey Hall of Fame