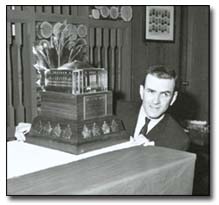 (April 15, 2002) -- Many people who have been writing about hockey and the Toronto Maple Leafs feel that Dave Keon is the greatest player ever to wear the Blue and White. He was a little bit of everything. Check that--he was a lot of everything. He could score goals; he was a superb passer; he was one of the best checkers of his day; he killed penalties and played the power play; he performed in the playoffs; he led as captain; he made it into the Hockey Hall of Fame.

Keon was a graduate of St. Mike's in Toronto in 1960, the most successful high school in hockey history. "That was one of the best times of my life," Keon recalled with fondness. "I wouldn't trade those years for anything. I was growing up, learning to play, living away from home, going to school. A combination of so many things." Those were the glory years of the team, and today St. Mike's is now experiencing a renaissance. "When I'm up in Toronto, I'll watch. I know they eliminated North Bay. They went through some tough times with some kids in the program, but it seems they've turned it around."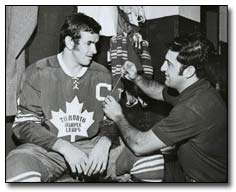 Dave Keon with Maple Leaf Trainer
Joe Sgro sewing on the 'C'.

The St. Mike's dressing room couldn't have been more different than the Leafs' room at Maple Leaf Gardens. "They were two different places because there were two different purposes," Keon noted. "At St. Mike's, we were learning the game. You're trying to improve your skills. In the other case, it's a business."

Leafs' coach and GM Punch Imlach made it his business to have a certain kind of dressing room, and although some players loved Punch and others hated him, Keon isn't sure what the fuss is all about. "I got along fairly well with him. I guess you're aware that not everyone does, but I think it's the same with every team. Some players get along with the coach--others don't."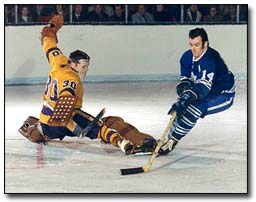 Whatever the case, Imlach won Stanley Cups, and that's the point of the game, at least at the NHL level. In his Leafs career, Keon scored 20 goals eleven times. He played in eight All-Star Games and captained the team for seven seasons. Foster Hewitt used to call him "Mister Perpetual Motion" because he never stopped skating, and his was acknowledged to be the best backhand in the game. "Most kids today slap the puck," he offered. "The backhand takes time to learn. It's not something you do naturally. But it is an effective shot."
Keon left the Leafs to go to the WHA in 1975, came back to the NHL with Hartford in 1979, and was bestowed upon him a great honour on his first trip back to the Gardens with another team.
None other than Conn Smythe searched him out in the visitors' dressing room, the first time the Leafs' owner and creator ever entered the opponents' sanctuary. "He came down to see me," Keon remembers. "Don Blackburn was the coach and he said, 'there's someone to see you.' This was before the game and I asked him to tell the person to wait until after. Don said that this was someone you'd want to see now. He came in and said hello, and then wanted to know where "the other guy" was, meaning, of course, Gordie [Howe]."
After retiring in 1982, Keon moved to Florida to work in the real estate business. He last laced on his skates a couple of years ago when he was coaching a Squirt team in Florida. Other than that, he's been all business. He attended the Hockey Hall of Fame Induction in 2000, and fans can only hope he becomes involved in the game again. One of the greatest Leafs to play and one of the most popular players as well.
- Andrew Podnieks is the author of numerous books on hockey including the current The Essential Blue & White Book. He is also a regular contributor to Leafs.com and managing editor of A Day In The Life of the Leafs to be published in the fall of 2002.