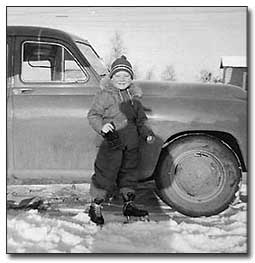 Four-year old Bobby Clarke.

(May 2, 2003) -- "Flin Flon was the same as any other Canadian mining town from the North. There were a lot of outdoor rinks and we had the one indoor rink where our junior team played and the mine did a lot of the sponsoring of hockey that went on for the community. We got to play one game a week at the indoor rink, but the rest of my minor hockey was on the outdoor rinks."

Robert Earle Clarke was born August 13, 1949 in the small Manitoba town of Flin Flon. An active, sports minded boy, Clarke became a junior star in his hometown, leading the league in scoring in each of his three seasons with the Flin Flon Bombers. In 1966-67, he collected 183 points, including league best totals in goals (71) and assists (112). The next season, Clarke again was the league's scoring leader, this time with 168 points, comprised of 51 goals and a league-leading 117 assists. His third consecutive season topping the league in scoring was 1968-69, when he accumulated 137 points. Bobby's 86 assists were also best in the Western Canadian Junior Hockey League. That season, Clarke should have been one of the early draft picks in a strong pool of junior talent, but teams were hesitant to draft a boy with diabetes. "I got diabetes when I was 12 or 13. I never had anything to compare it too. (Taking my injection shots) was what I had to do to live," comments Clarke. "As far as playing hockey, I don't know if it hurt me, but I never worried about it. I wanted to be a hockey player. There were some uneducated judgements made by teams that thought that if you had diabetes, you weren't going to be strong enough to play in the National Hockey League. My understanding is that the Flyers spoke to a diabetic specialist who assured them that if I took the proper care of myself, I'd be fine." The Philadelphia Flyers selected Bobby Clarke with their second pick, the 17th choice overall. "I didn't give a darn that I had to take needles. That never bothered me. I just asked the doctor if I'd be able to play hockey and he said, 'Sure.'"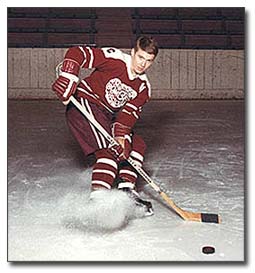 Clarke during his scoring heydays
with the Flin Flon Bombers.

Growing up in Flin Flon and still residing in his hometown while playing junior, Bobby Clarke had quite a transition to make when he showed up in Philadelphia to begin the 1969-70 season. "Flin Flon, where I had lived my whole life, was 10 or 12,000 people where you knew everybody and everybody knew you, and it was very comfortable for me. I got plunked into Philadelphia where there are millions of people. I was naive about everything, which in some ways helped. I didn't get involved in the city at all the first few years. I wasn't used to driving on four lane highways and I basically stayed close to home and played hockey."

But Clarke had the assistance of some of the Flyers' veterans to help him get acclimatized to the metropolis. "Billy Sutherland and his wife Sheila had five children, and I was at their house all the time. Billy was really, really important in helping me go from a boy to a man. Wayne Hillman was a neighbour of mine and he and his wife made sure I was well fed too," smiles Clarke, reminiscing.

In his first three NHL seasons, Bobby steadily grew more confident and saw his point totals climb from 46 points as a rookie to 81 in 1971-72. Then, Clarke was selected to be part of the Summit Series against the Soviet Union in 1972, a tournament that changed his life.

"I was in the normal process that a young player goes through. I was getting more confident, I was gaining some experience. When you go to a series like that and get involved in that level of play with that level of player, you find out you can play at that level, it escalates your career by two or three years," explains Bob. Returning from the Canadian victory in Moscow, Clarke stepped back into the Flyer lineup and finished the season with 104 points; good for second place in the NHL scoring race behind Art Ross winner Phil Esposito. Bobby Clarke was the league's most valuable player in 1973, taking home the Hart Trophy. He was also the recipient of the Pearson Award as the most valuable player as judged by his peers. "I think I was the beneficiary of some of the deals that (Flyer general manager) Keith Allen made," says Clarke. "He started bringing in top, young kids. I was still just 22 or 23 years old. All of a sudden, we had guys like (Dave) Schultz, (Rick) MacLeish, (Bill) Barber and (Bob) Kelly, and we were all basically the same age. We all developed at the same time. I got to play the powerplay, so when you get those situations as a young player with players who are your own age, you have a chance to develop as a leader and as a player. I benefited immensely from a lot of the deals that Keith Allen made."

The epitome of success for an NHL team is, of course, winning the Stanley Cup, and the Philadelphia Flyers celebrated in back to back years, collecting the championship in 1974 and 1975. "My feelings I'm sure are like the thousands of other kids who dreamed their entire life of winning and holding the Stanley Cup. I don't really know how to articulate it and I've never seen anybody put the feeling into words properly. We all felt the same way, whether you won it in Montreal, or in Toronto or in Philadelphia. When you win the Stanley Cup after dreaming about it your whole life, for me, that was the highlight of my hockey playing career."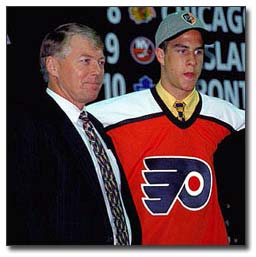 Bob Clarke as the GM of Philadelphia
at the 1998 NHL Entry Draft with Flyer
#1 pick Simon Gagne.

Philadelphia continued to be a threat every season Clarke played for them. His on-ice leadership was inscrutable, and off the ice, he was able to mentor players like Tim Kerr, Dave Poulin and Ron Sutter, much like Bill Sutherland and Wayne Hillman had done for him early in his career. During the final three seasons of his playing career, all of which were spent as a Philadelphia Flyer, Bobby was a playing assistant coach, which gave him the experience to move into management once he had retired following the 1983-84 season, his 15th in the NHL. Bobby Clarke retired with 1,144 games played, 358 goals, 852 assists and 1,210 regular season points, all Philadelphia Flyers' records at the time, and was named to the Hockey Hall of Fame in 1987.

Before his skates were even dried one final time, Bobby Clarke was named general manager of the Philadelphia Flyers, and led his team to the Stanley Cup finals in 1985 and '87. He joined the Minnesota North Stars for two seasons between 1990 and 1992, returned to the Flyers, then was general manager of the Florida Panthers during 1993-94. Returning to Philadelphia in 1994-95, Bob Clarke is once again general manager in the city that gave him his NHL start, and nurtured the young diabetic player from Flin Flon, Manitoba into one of the greatest players in the storied history of their franchise.

Kevin Shea is co-author of several hockey biographies. His most recent book is "Over The Boards - The Ron Ellis Story" (H.B. Fenn), released November 2002.