26 FEBRUARY 2010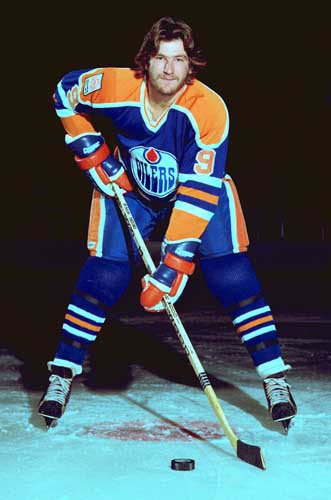 A young Glenn Anderson as a member of the Edmonton Oilers. (Graphic Artists/HHOF)

While Glenn Anderson is remembered for his aggressive forays to the creases of opposing NHL goaltenders, his play in international tournaments was of equal merit. In both scenarios, Glenn states, "The bigger the game, the better I played."

Born October 2, 1960 in Burnaby, British Columbia, Glenn Christopher Anderson didn't immediately love the game at which he later excelled. "When I first started playing hockey, I hated it," he admits. "I hated getting up at six o'clock in the morning to go to the rink. The first goal I ever scored was in my own net."

As he grew more and more adept at the game, his interest grew accordingly. But while his peers looked up to NHL stars like Bobby Hull and Gordie Howe, Glenn had a different hero. "Alexander Yakushev was my idol as a kid. Watching him with his peers gave me tremendous inspiration."

In his neighbourhood, Anderson and his brothers (Allan and David; he also has a sister, Pam) had a friendly competition with the Berry family. "As a boy, a rivalry I had was the Andersons versus the Berrys – David, Ken, Doug, Rick and Don, their Dad." Don Berry, a former World Champion with the Penticton Vees, coached Glenn and Ken Berry through minor hockey. "In my eyes, this was the Hatfields versus the McCoys, and it taught me physical and mental preparation."

Through minor hockey, Glenn was teamed with Ken Berry and Andy Hill, who actually played in a band with another Burnaby boy, actor Michael J. Fox. Anderson, Berry and Hill went on to play together with the Bellingham Blazers of the B.C. Junior Hockey League (BCJHL) in 1977-78, where Glenn scored 62 goals and 131 points in 69 games.

The next year, former NHLer Marshall Johnston recruited all three boys for the University of Denver. Anderson struggled with his schoolwork, and at times, was held back from participating in tournaments, but by the end of the 1978-79 year, he passed. "At the age of 18, all you wanted to do was hockey," he shrugs. "You didn't even think about school. But now, I've learned that school was so much more important than hockey any day of the week." He led the NCAA team in scoring with 26 goals and 55 points in 41 contests.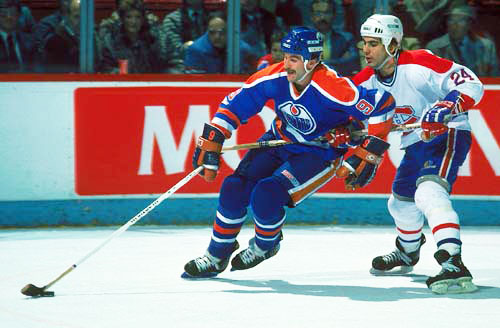 Montreal's Chris Chelios tries to hold up Edmonton's Glenn Anderson.
(Paul Bereswill/HHOF)

Although Anderson was selected by the Edmonton Oilers in the fourth round of 1979 NHL Entry Draft, he chose to play for Canada's National Team in order to fulfill a dream of participating in the Winter Olympics in 1980. His college coach, Marshall Johnston, was a two-time Olympian, and confirmed with Glenn that an experience like playing for your country was not to be missed. Anderson (and friend Ken Berry) joined the Canadian National Team and travelled extensively throughout Europe and Asia to prepare for the 1980 Winter Olympics in Lake Placid, New York. Glenn collected 4 points in 6 Olympic contests, but Canada finished sixth and could only look on as Team USA won the gold medal in the 'Miracle on Ice' that year. "I cried for two hours straight after we lost to the Russians," Anderson recalls, reflecting on the 6-4 loss. "We were winning going into the third period." But Glenn took something else away from the Olympic tournament. His skills took an exponential leap having faced some of the world's finest hockey talent. "It was incredible how much I improved."

That fall, after waiting to see if the National program would be continued (it wasn't), Anderson joined the Oilers for the 1980-81 season. When he finally joined the team, he played 58 games and scored 30 goals. The team, in just its second season in the National Hockey League, finished fourth in the Smythe Division and upset the Montreal Canadiens in the first round of the playoffs before being eliminated by the New York Islanders, who would roll on to win the Stanley Cup. Yet, Anderson established himself, even as a rookie, as a fierce playoff performer, collecting 12 points in 9 post-season games.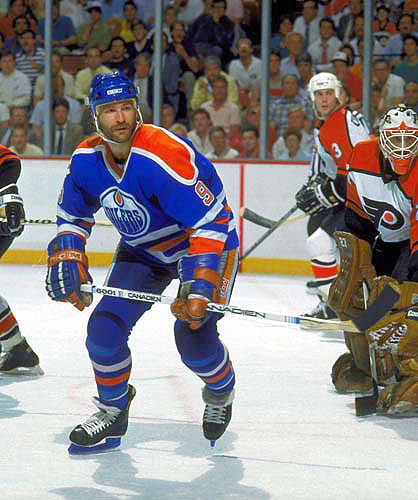 Edmonton's Glenn Anderson during Stanley Cup Final action against Philadelphia. (Paul Bereswill/HHOF)

Anderson's game exploded in his sophomore season when he eclipsed the 100-point plateau and finished second to Wayne Gretzky in team scoring. The Oilers coasted to first place in the Smythe but were shocked when the Los Angeles Kings knocked them out of Stanley Cup contention in the first round of the playoffs. Anderson again scored 100 points in 1982-83, and Edmonton finished first in their division once again. This time, after reaching the finals, the Oilers were defeated by the New York Islanders in four straight games.

Anderson and the Oilers would not be halted again. In 1983-84, Glenn finished with 99 points, including 54 goals, and the team finished first in the Smythe for the third of six straight seasons. Like the Islanders, it seemed that Edmonton had to lose in order to learn how to win. Moving through the post-season, the Oilers met their nemesis, the Islanders in the Stanley Cup final, but that spring, it was the Oilers that emerged as Stanley Cup champions.

Ending one team's dynasty (the Islanders won four consecutive Stanley Cup championships), Edmonton began their own. In 1984-85, they defeated the Philadelphia Flyers to take win the big prize for a second straight spring. Although the Canadiens interrupted Edmonton in 1985-86, the Oilers returned to collect Lord Stanley's silverware in 1987 and 1988. Anderson recorded post-season productivity of 27 and 25 points respectively in the last two wins.

The team had grown together, with Glenn Anderson an integral part of the team, both on and off the ice. In his Hockey Hall of Fame Induction speech, Anderson recognized his coach and some of his teammates from that dynasty era. To coach and general manager Glen Sather, Anderson said, "You taught us how to set and achieve our goals." Of Wayne Gretzky, Glenn said, "Gretz was lightyears ahead of everybody. He taught us to be the ultimate professionals off and on the ice."

Gretzky was traded during the summer of 1988, but that didn't end the Oilers' success. While they were defeated in the divisional semi-final, Edmonton won a fifth Stanley Cup championship in 1990, after beating Boston's Bruins in five games. The Oilers were led by a number of players who had enjoyed all five victories, including Glenn and his linemate, Mark Messier. "People ask me who the toughest guy I ever played against is," smiles Anderson. "The answer is always Mark Messier, even in our own practices."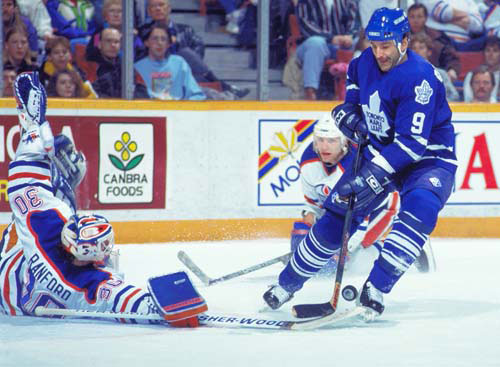 Glenn Anderson as a member of the Toronto Maple Leafs tries to get this puck passed Edmonton's Bill Randford. (Doug MacLellan/HHOF)

Glenn always marched to the beat of his own drum. "I've always had a carefree spirit and attitude about whatever it might be," he says. "But when it comes down to the nuts and bolts of things, I'll be there. Always. I think I'll always have that feeling, wherever I go, as long as I live." His free spirited attitude often rankled Coach Sather. "The coaches do their thing and I do my thing. If we can't comprehend each other, then I wouldn't be here," Anderson told a journalist at the time. And his attitude also often extended to the media. "It's nice to win the Stanley Cup, but as far as the limelight is concerned, if you're in it, you've got to answer the bell every round and I've elected to stay away from it," Glenn stated. Bob Ferguson, the Oilers' scout that touted Anderson, added, "Glennie Anderson would never be intimidated by anybody on the ice or off the ice. Glenn puts hockey and sports in its proper perspective. It's not the be-all and the end-all."

In September 1991, after eleven seasons in the Alberta capital, Anderson was traded to the Toronto Maple Leafs with Grant Fuhr and Craig Berube for Vincent Damphousse, Peter Ing, Luke Richardson and Scott Thornton. As a Leaf, Glenn continued to produce, putting up two additional seasons scoring 20+ goals. He scored his 1,000th point wearing blue and white.

At the trade deadline in 1994, Toronto shipped Glenn, Scott Malone and a draft pick to the New York Rangers, receiving Mike Gartner in exchange. Reunited with former Oilers Jeff Beukeboom, Adam Graves, Kevin Lowe, Mark Messier, Craig MacTavish and Esa Tikkanen, the New York Rangers collected their first Stanley Cup championship since 1940, beating the Vancouver Canucks in the process. Anderson scored 3 times in the final, two of which were game-winning goals. At the time, only Maurice Richard had more overtime playoff goals, and only Mark Messier, Wayne Gretzky and Jari Kurri had more playoff points.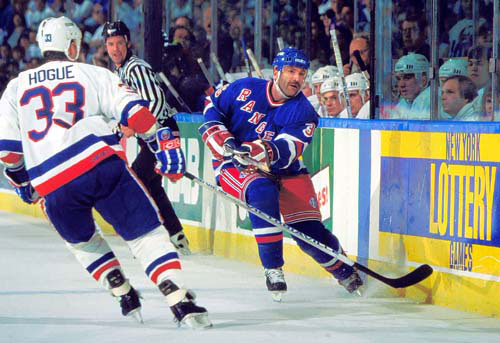 Glenn Anderson in action against the New Islanders as a member of the New York Rangers. (Paul Bereswill/HHOF)

During the lock-out of 1994-95, Anderson chose to play in Europe, spending time in Germany and Finland, as well as with Canada's National Team. Once the dispute had been resolved, he signed as a free agent with the St. Louis Blues and finished the season there. The next season saw Glenn again return to Germany and again played for his country. Although signed as a free agent by Vancouver in January 1996, he never played for the Canucks, joining the Oilers once again on a waiver claim three days later. After 17 games, the Blues claimed Glenn on waivers, and he concluded his NHL career with 15 games for St. Louis.

Glenn enjoyed playing internationally, and after playing for Canada in the 1980 Olympics, elected to return to international play at every opportunity. He played for Canada at two Canada Cup tournaments, at two World Championships and with the NHL All-Stars at Rendezvous 87. Anderson ended his career in Europe, playing in Italy and Switzerland before retiring.

Throughout his NHL career, Glenn Anderson played in 1,129 regular season NHL contests, scoring 498 times, assisting on 601 more and collecting 1,099 points. In playoff action, Glenn scored 93 goals and added 121 assists for 214 points, accumulated in 225 games.

Glenn Anderson was a fearless forward, aggressively going to the net to bang in goals. He had the knack of scoring key goals at key teams. At the time of his retirement, Glenn had scored 5 overtime goals in the playoffs, behind Joe Sakic's 8 and Maurice Richard's 6. His 17 winning goals in the playoffs were fifth on the all-time NHL list.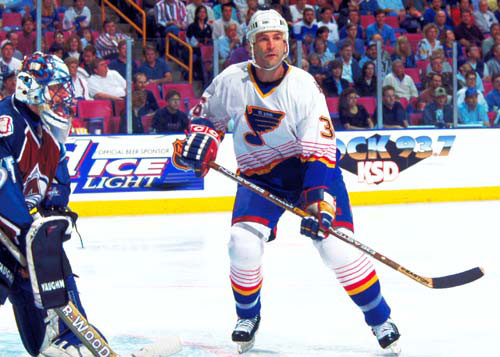 Glenn Anderson as a member of the St. Louis Blues. (Paul Bereswill/HHOF)

On November 10, 2008, Glenn Anderson was inducted into the Hockey Hall of Fame, joined by Igor Larionov in the Player Category, Ed Chynoweth in the Builder Category and Ray Scapinello in the Referee/Linesman Category. That night, assisted by his daughter Autumn, the emotional winger said, "Hockey is part of what and who I am, and this has been worth waiting for."

On January 18, 2009, Glenn's jersey was retired by the Edmonton Oilers prior to a game against the Phoenix Coyotes, coached at that time by his great friend and former teammate, Wayne Gretzky.

Glenn Anderson attributes his success to always striving to be the best at whatever it is he is doing. "I want to succeed in whatever it might be – digging a ditch or driving a garbage truck. If you want to be good at it, do it well. Don't do it because you have to. Do it because you want to."

Kevin Shea is the Editor of Publications and Online Features for the Hockey Hall of Fame.