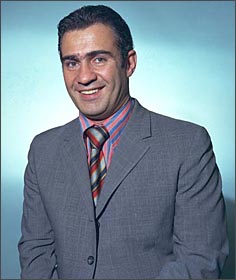 Jim Gregory was employed by the Toronto Maple Leafs from 1959 to 1979.
(Graphic Artists/HHOF)

After registering to attend St. Michael's College School for high school in 1953, Jim Gregory was taken under the wing of Father David Bauer, the legendary coach and manager who, like Gregory, is an Honoured Member of the Hockey Hall of Fame. Learning the ropes under such a mentor afforded Gregory the opportunity to absorb hockey and life lessons like few others.

The Toronto Maple Leafs sponsored two teams in the Ontario Hockey association — the Toronto Marlboros and the St. Michael's Majors. Having learned his lessons well, in 1959, Father Bauer asked Gregory if he'd like to get into hockey full-time. "I was working in purchasing at Colgate-Palmolive and going to university on a correspondence course," remembered Gregory. "Father Bauer was like a father to me. Out of the blue on a Sunday afternoon, he said, 'Come on, we're going to see Stafford.'

"We went into Maple Leaf Gardens. Father Bauer took me up to Stafford Smythe's office. He said, 'This young man has some talent and he would like to get into hockey full-time.' Stafford looked up and said, 'What makes you think you can do this job?'

"I said, 'They let me do a lot of things at St. Mike's and I've worked as a manager and a coach there and I've loved what I was doing. I think I could do it.'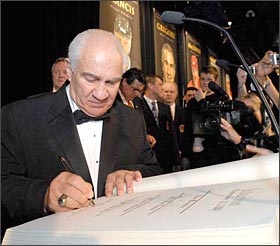 Jim Gregory signs the Honoured Members book after being inducted into the Hockey Hall of Fame as a Builder in 2007. (Matthew Manor/HHOF)

"Stafford said, 'When can you start?' I said, 'Tomorrow.' He asked how much I was making, and I said $90 a week.' He said, 'Instead of starting tomorrow, start a week from tomorrow.' It was amazing!"

The job entailed working to assist Bob Davidson, Toronto's head scout, and continuing his various roles with the St. Michael's Majors. In the off-season, Jim was expected to work in the Smythe family's sand and gravel pit. "That year, they closed the Jane Street pit and turned it into a subdivision. A new pit was opened in Caledon," laughed Gregory, who was living in Scarborough, some 45 miles away, at the time. Stafford Smythe eventually made the hockey role full-time, eliminating the need to work in the aggregate business.

Gregory's reticence in talking to Smythe about working in hockey was needless. "I found out later that Father Bauer had done a sales job on me to Stafford, so Stafford didn't need to ask any questions. But I sat there with my mouth open." Working full-time in hockey for the legendary Toronto Maple Leafs was beyond Jim Gregory's wildest dreams.

"There's no doubt about the highlight of my hockey career. It was the meeting in Stafford Smythe's office that brought me into hockey," stated Gregory. He was employed by the Toronto Maple Leafs from 1959 to 1979, and was able to parlay that meeting with Stafford Smythe into a Hall of Fame career, leaving an immense legacy as an innovative Builder for the growth of the game of hockey. "It changed my life."

Kevin Shea is the Editor of Publications and On-Line Features for the Hockey Hall of Fame.