Ray Scapinello was inducted into the Hockey Hall of Fame in 2008. (Dave Sandford/HHOF)

An outstanding 33-season career as an NHL linesman and high profile assignments in Stanley Cup finals, All-Star Games and Olympic contests defined Ray Scapinello as one of the finest officials ever to skate in a game of hockey. His abilities, including sound judgement, great honesty and a sense of humour, earned him a prestigious spot in the Hockey Hall of Fame in 2008.

In his Induction speech, Scapinello expressed his appreciation. "I stand here very humbled by this honour and excited to join the fraternity known as the Hockey Hall of Fame.

"I had the privilege to spend 33 years in a profession I love and to have it culminate in this honour is, for me, the pinnacle of a life spent working hard and believing in a dream."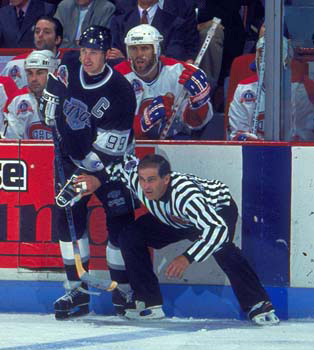 Ray Scapinello in action during the 1993 Stanley Cup Final between Montreal and Los Angeles. (Paul Bereswill/HHOF)

Scapinello reserved special appreciation to two men who helped him achieve his dream. "The first gentleman is Scotty Morrison, who was the Referee-in-Chief of the National Hockey League, who hired a young man somewhat vertically challenged, in 1971 and then stood by and supported me over many seasons. The hiring of me in 1971 was questioned by the president of the National Hockey League, Mr. Clarence Campbell. Scotty assured him I was a good linesman, that I was okay and that he was not to worry."

The other person mentioned by Scapinello was a fellow official. "The second mentor I had the privilege of working with in the early part of my career was John D'Amico. I worked many games with John and, in my humble opinion and to anyone who ever saw his work, John was the greatest linesman who ever laced up a pair of skates. I learned a lot from John D'Amico. He was so aware of what was going on on the ice at all times. It was an honour to learn from him. John is a member of this Hall, and set the gold standard for all other officials to strive for."

In conclusion, Ray Scapinello added his philosophy. "Find a job you love and you'll never have to work a day in your life. I'm not sure how many people from the working world can say that this adage applies to them, but for me, it was my mantra; my passion. I could never wait for my next assignment!"

Thirty-three years of excellent service to the National Hockey League earned Ray Scapinello Honoured Member status in the Hockey Hall of Fame, the pinnacle of his professional life.

Kevin Shea is the Editor of Publications and On-Line Features at the Hockey Hall of Fame.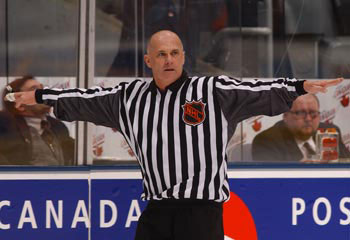 On twenty occasions, Scapinello was selected as the best linesman in the business. (Dave Sandford/HHOF)