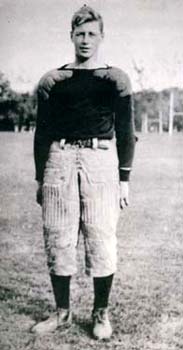 During his time at Princeton, Hobey Baker served as captain of the school's varsity football team. (Hockey Hall of Fame)

Hobey Baker is recognized by hockey historians as the first American hockey star. Although he died tragically in a plane crash at the age of 26, during his brief life he demonstrated remarkable skill and sportsmanship in hockey as well as a number of other sports.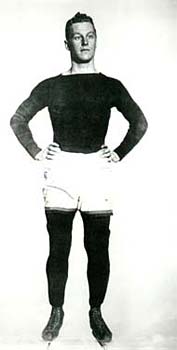 In 1945, Hobey Baker was part of the initial group of players elected to the Hockey Hall of Fame.
(Hockey Hall of Fame)

In spite of sports' gradual evolution into professionalism, Baker was firmly ensconced into the mindset that sports should be played solely for the love of the game. He turned down a lucrative offer from the Montreal Canadiens of the National Hockey Association because he disagreed with the premise of being paid to play hockey.

In spite of the fact he died in 1918 and never competed for the Stanley Cup, Hobey Baker's legacy still resonates to this day. When the Hockey Hall of Fame was initiated in 1945, Hobey Baker was one of its twelve inaugural inductees. He was also a charter member of the United States Hockey Hall of Fame on its creation in 1973. In 1975, he was inducted into the College Football Hall of Fame. In 1987, Baker was posthumously awarded the Lester Patrick Trophy for his contributions to hockey in the United States.

In 1981, the Hobey Baker Award was established to annually recognize the best player in NCAA hockey. Another award, the Hobey Baker Legends of College Hockey Award was created that same year to be presented to the all-time great contributors to the game of college hockey each year. Since 1950, Princeton has awarded the Hobey Baker Trophy to the freshman hockey player who, among his classmates, in play, sportsmanship and influence has contributed most to the sport. At St. Paul's, hockey players compete for an award known as Hobey's Stick.

Kevin Shea is the Editor of Publications and Online Features for the Hockey Hall of Fame.