In spite of his image as a curmudgeonly tyrant, Eddie Shore did much to advance the growth of hockey in Massachusetts, both as a player with the Bruins (pictured in 1934) and later, as owner of the AHL's Springfield Indians.

Eddie Shore was one of the greatest players in the storied history of the National Hockey League. Much like Bobby Orr revolutionized the game when he debuted in 1966, Shore did likewise with his NHL entry in 1926. No defenseman had ever played like Eddie Shore -- carrying the puck, driving into the opposition's zone and intimidating with both skill and aggressive play. In his first five seasons as a Boston Bruin, Shore accumulated double-digit goal scoring -- unprecedented for an NHL defenseman at that time. He was the recipient of the Hart Trophy as the NHL's most valuable player four times. Only Wayne Gretzky with nine selections and Gordie Howe with six have been awarded the Hart Trophy more often than Eddie Shore.

The stories that accompany Eddie Shore are legendary.

He was so cheap, Shore fired two publicity directors in Springfield because they refused to help him clean the ice surface after a game.

He was so mean, he asked players' wives not to engage in romantic activities before a game because he felt it was taking way from the productivity of his players.

A ruthless fighter, whether on the ice or off, Eddie Shore once engaged in an unusual one-for-one trade with the Hershey Bears of the AHL. Shore hemmed and hawed at the proposal. He knew the two players were of relatively equal talent, but was not convinced he was getting full value for his player. Eddie finally agreed to proceed with the swap but in order to make up for what he deemed a slight difference in value, insisted that a new net be included in the deal.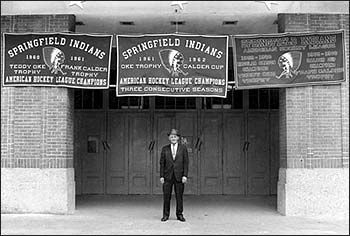 Shore's Springfield Indians won the Calder Cup as AHL champions in three consecutive seasons -- 1960, 1961 and 1962.

But Eddie Shore was an enigma. The frugal, nasty, ornery Shore showed another side when it came to children. He instituted a youth hockey program in Springfield, Massachusetts. "He always wanted to be known as the tough guy and he never gave up the image," said Jim Anderson, former coach of Shore's Springfield Indians. "But to the kids, Shore let his guard down and showed a warm side."

Eddie Shore developed the Greater Springfield Amateur Hockey League. Operated out of his Eastern States Coliseum, Shore donated the ice time so that youngsters could learn to play hockey. Subsequent to buying the team in 1939, Shore met the aspiring hockey players at his rink every Saturday at 6:00 AM. "There was that tough exterior, but when he got with the kids, he was a different man," said Romeo Cyr, who ran the youth hockey program in Springfield.

Cyr recalls 1953, when a group of all-stars from Springfield were given the opportunity to go to New Haven, Connecticut to compete in the national championship. "Shore himself coached those kids for three solid weeks," remembers Cyr. "He paid for all their trips and even sent them to Madison Square Garden."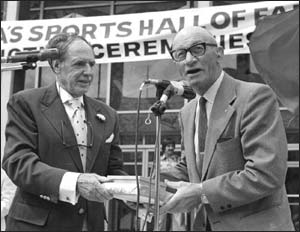 Eddie Shore's contributions to hockey garnered him many honours -- his #2 was retired by the Boston Bruins, he earned entry to the Hockey Hall of Fame, the Saskatchewan Sports Hall of Fame and Canada's Sports Hall of Fame (pictured). The Eddie Shore Award is given to the AHL's best defenseman. In 1970, Shore was presented with the Lester Patrick Award for his contributions to hockey in the United States.

Shore was a dictator who was pushed out of his ownership role with the Springfield Indians. Mutinied by his players in 1965, a young Alan Eagleson used the event to springboard to prominence, and the National Hockey League Players' Association was formed shortly after the incident. "People used to laugh at him then and we (the Springfield team) did too," reveals Jim Anderson. But Shore's value resides in his former players who went on to excel beyond the ice surface in the game. Keith Allen, Don Cherry, Brian Kilrea and Floyd Smith are but a handful of players who followed excellent careers in Springfield with coaching careers that added their own imprints to the game of hockey. And each credit Eddie Shore with giving them the fundamentals to excel in the game. Although he helped lead a revolt that put an end to Shore's oppressive regime, Brian Kilrea still regards Eddie Shore as a mentor who helped him both as a player and later as a Hall of Fame coach. "As a teacher, he was the best hockey man ever."

Long after his playing days were finished, Eddie Shore's influence continued to permeate hockey. In 1970, he was awarded the Lester Patrick Trophy for outstanding service to the game of hockey in the United States. In 1997, a panel of experts assembled by The Hockey News selected Eddie Shore as the tenth greatest player in the history of the National Hockey League. Said one panelist, "If you had to name one person who had the most influence on the game of hockey, it would be Eddie Shore."

Kevin Shea is the Manager of Special Projects and Publishing at the Hockey Hall of Fame.