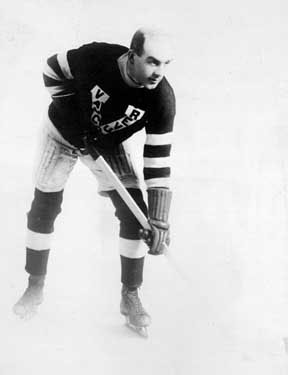 In 1913, the Vancouver Millionaires of the Pacific Coast Hockey Association offered Cyclone Taylor a contract when he couldn't reach an agreement to stay in the NHA. (Hockey Hall of Fame)

Fred 'Cyclone' Taylor had already established himself as one of the premier players in hockey by the time he joined the Pacific Coast Hockey Association in 1912-13, but it was a move from cover-point to centre that saw his scoring talents escalate into the stratosphere.

In 1914-15, Taylor scored 24 goals and 21 assists for a league-best 45 points in 16 games.

At that time, the PCHA's champion faced the champion of the National Hockey Association in a best-of-five series for the Stanley Cup. The tournament would take place in western Canada in odd years and in the east in even years. Being an odd year, the championship was played in British Columbia — at Denman Street Arena, the home of the champion Vancouver Millionaires. This was the first time the Stanley Cup final had been held west of Winnipeg.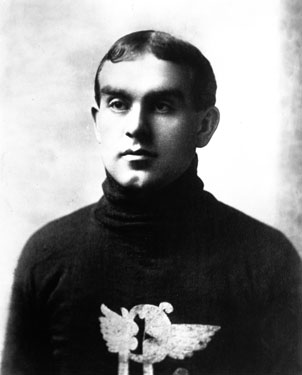 Over the course of his career Cyclone Taylor scored 194 goals in 186 regular season games while carving out a reputation as one of hockey's surefire drawing cards. (Hockey Hall of Fame)

In Game One, Cyclone Taylor scored twice as Vancouver dumped the Ottawa Senators 6-2. Two days later, Taylor collected a hat-trick in the Millionaires' 8-3 thumping of Ottawa. The Senators held Cyclone to a single goal in the third game, but Barney Stanley and Mickey Mackay picked up the slack, scoring 4 and 3 goals respectively as Vancouver embarrassed Ottawa 12-3 to lay claim to the Stanley Cup. "We massacred them," Taylor boasted.

"Each of us was awarded $300 for winning that Cup while the Ottawa guys got $200," stated Cyclone. "I was the high scorer of the series with 6 goals, but there was no such thing as scoring bonuses or trophies."

He added, "We never won the Cup again but I had some more good years with the Millionaires."

In an extraordinary career that established him as one of hockey's earliest superstars, the Stanley Cup championship of 1915 was the pinnacle of Cyclone Taylor's remarkable career.




Kevin Shea is the Editor of Publications and Online Features for the Hockey Hall of Fame.