(December 27, 2002) -- "I would dare say that the biggest charge that I got out of playing hockey was winning that first Stanley Cup."

Milt Schmidt enjoyed numerous highlights during his Hockey Hall of Fame career. He was selected the NHL's most valuable player in 1951, was the scoring leader in 1940 and was a four-time All-Star. Through 16 extraordinary seasons, Milt Schmidt collected 575 points. Yet in spite of personal triumphs, the most meaningful accomplishment for the 83-year old Schmidt was being part of his first championship team. "I was 18 years of age when I signed my contract with the Boston Bruins in 1936. Two years later, in 1938-39, we won the Stanley Cup. Then we won again in 1940-41," states a proud Milt Schmidt.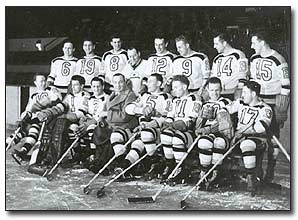 Milt Schmidt (#15) is standing on the far right.

Boston had not won the Stanley Cup in ten years. But after finishing first during the regular season in 1938-39, they gained a momentum that proved to be unstoppable. The Bruins defeated the New York Rangers in a tough seven-game series to earn a berth in the Stanley Cup final against the Toronto Maple Leafs.

The Kraut Line was dominant in Game One, with Milt Schmidt engineering both Bruin goals, one by both Bauer and another by Dumart, in a 2-1 victory. The Leafs came back with a win in Game Two, but it was all Boston from then on. Cooney Weiland, the Bruins' captain, accepted the Stanley Cup on behalf of his teammates after Boston won the series four games to one.

In retrospect, the 1938-39 Boston Bruins might have a claim to being one of the strongest NHL teams ever. Art Ross, general manager of the Bruins, was quoted as saying, "This was the greatest team I've seen in 37 years of hockey." No fewer than nine members would later be inducted into the Hockey Hall of Fame: Frank Brimsek, Dit Clapper, Roy Conacher, Bill Cowley, Eddie Shore, Cooney Weiland and all three members of the Kraut Line -- Bobby Bauer, Woody Dumart and Milt Schmidt.

"To be associated with guys like Shore and Clapper - they were great guys and helped us out tremendously," admits Milt. "When I left home, they said, 'Be careful down there. They're going to take your head off. They don't want you to take their jobs away from them!' Well, what I found was just the opposite. We were treated with kid gloves. Clapper particularly looked after us. Any time we got into some rough spots, Dit was always there like a father and he protected us."

As Milt Schmidt reflects back on the pinnacle of his outstanding playing career, he states, "It was quite an honour to be playing on a Stanley Cup team, because that was all we heard about as youngsters in my day. That was really something!"


Kevin Shea is co-author of several hockey biographies. His most recent book is "Over The Boards - The Ron Ellis Story" (H.B. Fenn), released November 2002.