While 'Butch' Bouchard was patrolling the blueline in 1943-44, veterans Toe Blake and Elmer Lach were teamed with young Maurice Richard and emerged as the Punch Line, an astonishingly potent source of production for the Montreal Canadiens.

The trio helped lead the Canadiens to a first-place finish in 1943-44, 25 points ahead of second place Detroit. Les Canadiens finished with 83 points, the Red Wings with 58, Toronto third with 50 and Chicago captured the final playoff berth with 49 points. Playing a 50-game schedule, Montreal lost just seven times in 1943-44. But while Montreal set a record by scoring 234 goals that season, 'Butch' and the blueline corps surrendered just 109 goals -- 68 fewer than second-place Detroit.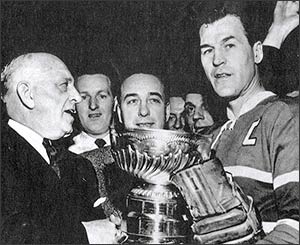 Bouchard captured his last Stanley Cup on April 10, 1956 in a 3-1 victory against the Detroit Red Wings. He retired after that game having played in 785 regular season NHL games. (HHOF Archives)

Montreal faced the Maple Leafs in the semi-finals, and easily discarded Toronto. After losing the first game, Montreal went on a mission, winning the next four in a row. On March 23, Maurice Richard scored all of Montreal's goals in a 5-1 win. The series' victory was punctuated with an 11-0 shellacking of the Leafs on March 30 in Game Five.

The Stanley Cup final pitted the Canadiens against Chicago, and Montreal made short work of the Black Hawks. On April 4, the Canadiens dumped the Hawks 5-1. Two nights later, it was a 3-1 victory, with Richard again scoring all of Montreal's goals. Game Three, played April 9, saw Montreal edge the Hawks 3-2. Playing Game Four at home on April 13, the Montreal Canadiens claimed their first Stanley Cup championship in fourteen years by defeating Chicago 5-4 in overtime, with Toe Blake's goal at 9:12 of the first O/T period clinching the Cup.

'Butch' Bouchard picked up 3 assists in the Cup final, but more importantly, valiantly defended rookie netminder Bill Durnan.

After monopolizing the regular season, several members of the squad were rewarded with personal honours. Bill Durnan won the Vezina Trophy for the lowest goals-against average and was named to the NHL's First All-Star Team, joined by coach Dick Irvin. The NHL's Second All-Star Team was populated with Elmer Lach, Maurice Richard and 'Butch' Bouchard.

For Emile 'Butch' Bouchard, his first Stanley Cup championship was the pinnacle of a Hall of Fame career that would later include three more Cup victories through a stellar fifteen-season NHL career, all spent with the Montreal Canadiens.

Kevin Shea is the Hockey Hall of Fame's Editor of Publications and Online Features.