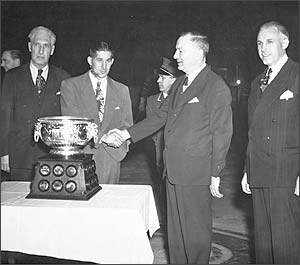 After leading all NHL scorers in 1947-48, Elmer Lach was the first individual to receive the league's new Art Ross Trophy. (HHOF Images)

In 1947-48, Montreal's Punch Line was coming to its conclusion as the premier trio in the National Hockey League. That campaign was the final season for Toe Blake, who endured injuries to conclude the season with 24 points in 32 games played. Maurice Richard finished seventh in scoring, collecting 28 goals and 25 assists. But their centre, Elmer Lach, led all NHL scorers in 1947-48, the second time he had led the league in scoring. That season was the first time the NHL's leading scorer received a trophy, the newly-donated Art Ross Trophy.

Although Montreal had finished first the year before, in 1947-48, the team finished fifth and out of the playoffs in spite of the production provided by Elmer Lach and his Punch Line mates. Lach scored 30 goals and 31 assists for 61 points to edge Buddy O'Connor of the New York Rangers, who was awarded the Hart Trophy as the most valuable player in the NHL. "Buddy O'Connor and I were tied going into the last game," recalled Lach. "We played Chicago the night before in Montreal and headed to Boston for our last game. I (got) a high stick that cut my eye and when I went to Boston, it was completely closed. We liked Bill Head, our trainer, to sew us up because he did a better job than the doctors. Bill got the swelling down so I could see." Using a leech to drain the blood from his eye, Lach was able to play the game. "Doug Harvey said to me, 'Just get in the clear, keep your stick on the ice and I'll get you the puck,' so I was very fortunate that I scored two goals against (netminder) Frank Brimsek. He didn't move on any one of my shots, so he was on my side," chuckled Lach, who won the scoring championship by one point. In addition, Elmer was again selected for the NHL's First All-Star Team.

With so many accolades — three Stanley Cup championships, five All-Star selections, a Hart Trophy and two scoring championships -- the 1947-48 campaign was bittersweet for Elmer Lach, but his triumph over adversity made this scoring championship the sweetest pinnacle in his Hall of Fame career.

Kevin Shea is the Editor of Publications and Online Features for the Hockey Hall of Fame.