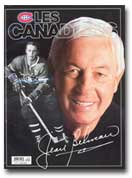 (November 26, 2001) -- On the night of May 18, 1971, the latest date up to that time for a playoff game, Jean Beliveau won his 10th Stanley Cup in his last game and season in the NHL. He could not have left on a finer note. That 10th Cup tied him with Henri Richard for most Cups as a player (though the Pocket Rocket would soon win his 11th). Beliveau retired with records for most career playoff assists (97), helped in large measure to his league-leading 16 this season, and first in playoff points with 176.
The playoffs this season were particularly grueling and rewarding. The Habs stunned the Bruins in seven games in the quarter-finals thanks to the rookie goaltending of Ken Dryden, and in the semis they were taken to six games by Minnesota. The finals went the distance before Montreal won on Chicago ice, 3-2 in game seven, to win the Cup.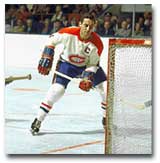 After the final bell, NHL president Clarence Campbell came onto the ice, as he had many times before, and with him came the Cup, on a table. But a remarkable thing happened after the ceremonial Beliveau-Campbell congratulatory handshake. Le Gros Bill up and skated away with the Cup! "I wanted to bring the Cup closer to the fans," he explained of his pioneering lap with the Lord Stanley's treasure.

Detroit's Ted Lindsay had been the first player to dare even touch the Cup in the early 1950s when he lifted the Cup from the table and hoisted it above his head, the first time any such physical celebration with the Cup had taken place in public. It was not until Beliveau, though, years later, that the Cup actually went on a ceremonial lap, and this, of all things, in the visitor's rink. "I didn't want fans laughing at me or thinking I was taunting them," he confessed modestly. Indeed, he wanted only for the Chicago Stadium faithful to get as close to the unapproachable Cup as possible.
Ever since then, of course, the skate with the Cup has come to symbolize the importance of winning it and is a personal celebration for each player on the ultimate team game.