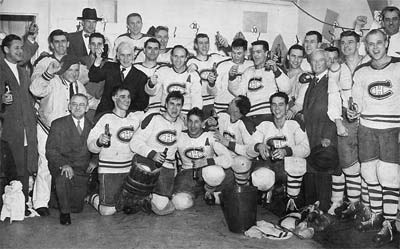 1952-53 Stanley Cup championship was a first for both Doug Harvey and Jacques Plante, as well as the last for veteran Elmer Lach. (HHOF Archives)

The Detroit Red Wings, who finished first in 1952-53, 15 points ahead of second- place Montreal, were heavily favoured to win the Stanley Cup. But when the third-place Boston Bruins eliminated the Wings in six games, the Stanley Cup was anybody's trophy to win.

The Montreal Canadiens won their first two games against the Chicago Black Hawks, but the Hawks roared back and won the next three. Goaltender Gerry McNeil was distraught, and asked coach Dick Irvin to take him out and replace him. Irvin did just that, summoning a young netminder named Jacques Plante. Plante, a veteran of just three NHL games, shut out the Hawks in Game 6. When McNeil hurt his ankle in practice prior to Game 7, Plante was in the crease once again and backstopped the Canadiens to a 4-1 win, eliminating the Hawks from further contention that spring.

The Stanley Cup final pitted Montreal against the upstart Boston Bruins. The Canadiens drew first blood, doubling the Bruins 4-2. Boston evened the series with a 4-1 win in Game 2. Gerry McNeil returned to the goal for the Canadiens in Game 3, shutting out Boston 3-0, and would remain in goal for the remainder of the Stanley Cup final.

Montreal won Game Four by a 7-3 count, with Maurice Richard collecting a hattrick. The tandem of Butch Bouchard and Doug Harvey was particularly effective.

Game 5 remained scoreless through all three regulation periods. Then, at 1:22 of overtime, Elmer Lach beat 'Sugar Jim' Henry in Boston's goal to clinch the Stanley Cup. In the jubilant celebration at the conclusion of the game, Maurice Richard leaped into the arms of his teammate, breaking Lach's nose. "I've never been hit so hard in my life," laughed Lach.

It had been seven years since the Stanley Cup had found a home in Montreal, and it was the seventh Stanley Cup championship for the franchise. For Doug Harvey, it was the first, and the sweetest.

Curiously, Harvey did not remain on the ice for the Stanley Cup celebration, choosing instead to return to the dressing room rather than shake the hands of the Boston Bruins. "I'm running them into the boards and banging them around one minute and because we win the Stanley Cup, that's going to change? I don't really like them anyway. Why should I shake their hands?"

Kevin Shea is the Editor of Publications and Online Features for the Hockey Hall of Fame.