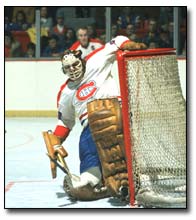 (March 18, 2002) -- Perhaps no one in the history of hockey ever made a more dramatic and successful NHL debut than did Ken Dryden in the spring of 1971. A rookie who had played much of the season with Montreal's farm team in that city, the Voyageurs, he was called up for the end of the regular season during which time he had a perfect 6-0-0 record, allowing just nine goals. Based on this performance, he won the starter's job for the playoffs, and pulled off nothing short of a miracle by leading his Habs to a first-round upset of the Boston Bruins in seven games.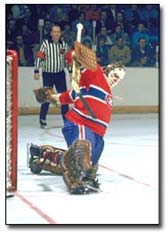 Dryden was facing one of the best teams of all time, smack in the middle of its prime. Bobby Orr, Phil Esposito, Gerry Cheevers, were all at the pinnacle of their respective careers, but young Dryden stymied the Boston attack and won game seven, in Boston, 4-2. He allowed 26 goals over the series, but he was playing the highest-scoring team in league history.
In the second round, the Habs faced the Minnesota North Stars, a team that proved to be no pushover. In six games, Dryden gave up 19 goals, but he made huge stops at the right time and the Montreal offence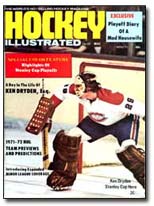 provided plenty of goals to support him. The finals featured another seven-game classic, against Chicago, and this is where Dryden earned his accolades and established himself as the goalie of the future for Montreal. The Canadiens won game seven in Chicago, 3-2, and incredibly, just as they had in 1969, they won all their series-winning games on visitors' ice.
Dryden finished the playoffs with a 12-8 record in 20 games and a 3.00 goals-against average. He didn't record a shutout, but his heroic entry into the NHL earned him the Conn Smythe Trophy. The following season, he won the Calder Trophy, becoming the first player to win playoff MVP before he was named rookie of the year. Although he went on to win five more Cups with Montreal, none was sweeter or more remarkable than this first playoff season in which the Hamilton, Ontario native played Hall of Fame hockey as a 23-year-old rookie!
- Andrew Podnieks is the author of numerous books on hockey including the current The Essential Blue & White Book. He is also a regular contributor to Leafs.com and managing editor of A Day In The Life of the Leafs to be published in the fall of 2002.