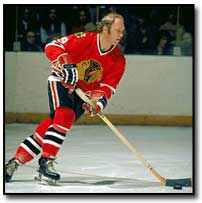 (December 11, 2001) -- The 1965-66 season went along effortlessly for Bobby Hull for almost the entire season. He scored with ease, his team was winning, and he seemed destined for history. He scored his 50th goal of the season in just the 56th game of the 70-game schedule to become only the third player after Maurice Richard and Bernie Geoffrion to reach the half-century mark for a single season. That left 14 games to score just once and become the all-time record holder, but easy as that might sound, easy it was not to accomplish.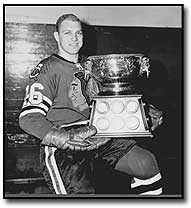 "I scored my 50th at home on a Thursday, and my next game," he remembers, "was on a Saturday in Toronto. I had a great chance to score against Bruce Gamble. I had a partial breakaway, but a Leaf defenceman hooked my hand just enough that I lost my balance and my shot hit the crossbar. I went scoreless the next four games."
But on March 12, 1966, Hull assisted on a goal by Chicao Maki in the first period "and that broke the ice," he says. "I scored my 51st later in the game, on a power play. It wasn't so much the goal itself that was special," he admits of his record score against Cesare Maniago, "it was the ovation from the fans in the Chicago Stadium. That was very special."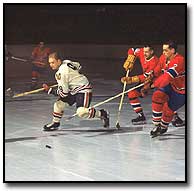 As an achievement, though, Hull never got carried away by the mystique of goal number 50 or 51. "Every season that I started after I got the fifty, I thought about getting as many. I figured I had to score in every other game, throw in a few hat tricks and a four-goal game, and I'd be there. Fifty goals was what I wanted to accomplish and felt I could."
Indeed, Hull led the league in goals seven times, including this '65-'66 season in which he finished with 54, a record he broke three years later when he registered 58. "If there was ever any pressure to break a record or score, I put in on myself," Hull says. "I kind of thrived under pressure and I got the job done."
- Andrew Podnieks is the author of numerous books on hockey including the current The Essential Blue & White Book. He is also a regular contributor to Leafs.com and managing editor of A Day In The Life of the Leafs to be published in the fall of 2002.