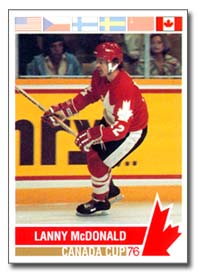 A Lanny McDonald Canada
Cup '76 hockey card.

(April 4, 2003) -- Lanny McDonald was selected to become an Honoured Member of the Hockey Hall of Fame in 1992. The Selection Committee would have to have been impressed with Lanny's NHL statistics: 1,006 points in 1,111 games, including 500 regular season goals.

But although his NHL career was sensational, Lanny McDonald also distinguished himself in international competition, representing his country at the Canada Cup tournament in 1976 and at the Challenge Cup World Championships in 1979. "Playing for my country in '76 was a tremendous honour I got a phone call from someone claiming to be Alan Eagleson asking me if I wanted to try out for Team Canada in preparation for the first Canada Cup in 1976. At first, I thought it was Darryl (Sittler) playing a practical joke on me. It took Eagle some convincing before I realized I really was being invited to Team Canada's training camp."

Lanny was not a shoo-in to make the team, considering that Guy Lafleur, Reggie Leach, Rene Robert, Danny Gare, Jean Pronovost and he were all rightwingers attempting to win one of four available spots. "I had conceded that no one was going to bump Lafleur and Reggie Leach, so that left four of us battling for two spots. Pronovost had scored 52 goals that season, Gare had 50 and Robert was part of the French Connection from Buffalo, and his linemates were also in camp."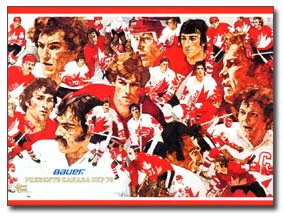 McDonald is pictured at the far left
(at nine o'clock) of this Team Canada '76 collage.

But McDonald arrived at training camp with the right attitude, realizing that even the invitation had been a great compliment. "Even if I hadn't made it, I knew I had been involved in one of the greatest experiences of my life. I probably learned more about hockey in that short time than in any other period."

Lanny McDonald was chosen to be part of Team Canada in 1976. "I didn't play the first two games and Canada won them both. I understood why I wasn't playing - most of the other players were older and more experienced and better known. It was only my third year, and I had only had my first really good year."

The tournament took an unexpected twist. The favoured Soviet Union team was defeated by the Czechs. Team Canada now faced Czechoslovakia in a best of three final. The Czechs had beaten Canada 1-0 earlier in the tournament.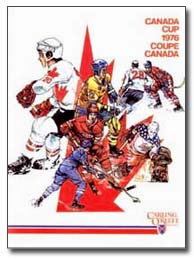 A Canada Cup '76 program.

Team Canada won the first game, 6-0. The second game went into overtime when Bill Barber scored a late third period goal to tie the contest. "Before the game, Grapes (Don Cherry) came down from the pressbox where he was spotting the game. He told us that Dzurilla (the Czech netminder) was over-challenging. He said, 'If you get a chance, fake a shot and see what happens.' It turned out Grapes knew what he was talking about."

"All five of us on the ice for Team Canada touched the puck on the way to Darryl's goal. The puck went from Larry Robinson to Denis Potvin, up the boards to me and I threw it straight up centre to Marcel Dionne, who one-touched it to Darryl (Sittler). Darryl had a step on the defenseman, and at the top of the faceoff circle, faked a shot like Grapes said, took one step sideways and shot the puck into the open net. If there's another feeling like winning the Canada Cup, I'd sure like to find it!"

Lanny McDonald sipped champagne as part of a Stanley Cup celebration, but also tasted the exhilaration of playing for his country. "I think any time a player gets to represent his country, they should certainly take that opportunity."


Kevin Shea is co-author of several hockey biographies. His most recent book is "Over The Boards - The Ron Ellis Story" (H.B. Fenn), released November 2002.