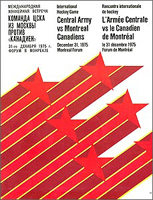 The program for the New Year's Eve classic that pitted Central Red Army versus the Montreal Canadiens in 1975.

(February 10, 2004) -- Many fans and players alike point to the 1975 New Year's Eve contest between the Montreal Canadiens and the Soviet's Central Red Army as the greatest hockey game ever played. Steve Shutt certainly concurs. "The New Year's game against the Red Army was pretty special. It was the North American style against the European style; the best in North America against the best in Europe."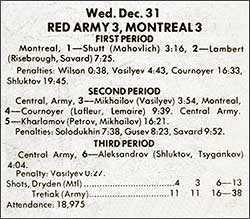 The game summary as it appeared in the Hockey News. Shutt opened the scoring in the first period, but Red Army fought back to earn a 3-3 draw despite being outshot 38-13.

The game was deemed an exhibition contest, but neither team considered it any less than the most important game they'd ever played. "We took the game very seriously," Shutt admits. "In our eyes, this was a game to determine who was the best team in the world."

"We didn't have a scouting report on the Soviets but a lot of our players had played against a lot of their players during the Summit Series. We had also seen a little bit of them already. They beat the New York Rangers 7-3 a few nights earlier."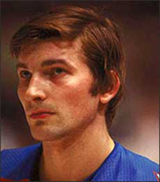 The hero of the night was Soviet netminder Vladislav Tretiak. Habs coach Scotty Bowman summed up the game with the quote, ""They (Soviets) were completely outclassed from start to finish except on the scoreboard and in the nets".

"When you stepped out onto the ice at the Forum, you could cut the tension with a knife," Shutt remembers. "People were so wound up. They were so into it." In 1975-76, the Montreal Canadiens won the Stanley Cup with an explosive, offense-oriented team that still boasted as great a defense as ever played. "We had a great team. In net, we had one of the greatest goalies in the game, Ken Dryden. The Red Army team was a more free-flowing team. Some of their players were incredibly talented. Their skating and stickhandling were terrific. We all focused on (Vladislav) Tretiak. He was just a great goalie. He played deep in his net, which I guess was their style. The other guy everyone knew was Valeri Kharlamov. This guy could do it all, and do it at a very high speed."

The teams battled to a 3-3 tie in spite of the Red Army getting just thirteen shots on Dryden.

Shutt nods. "That was the best game that I ever played in." Translation -- his hockey pinnacle.

Kevin Shea is Manager, Special Projects and Publishing for the Hockey Hall of Fame.