The entire era bristled with excitement any time the Edmonton Oilers came to mind. How could it not? The team featured future Hall of Famers Paul Coffey, Grant Fuhr, Wayne Gretzky and Jari Kurri; Mark Messier, whose only reason for not being in the Hockey Hall of Fame is an obligatory three-year waiting period from the time of retirement; great character players like Glenn Anderson, Charlie Huddy and Kevin Lowe, and a fiery coach in Glen Sather, who is also in the Hall of Fame.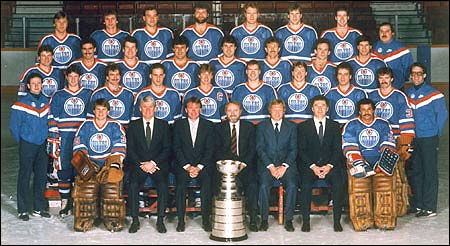 The Edmonton Oilers pose for their first official team photo with the Stanley Cup in 1983-84. That season the Oilers averaged 5.58 goals per game and the team included three 50-goal scorers and four 100-point players, both league records.

After going to the Stanley Cup final with the New York Islanders in 1983, and ultimately being swept, the young turks were determined that that scenario was not going to occur again. A year later, it was the Oilers who triumphed over the Islanders, winning the first Stanley Cup championship in franchise history. The next year, they defeated the Montreal Canadiens to win a second consecutive Stanley Cup.

After missing the big prize in 1986, Edmonton returned with a vengeance, dumping the Philadelphia Flyers in a bitterly contested seven-game final in the spring of 1987. Again, they repeated the next year, this time sweeping the Boston Bruins.

It was a heady time to be an Oiler. It was an era regarded for its high-flying style and offensive prowess. And right there, backstopping the finest team of the 1980's, was netminder Grant Fuhr. "I was fortunate enough to play with some of the best players in the game," he modestly states. "Obviously, with Wayne, there was no better player in the game. To be able to play with him was the ultimate thrill. But you look at the guys like Mark Messier, Jari Kurri, Paul Coffey, Glen Anderson, Andy Moog — we had so many great guys, it forced you to be good everyday because they were going to be at the top of their game every day so we pushed each other to be that much better."

The pinnacle of a Hall of Fame career? For Grant Fuhr, it wasn't individual awards. It wasn't even winning five Stanley Cup championships with the Oilers. "Being a part of those teams in Edmonton was what made things special," beams Grant, clearly treasuring the relationships made twenty years ago that continue to this day. "Not so much that you win or lose, but that you made so many good friends. I think that was the biggest pinnacle of the game — making so many good friends."

Kevin Shea is the Editor of Publications and On-Line Features at the Hockey Hall of Fame.