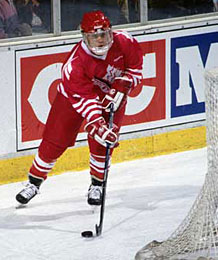 Angela James led Canada to the gold medal at the 1994 World Women's Championship in Lake Placid, NY.
(Doug MacLellan/HHOF)

On March 31, 2009, the Hockey Hall of Fame introduced a new by-law, effective January 1, 2010, that stated that male and female players could be considered for Induction separately, and a maximum of two women could be inducted as players per year. Nothing prohibited women from being inducted into the Hall prior to the by-law, but with a maximum of four player Inductees per year, male players had traditionally usurped those spots.

That changed in November 2010. In the Induction Gala that year, fans witnessed three new Honoured Members in the Players' Category: Dino Ciccarelli, Cammi Granato and Angela James.

Angela James had visited the Hockey Hall of Fame on a number of occasions...as a paying customer. "If you asked me if I'd be in the Hall of Fame...not in a lifetime!"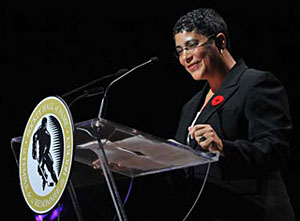 Angela James was inducted into the
Hockey Hall of Fame on November 8, 2010.
(Matthew Manor/Hockey Hall of Fame)

She had earned the right after a lengthy career that saw her at the top of women's hockey -- locally, provincially, nationally and internationally — for a number of years.

"When I received the call from the Hockey Hall of Fame (Selection) Committee, I knew that this was something very special, and was overwhelmed with excitement and emotion," she admits. "The warmth and welcome was a feeling of family. I believe that this was what the Hockey Hall of Fame is — unbelievable people, great hockey players and history. They gave me a feeling like I was adopted into a new family, except this family was all boys. They needed some girls!"

And so it was that Angela James, along with Cammi Granato, made history in 2010 when they became pioneers — the first women to be inducted into the Hockey Hall of Fame.




Kevin Shea is the Editor of Publications and Online Features for the Hockey Hall of Fame.