Chicago Black Hawks jacket worn by Morenz who spent two seasons with the club (1934-35 and 1935-36).




Montreal Canadiens jersey worn by Morenz circa 1930s.




Crutches used by Morenz after suffering a career-ending broken leg during a game versus the Chicago Black Hawks on January 28, 1937. Morenz would pass away while still in the hospital on March 8, 1937.




Hockey Hall of Fame postcard of Howie Morenz.




Club Martin Inc. trophy presented to Morenz after leading the Montreal Canadiens in scoring with 50 points during the 1929-30 season.



Three Howie Morenz hockey cards while as a
member of the Montreal Canadiens.




Souvenir programme from the Howie Morenz Memorial Game played on Tuesday, November 2, 1937 at the Montreal Forum between NHL All-Stars and Montreal Maroons/Montreal Canadiens. All proceeds from the game went to the family of the late beloved Canadien hockey star.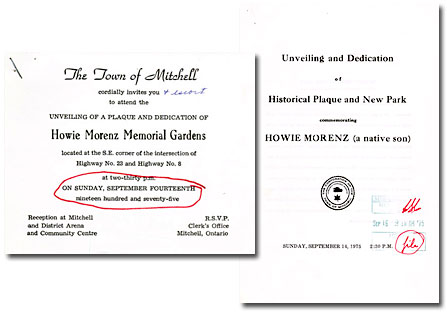 Invitation sent out by the Town of Mitchell to the unveiling and dedication of a Historical Plaque and New Park commemorating Howie Morenz to be held on Sunday, September 14, 1975.

Stick used by Montreal Canadiens forward Howie Morenz during the 1932-33 season.