A 1953-54 Butch Bouchard
Parkhurst hockey card.




Capitaines. Neuf des grandes légendes du Canadien,
© 1996 Michael Ulmer. Featuring several of the great Montreal Canadiens captains, including
Emile "Butch" Bouchard.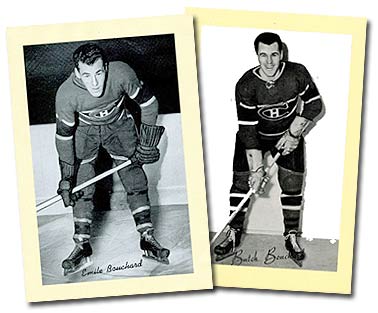 Through a marketing promotion from the St. Lawrence Starch Company from 1934 to 1967, Bee Hive hockey photos were available for free, including these two Bee Hive hockey photos of Bouchard.
| | |
| --- | --- |
| In order to compile a 'Who's Who' section in the National Hockey League's Guide and Record Book, players were asked to provide information about themselves, like this information sheet on Emile "Butch" Bouchard. | The Stanley Cup 1955-56 Montreal Canadiens engraving. In his final NHL season, Bouchard captained the 1955-56 Canadiens to its seventh Cup victory and the third of his career. |