| | |
| --- | --- |
| Three of Marcel Pronovost's hockey cards: (from left to right) a 1952-53 Parkhurst card, a 1966-67 Topps card, and a 1964-65 "Tall-Boys" Topps card. | From left to right: a press release announcing that Marcel Pronovost has signed a multi-year contract to coach the Buffalo Sabres, dated August 4, 1977; and a December 18, 1978 release announcing Pronovost has received blessing from the Sabres organization to coach the QMJHL's Hull Olympiques. |

Two team engravings on the Stanley Cup. The significance? Marcel Pronovost appears on both of them even though they are 52 years apart - the longest span for an individual to be so honoured in the history of the trophy. On the left is the engraving of the 1949-50 Detroit Red Wings (Marcel's name appears as a player on the far right row,
fourth from the bottom); on the right is the engraving of the 2002-03 New Jersey Devils.
(Marcel's name appears as a scout on the fourth row, first from the left).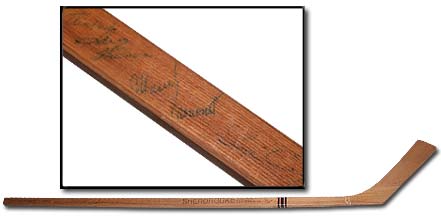 A stick signed by the 1965-66 Toronto Maple Leafs, including Pronovost (inset).
The next season, Marcel and teammates would claim the Stanley Cup.