| | |
| --- | --- |
| Laperriere wore this Montreal Canadiens jersey during the 1965-66 NHL season. The stalwart defenseman went on to capture the Norris Trophy that same season. | Throughout his playing career with the Canadiens, Laperriere graced the cover of many magazines and programs, including this edition of Hockey Pictoral from his rookie season in 1964-65 and the Forum Sports Magazine. |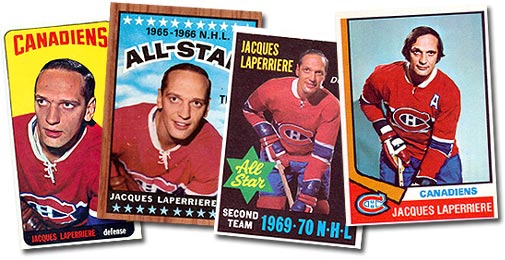 Four of Laperriere's cards: (from left to right) a 1964-65 Topps hockey card; a 1966-67
Topps First Team All-Star hockey card; a 1970-71 O-Pee-Chee Second Team All-Star hockey
card and a 1974-75 O-Pee-Chee hockey card, his last season in the NHL.
| | | |
| --- | --- | --- |
| On April 10, 1987 the National Hockey League issued this news release, announcing that former defensive great Jacques Laperriere was elected to the Hockey Hall of Fame. | On May 4, 1987, the Hockey Hall of Fame received this information sheet sent by Jacques Laperriere with his choice of the Signet Ring along with his ring size. | On November 21, 1986, Red Fisher of the Montreal Gazette sent this letter to Lefty Reid, Secretary, Player Selection Committee of the Hockey Hall of Fame, supporting Jacques Laperriere's nomination for induction into the Hockey Hall of Fame. |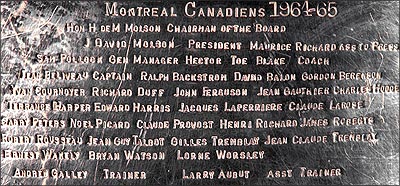 The 1964-65 Montreal Canadiens Stanley Cup engraving. Laperriere
went on to play 12 seasons in the NHL and won four Stanley Cups with
the Habs, while capturing the Calder Memorial Trophy in 1964
and the James Norris Memorial Trophy in 1966.