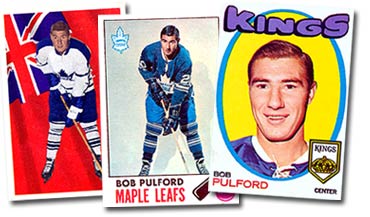 Three of Pulford's hockey cards: (from left to right) a 1962-63 Topps hockey card,
a 1969-70 O-Pee-Chee hockey card and a 1971-72 Topps hockey card.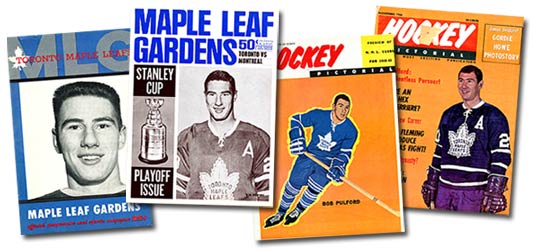 Throughout his playing career with the Leafs, Pulford graced the
cover of many magazines and game programs.

Various sticks used by Toronto Maple Leaf forward and future
Hall of Famer Bob Pulford during the early to late 1960s.



The Stanley Cup 1966-67 Toronto Maple Leafs engraving. Pulford went on to play 14 seasons in the NHL and won four Stanley Cups with the Leafs, while scoring one of the most important goals in Leafs history against Rogie Vachon at 8:26 of the second overtime period to give the Leafs a 3-2 win over Montreal in game three of the 1967 finals.




Bob Pulford's jersey from his final season in the NHL 1971-72 as a member of the Los Angeles Kings. After two seasons as a player with the Kings, Pulford became the team's head
coach in 1972-73.