As a child, Brian Kilrea heard wonderful stories about professional hockey from his uncles. Hec, Wally and Ken had all enjoyed NHL careers. In fact, all three had been part of the Detroit Red Wing organization between 1936 to 1938. Born Octobr 21, 1934 in Ottawa, Brian assumed a passion and talent for hockey too, and embarked on a long, successful career.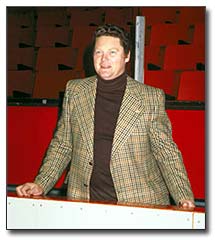 Brian Kilrea played junior with the Hamilton Tiger Cubs. During his third season with Troy of the IHL, Kilrea was summoned to Detroit and played one game with the Red Wings in 1957-58. The season, returned to Troy, Brian was a Second Team All-Star in the IHL, scoring 33 goals and 93 points. Between 1958 and 1967, 'Killer' was a top performer for the AHL's Springfield Indians. He recorded six 20-goal seasons and helped Spingfield win three consecutive Calder Cups from 1960 to 1962.
In May 1967, his NHL rights were transferred to the expansion Los Angeles Kings after the franchise purchased the Springfield team. Kilrea returned to the NHL for 25 games and scored eight points, including the first goal in the history of the Kings' franchise. He returned to the minors for two and a half years before spending the 1969-70 season with the Denver Spurs of the World Hockey Association. After retiring as a player in 1970, Kilrea moved into the realm of coaching. He took over as coach of the OHA's Ottawa 67's and never looked back.
He led the team to the Memorial Cup in 1984, then joined the New York Islanders as an assistant to Al Arbour for his first and only taste of NHL coaching. He returned to the Ottawa bench in 1986-87 and later won a second Memorial Cup in 1999. Kilrea developed an enormous list of future NHL stars, including Doug Wilson and Jim Fox. In the mid 1990's he was forced to assume a scouting role when his health suffered, but a short time later, he returned and set the Canadian junior record for coaching wins on January 17, 1997. The record 742nd win came courtesy of a 6-0 Ottawa thrashing of the North Bay Centennials to move past former Portland Winter Hawks coach Ken Hodge.
In 2002-03 Kilrea celebrated his 1,000th victory as a head coach in the CHL. Within months of this accomplishment, Brian Kilrea was elected to the Hockey Hall of Fame in the Builder Category. "This is the proudest moment of my life," Kilrea proclaimed in June 2003 when the announcement was made.
Click here for Brian Kilrea's career playing statistics.