7.
Challenge yourself within the impressive NHLPA Be A Player Zone, featuring new versions of the famed Pro Hockey Life Shoot Out and Pepsi Shut Out. These two state-of-the-art interactive games reside on the zone's 2,400 square-foot simulated rink, complete with an overlooking gondola, two fan stands, arena rink boards and a custom multimedia scoreboard.
Pro Hockey Life Shoot Out
This virtual experience allows you to go one-on-one, using real pucks and a stick, against a life-sized, computer-simulated goaltender. The attraction's three censor arrays process the trajectory and speed of your shot, prompting the goalie to instantly respond in an effort to make the save.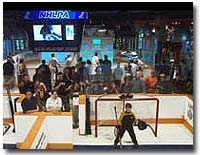 Another feature of this game allows you to test your skills by shooting on a specified number of targets. At the end of the game, you will see a total score based on the average velocity, reaction time and accuracy of your shots.
Pepsi Shut Out
Grab your glove and blocker and feel what it's like to face the best shooters the NHL has to offer, in two realistic life-size, live-action hockey challenges!
First, suit up and play goal against video images of hockey superstars Wayne Gretzky and Mark Messier, who fire weighted sponge pucks at speeds up to 70 mph through a number of openings in an 8-by-10-foot video screen. There are three levels of play - rookie, professional, and all-star.
Once you have honed your goaltending skills, you'll be ready to take the next challenge where you can watch yourself stop shots rapidly fired from all angles by four virtual shooters shown on an 8-by-10 foot video screen. There are two levels of play — rookie and professional.
In each challenge, you control the outcome of the game by your ability to stop the shooters from scoring while encountering a wide variety of play combinations and shots to block!
< Exhibits Menu