15.
Hockey's #1-rated gift store in Toronto just got better. The newly renovated and expanded Spirit of Hockey retail store has relocated to street level. The store features extended hours, superior sightlines and a significantly larger selection of HHOF, NHL, Hockey Canada and other licensed merchandise, including a new line of HHOF-branded apparel by Reebok.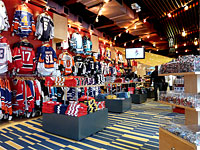 One of the exciting design elements of the new store is the larger-than-life sculpture based on Ken Danby's iconic "At The Crease" painting. The sculpture is located at the store's interior entrance within Sam Pollack Square, Brookfield Place.
The Spirit of Hockey retail store is open 362 days a year, with the exception of New Year's Day, Christmas Day and Induction Monday.
Click here for the Spirit of Hockey retail store hours of operation.