13.
At approximately 6,000 square feet, the Tissot World of Hockey Zone is the largest dedicated exhibit area within the Hockey Hall of Fame. The zone provides an unparalleled tribute to international hockey, with an unrivalled collection of artifacts and media on display, including histories and exhibit materials from all 69 IIHF member countries.
The zone celebrates the game of hockey globally through new exhibits including:
The IIHF Hall of Fame and International Legends highlights the careers of nearly 200 international players and builders of the game of hockey;


The Triple Gold Club honours individuals who have won Olympic Gold, World Championship Gold and the Stanley Cup);



New 2010 Olympic
'Golden Goal' Display

The Top 100 Moments in International Hockey is home to artifacts from the most significant moments in international hockey history such as the "Miracle on Ice" of 1980 and the 1972 Summit Series. The highlight of this exhibit is the new 2010 Olympic 'Golden Goal' display featuring Sidney Crosby's stick, gloves, puck and recently acquired podium and 'Golden Net'.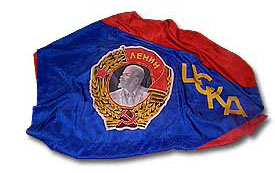 Order of Lennon flag presented to
Russian great Vladislav Tretiak
The Tissot World of Hockey displays also cover the European leagues, the many current and historical international tournaments, the World Cup of Hockey, the Canada Cup as well as other significant worldwide hockey events including the Olympic Games.
With the rapid growth and popularization of women's hockey, a Women's International Hockey display pays tribute to this aspect of the sport, including coverage of the Women's World Championships and the women's debut at the 1998 Oympic Winter Games at Nagano.


---
THE LUCKY LOONIE - A surprising talisman helped bring good luck to Team Canada's Women and Men as both won Olympic gold medals at the 2002 Winter Games. The 'Lucky Loonie' had been secretly buried beneath the centre ice faceoff dot at the arena in Salt Lake City by the Canadian icemakers. During your visit to the Hockey Hall of Fame, remember to touch the coin yourself to share in some of its good fortune.
---
The IIHF
A major sponsor and supporter of the Tissot World of Hockey is the
International Ice Hockey Federation.
. The major international body governing the sport of ice hockey, the IIHF was formed in Paris, France in 1908. At this time its membership consisted of five European nations. Canada became a member in 1920 at the Antwerp Olympics. Over the last ten decades the IIHF has presided over the most prestigious tournaments outside North America including the Olympics, World Championships, World Junior Championships and the World Cup of Hockey. Full list of IIHF inductees.
Global Game Encounter
The tour of the Tissot World of Hockey Zone culminates in a high impact, theatrical multimedia experience driven by leading edge information technology. Titled
Global Game Encounter
, the exhibit is hosted by a computer-generated animated 3D character. Visitors co-operatively explore the virtual world of hockey in an animated interactive environment.