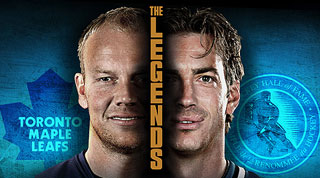 HAGGAR HHOF LEGENDS CLASSIC
Sunday, November 16, 2014 at 3:00PM at
Air Canada Centre. Team Sundin vs. Team Sakic. Details & Ticket info.




DO IT ALL…AT THE HALL


Interactive games, the Stanley Cup & finest collection of hockey artifacts in the world. Special Ticket Offer.

EXPERIENCE NHLPA
GAME TIME
Face-off against life-size, animated versions of today's top players & share your recorded experience online.



BREAKAWAY TO THE HALL OF FAME


Getaway packages include first-class travel, hotel, hockey tickets, VIP Induction access + more! Details.



HHOF INDUCTION WEEKEND


Festivities run from Nov. 14th – Nov. 17 honouring hockey's newest legends. Details.
---

Contents

---
---
Contact us:
Brookfield Place
30 Yonge Street
Toronto, ON Canada
M5E 1X8
Phone:

Info line…………..
(416) 360-7765
Switchboard……..
(416) 360-7735

Fax:

Administration ........
(416) 360-1501
Group Bookings ....
(416) 360-1316
Retail .......................
(416) 360-4622
Resource Centre ...
(416) 251-5770

Email:

info@hhof.com