Though the 1984 Canada Cup took place just three years after the previous event, it featured a number of differences both on the ice and in its format. Among them was the debut of the West German squad, who replaced Finland by virtue of a fifth‐place finish at the most recent World Championships. (Finland had finished seventh.) Another change saw Bryan Trottier jump the border, switching from Team Canada to the United States. Trottier's presence, along with Bob Carpenter, Joe Mullen, Rod Langway and Tom Barrasso (all bona fide NHL stars) gave the Americans their strongest lineup in Canada Cup history. The USA finished second behind the Soviet Union in the round‐robin with a record of 3‐1‐1.
In addition to the loss of Trottier, Team Canada had only five players return from its 1981 roster. Newcomers included Michel Goulet and Paul Coffey (who tied for second behind Wayne Gretzky in scoring with 11 points) and John Tonelli, whose gritty two‐way play earned him the tournament's Most Valuable Player award. However, the Canadian team limped through the round-robin with a record of 2‐2‐1 and finished fourth behind the USSR, the USA and Sweden (3‐2‐0).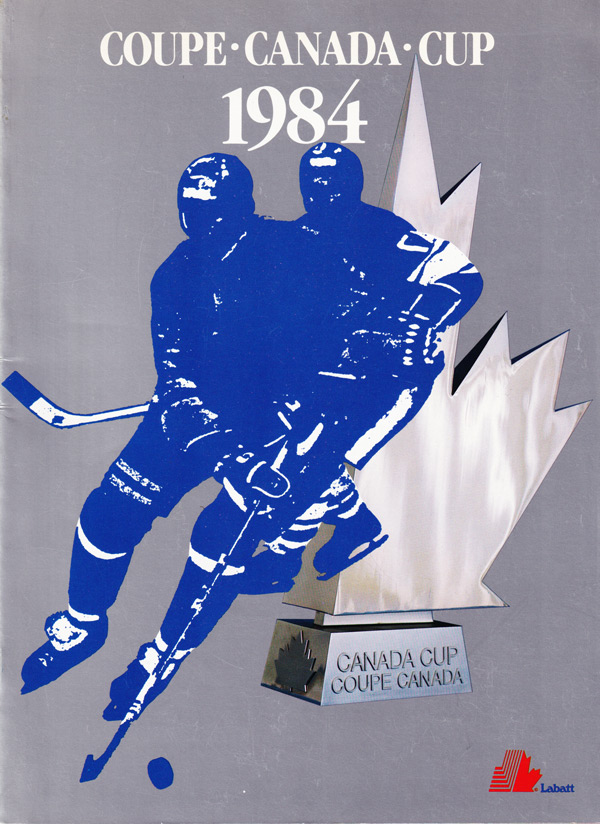 Team Canada
Team Sweden
As was the case in the first two Canada Cups, the USSR used the tournament to tinker with its roster. Soviet coach Viktor Tikhonov added 11 fresh faces to his club, including goaltender Alexander Tyzhnykh, who shared netminding duties with Vladimir Myshkin in the first post‐Tretiak Canada Cup. Even without Viacheslav Fetisov, who was out with an injury, the Soviets became the first team in tournament history to emerge from the round‐robin with a perfect record, capping off their 5‐0‐0 run with a 6‐3 win over Canada on September 10. Three nights later, the two bitter rivals met in a one‐game semifinal.
With Pete Peeters replacing Reggie Lemelin in goal, Canada battled the Soviets to a 2‐2 tie through 60 minutes. At 12:29 of overtime, Mike Bossy tipped in a Paul Coffey shot and Canada had a 3‐2 victory. One night before, the Swedes had crushed the Americans 9‐2 to set up a Canada‐Sweden final.
Like 1976, the finals of the 1984 Canada Cup were a best-of-three affair, though the series proved to be an anti‐climax after the thrilling Canada‐Russia game. Sweden featured such NHL stars as Kent Nilsson, Mats Naslund, Thomas Steen and Hakan Loob, but Canada swept the series with a 5‐2 victory in the opener and a 6‐5 win in game two.
| Country | Games | Wins | Losses | OT Losses | Points |
| --- | --- | --- | --- | --- | --- |
| Canada | 8 | 5 | 2 | 1 | 11 |
| Sweden | 8 | 4 | 4 | 0 | 8 |
| USSR | 6 | 5 | 1 | 0 | 10 |
| USA | 6 | 3 | 2 | 1 | 7 |
| Czechoslovakia | 5 | 0 | 4 | 1 | 1 |
| West Germany | 5 | 0 | 4 | 1 | 1 |