Presented By
NHL Dynasties
Edmonton Oilers
1983-84 to 1989-90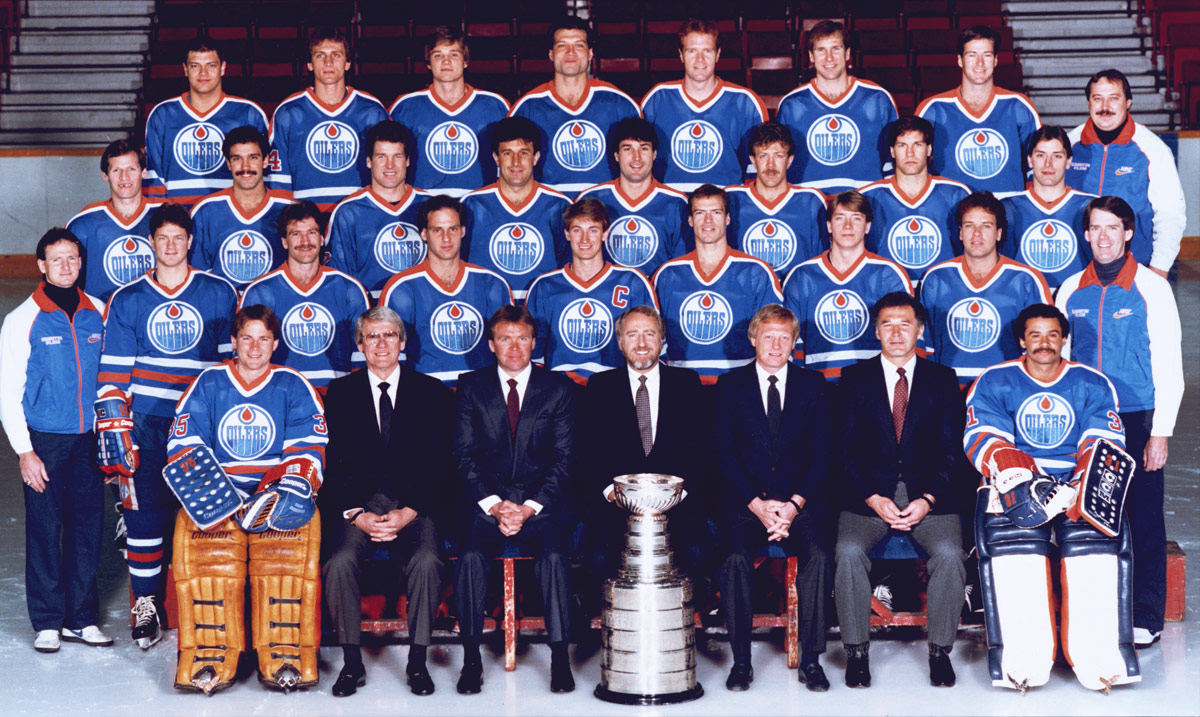 You can't win unless you learn how to lose. People from all walks of life will tell you this, but no one as passionately as athletes. Such was the case with the Edmonton Oilers.
Born out of the World Hockey Association, the Oilers were one of four teams from that league that joined the NHL in 1979-80. The team went to the Stanley Cup Final against the New York Islanders in the spring of 1983 but were swept. That infused a gritted-teeth determination to come back, and Edmonton did just that, defeating those same Islanders in 1984 to end one dynasty and start a new one. What followed were Cup victories against the Philadelphia Flyers in 1985, the Flyers again in 1987 and the Boston Bruins in 1988. Wayne Gretzky, who had starred with the Oilers through those four championships, was traded from Edmonton to the Los Angeles Kings in August 1988. Many believed that that would end the successes of the Oilers, but they bounced back and won again in 1990 against Boston's Bruins, this time without Gretzky.
Winning five Stanley Cup championships in seven seasons was an incredible run; one that earned them acknowledgement by The Hockey News as the greatest NHL dynasty of all time. The roster included four players who led the team in each of the five championships and later became Honoured Members of the Hockey Hall of Fame: Glenn Anderson (2008), netminder Grant Fuhr (2003), Jari Kurri (2001) and Mark Messier (2007). Paul Coffey (2004) starred from the blueline in the first three Stanley Cup wins and Wayne Gretzky (1999) dominated in the first four of the five championships. Glen Sather, the Oilers' general manager, was with the team for all five Stanley Cup victories and was inducted into the Hall of Fame in 1997.
Quotables
"Within five years Edmonton will have the Stanley Cup."
- Oiler owner Peter Pocklington in 1979. The response he got was mainly laughter, but Pocklinton's prediction came true.
"We haven't won four or five in a row, but I would think we had the start of a dynasty. If we continue to be dedicated, with the players and organization we have, there's no reason why we can't be a dynasty."
- Paul Coffey in 1984
"He's the best. There should be a league rule that he has to be passed around from team to team every year."
- Bruins coach Terry O'Reilly, referring to Wayne Gretzky.
"It's sweeter this time. When you're the biggest team on the block, people want to beat you."
- Paul Coffey
Summary
Stanley Cups: 5
Stanley Cup Finals Record: 20-6
Regular Season Winning %: .648
Regular Season 1st-Place Finishes: 4
Individual Trophy Winners: 19
Individuals Selected To All-Star Teams 16

Hockey Hall of Fame Members: (7) Glenn Anderson, Paul Coffey, Grant Fuhr, Wayne Gretzky, Jari Kurri, Mark Messier, Glen Sather
Players On All 4 Stanley Cup Champions: (7) Glenn Anderson, Grant Fuhr, Randy Gregg, Charlie Huddy, Jari Kurri, Kevin Lowe, Mark Messier
KEY TEAM RECORDS
Most Wins: 57 (1983-84)
Most Points: 119 (1983-84 & 1985-86)
Most Goals: 446 (1983-84 - NHL record)
KEY INDIVIDUAL RECORDS
Most Assists: 163 (Wayne Gretzky in 1986-86 - NHL record)
Most Points: 215 (Wayne Gretzky in 1986-86 - NHL record)
Tidbits
The 1983-84 squad averaged 5.58 goals per game, an NHL record.
---
The 1983-84 and 1985-86 Oilers included three 50-goal scorers and four 100-point players, both league records.
---
The Oilers, known for their incredible offensive output, were also an effective defensive unit. In the 1988 Final, they surrendered just nine goals as they swept the Bruins in four games to win their fourth Stanley Cup in five years. In three of the four games the Bruins managed fewer than 20 shots on goal.
---
In the 1988 Final, the Oilers got an extra home game, after a power failure at the Boston Garden forced the cancellation of Game 4.
---
A year after trading for Wayne Gretzky in 1978, the Oilers dominated the NHL draft. In 1979, they selected future stars Kevin Lowe, Mark Messier, and Glenn Anderson, and in 1980, they chose Paul Coffey, Jari Kurri, and Andy Moog.
Summary
Stanley Cups: 5
Stanley Cup Finals Record: 20-6
Regular Season Winning %: .648
Regular Season 1st-Place Finishes: 4
Individual Trophy Winners: 19
Individuals Selected To All-Star Teams 16

Hockey Hall of Fame Members: (7) Glenn Anderson, Paul Coffey, Grant Fuhr, Wayne Gretzky, Jari Kurri, Mark Messier, Glen Sather
Players On All 4 Stanley Cup Champions: (7) Glenn Anderson, Grant Fuhr, Randy Gregg, Charlie Huddy, Jari Kurri, Kevin Lowe, Mark Messier
KEY TEAM RECORDS
Most Wins: 57 (1983-84)
Most Points: 119 (1983-84 & 1985-86)
Most Goals: 446 (1983-84 - NHL record)
KEY INDIVIDUAL RECORDS
Most Assists: 163 (Wayne Gretzky in 1986-86 - NHL record)
Most Points: 215 (Wayne Gretzky in 1986-86 - NHL record)