Presented By
NHL Dynasties
Montreal Canadiens
1955‐56 to 1959‐60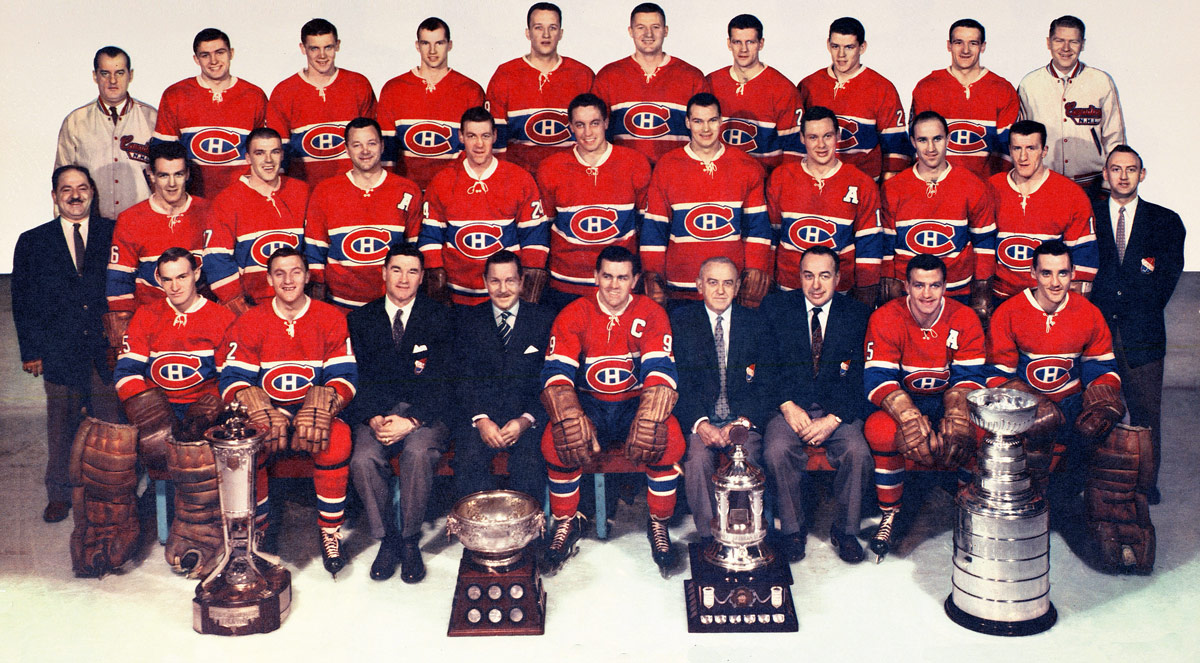 The Montreal Canadiens accomplished something that no other franchise has been able to match ‐ this dynasty won five consecutive Stanley Cup championships, first hoisting the Cup in 1956 and repeating each spring to 1960. In 1956, Montreal beat the Red Wings, defeated Boston in 1957 and 1958 and won against Toronto in 1959 and 1960. In fact, they finished first in four of those same seasons.
The Canadiens were unmatched on the ice. The offence was powerful, with Jean Beliveau leading the league in scoring in 1955‐56 and Dickie Moore in 1957‐58 and 1958‐59. And we would be remiss to not mention that 'Boom' Geoffrion and the Richard brothers, Maurice and Henri, were also on the forward lines. The Canadiens' defence won the Norris Trophy in each of the five years, with Doug Harvey collecting the best defenceman award four times and Tom Johnson once. And Jacques Plante was named the Vezina Trophy recipient as the league's best goaltender in all five of the dynasty seasons. Plante did so by getting used to the mask he introduced in 1959, the first NHL goaltender to don such protection since Clint Benedict in the 1930s.
Hall of Famer Butch Bouchard (1966) was winding down his career and finished with the 1956 Stanley Cup celebration, while Bert Olmstead (1985) enjoyed the first three Cup celebrations in Montreal before joining the Toronto Maple Leafs. Eight players who earned Honoured Member selection played in all five Cup wins: Jean Beliveau (1972), Bernie Geoffrion (1972), Doug Harvey (1973), Tom Johnson (1970), Dickie Moore (1974), Henri Richard (1979), Maurice Richard (1961) and Jacques Plante (1978). And Toe Blake, the coach in each of these five Stanley Cup seasons, is also in the Hall of Fame, although in the player category.
Quotables
"It's the coming thing in the game. The time will come when they'll have an even better mask then Plante's and it will be standard goalie equipment."
‐ Montreal Coach Toe Blake on Jacques Plante's new face mask.
"Doug Harvey was the best defenseman I ever saw. Bobby Orr could break open a game at any time and was an incredible player. But Harvey could take it over. If Montreal got a goal up on you and Harvey decided you weren't going to score, that was it. Go take a shower, the game is over."
‐ referee Red Storey
Summary
Stanley Cups: 5 consecutive
Stanley Cup Finals Record: 20‐5
Regular Season Winning %: .659
Regular Season 1st‐Place Finishes: 4
Individual Trophy Winners: 15
Individuals Selected To All‐Star Teams 25

Hockey Hall of Fame Members: (12) Jean Beliveau, Toe Blake, Butch Bouchard, Bernie Geoffrion, Doug Harvey, Tom Johnson, Dickie Moore, Bert Olmstead, Jacques Plante, Henri Richard, Maurice Richard, Frank Selke
Players On All 4 Stanley Cup Champions: (12) Jean Beliveau, Bernie Geoffrion, Doug Harvey, Tom Johnson, Don Marshall, Dickie Moore, Jacques Plante, Claude Provost, Henri Richard, Maurice Richard, Jean-Guy Talbot, Bob Turner
Tidbits
The potent power play of the Stanley Cup‐champion Montreal Canadiens leads to a rule change when the NHL announces that players receiving minor penalties will return to the ice as soon as the opponent scores a goal. Previously, teams spent the full two minutes shorthanded, which was one of the great benefits of the talent‐laden Habs, who often scored more than once during a man advantage.
---
In its five‐year reign as champion, Montreal never trails in a playoff series and is not pushed to Game 7 even once. During the regular season, the Habs average more then 40 wins a campaign.
---
In 1959, Maurice Richard is held off the scoresheet during the playoffs for the first time in his career. Injuries limited his participation to four post‐season games.
Summary
Stanley Cups: 5 consecutive
Stanley Cup Finals Record: 20‐5
Regular Season Winning %: .659
Regular Season 1st‐Place Finishes: 4
Individual Trophy Winners: 15
Individuals Selected To All‐Star Teams 25

Hockey Hall of Fame Members: (12) Jean Beliveau, Toe Blake, Butch Bouchard, Bernie Geoffrion, Doug Harvey, Tom Johnson, Dickie Moore, Bert Olmstead, Jacques Plante, Henri Richard, Maurice Richard, Frank Selke
Players On All 4 Stanley Cup Champions: (12) Jean Beliveau, Bernie Geoffrion, Doug Harvey, Tom Johnson, Don Marshall, Dickie Moore, Jacques Plante, Claude Provost, Henri Richard, Maurice Richard, Jean-Guy Talbot, Bob Turner