Presented By
NHL Dynasties
Montreal Canadiens
1975-76 to 1978-79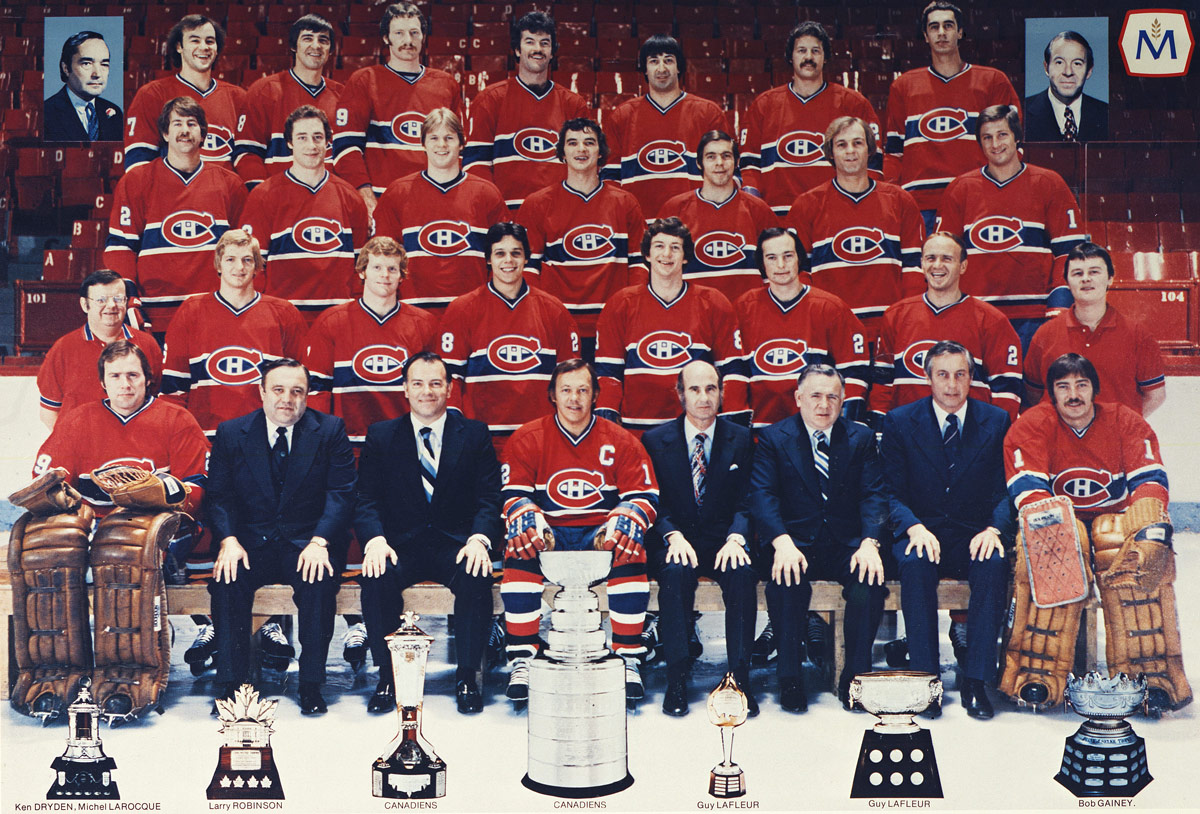 It was unusual that a team would enjoy a dynasty within a decade of their previous dynasty, but the Montreal Canadiens did just that, and in spectacular fashion. Many argue that this Canadiens' dynasty is the greatest ever to take to the ice. No other NHL team dominated both the regular season and playoffs the way this squad did. The Canadiens almost replicated the jaw-dropping feat of the first Montreal dynasty, winning four consecutive Stanley Cup championships – 1976 over Philadelphia, 1977 and 1978 beating Boston and a win over the New York Rangers in 1979. It took the start of another team's dynasty and the retirement of key contributors to prevent that fifth straight win.
The Canadiens were virtually unstoppable. Scotty Bowman was a master behind the bench. Guy Lafleur's explosiveness was at its zenith, and he won the Art Ross Trophy as the NHL's top scorer in the first three of those four seasons (he was third in 1978-79). While Lafleur was scoring 50+ goals in each of the four seasons, linemate Steve Shutt was close behind, scoring 45, a league-best 60, 49 and 37, respectively. The blueline, tagged the 'Big Three,' was comprised of Guy Lapointe, Larry Robinson and Serge Savard. Robinson won the Norris Trophy as best defenceman in 1976-77 and finished in the top 5 on two other occasions, while Lapointe achieved top 5 votes in each of the four seasons and Savard was top 5 in three of the four seasons. The Selke Trophy for top defensive forward was introduced in 1978 and Bob Gainey won it in both 1978 and 1979. And then there was Ken Dryden, who returned from a year in retirement to win the Vezina Trophy in all four seasons, shared with Michel Larocque the last three seasons. The Vezina was awarded to the team with the lowest goals-against average.
Ten players from this dynasty went on to be inducted into the Hockey Hall of Fame. Yvan Cournoyer (1982), Guy Lapointe (1993), Jacques Lemaire (1984) and Serge Savard (1986) had been members of the Canadiens' previous dynasty. They were joined this time by Ken Dryden (1983), Bob Gainey (1992), Guy Lafleur (1988), Rod Langway (2002), Larry Robinson (1995) and Steve Shutt (1993). And Scotty Bowman also is an Honoured Member, inducted in 1991.
Could the Canadiens have proceeded to win a fifth? We will never know, but it would have been exceedingly difficult with several missing components. Scotty Bowman left the Canadiens to join the Buffalo Sabres and Yvan Cournoyer, Ken Dryden and Jacques Lemaire all announced their retirements after the Stanley Cup win in 1979.
Quotables
"This is not only a victory for the Canadiens; it is a victory for hockey. I hope that this era of intimidation and violence that is hurting our national sport is coming to an end. Young people have seen that a team can play electrifying, fascinating hockey while still behaving like gentlemen."
- Serge Savard
"The strangest thing with Scotty (Bowman) would be that the farther ahead we were in the game, the more agitated he'd become. If we were playing a tight 2-1 game, he kept quiet and didn't say anything. But if we were up four or five goals, he'd go crazy...he'd be screaming at us to stay on them, not to goof off and let the other team into the game."
- Steve Shutt
Summary
Stanley Cups: 4 consecutive
Stanley Cup Finals Record: 16-3
Regular Season Winning %: .786
Regular Season 1st-Place Finishes: 4
Individual Trophy Winners: 17
Individuals Selected To All-Star Teams 16

Hockey Hall of Fame Members: (11) Scotty Bowman, Yvan Cournoyer, Ken Dryden, Bob Gainey, Guy Lafleur, Guy Lapointe, Jacques Lemaire, Sam Pollock, Larry Robinson, Serge Savard, Steve Shutt
Players On All 4 Stanley Cup Champions: (15) Rick Chartraw, Yvan Cournoyer, Ken Dryden, Bob Gainey, Doug Jarvis, Guy Lafleur, Yvon Lambert, Guy Lapointe, Michel Larocque, Jacques Lemaire, Doug Risebrough, Larry Robinson, Serge Savard, Steve Shutt, Mario Tremblay
KEY TEAM RECORDS
Most Wins: 60 (1976-77)
Most Points: 132 (1976-77 - NHL record)
Most Goals: 387 (1976-77)
KEY INDIVIDUAL RECORDS
Most Goals: 60 (Steve Shutt in 1976-77, Guy Lafleur in 1977-78)
Most Assists: 82 (Pete Mahovlich in 1974-75)
Most Points: 136 (Guy Lafleur in 1977-78)
Tidbits
In 1976-77, Montreal outscored their opposition by an incredible 2.76 goals per game.
---
The summer after their fourth Cup victory, three key players - Ken Dryden, Jacques Lemaire and Yvan Cournoyer - all announced their retirements, and coach Scotty Bowman left to become GM and coach in Buffalo.
Summary
Stanley Cups: 4 consecutive
Stanley Cup Finals Record: 16-3
Regular Season Winning %: .786
Regular Season 1st-Place Finishes: 4
Individual Trophy Winners: 17
Individuals Selected To All-Star Teams 16

Hockey Hall of Fame Members: (11) Scotty Bowman, Yvan Cournoyer, Ken Dryden, Bob Gainey, Guy Lafleur, Guy Lapointe, Jacques Lemaire, Sam Pollock, Larry Robinson, Serge Savard, Steve Shutt
Players On All 4 Stanley Cup Champions: (15) Rick Chartraw, Yvan Cournoyer, Ken Dryden, Bob Gainey, Doug Jarvis, Guy Lafleur, Yvon Lambert, Guy Lapointe, Michel Larocque, Jacques Lemaire, Doug Risebrough, Larry Robinson, Serge Savard, Steve Shutt, Mario Tremblay
KEY TEAM RECORDS
Most Wins: 60 (1976-77)
Most Points: 132 (1976-77 - NHL record)
Most Goals: 387 (1976-77)
KEY INDIVIDUAL RECORDS
Most Goals: 60 (Steve Shutt in 1976-77, Guy Lafleur in 1977-78)
Most Assists: 82 (Pete Mahovlich in 1974-75)
Most Points: 136 (Guy Lafleur in 1977-78)