Presented By
NHL Dynasties
Toronto Maple Leafs
1946-47 to 1950-51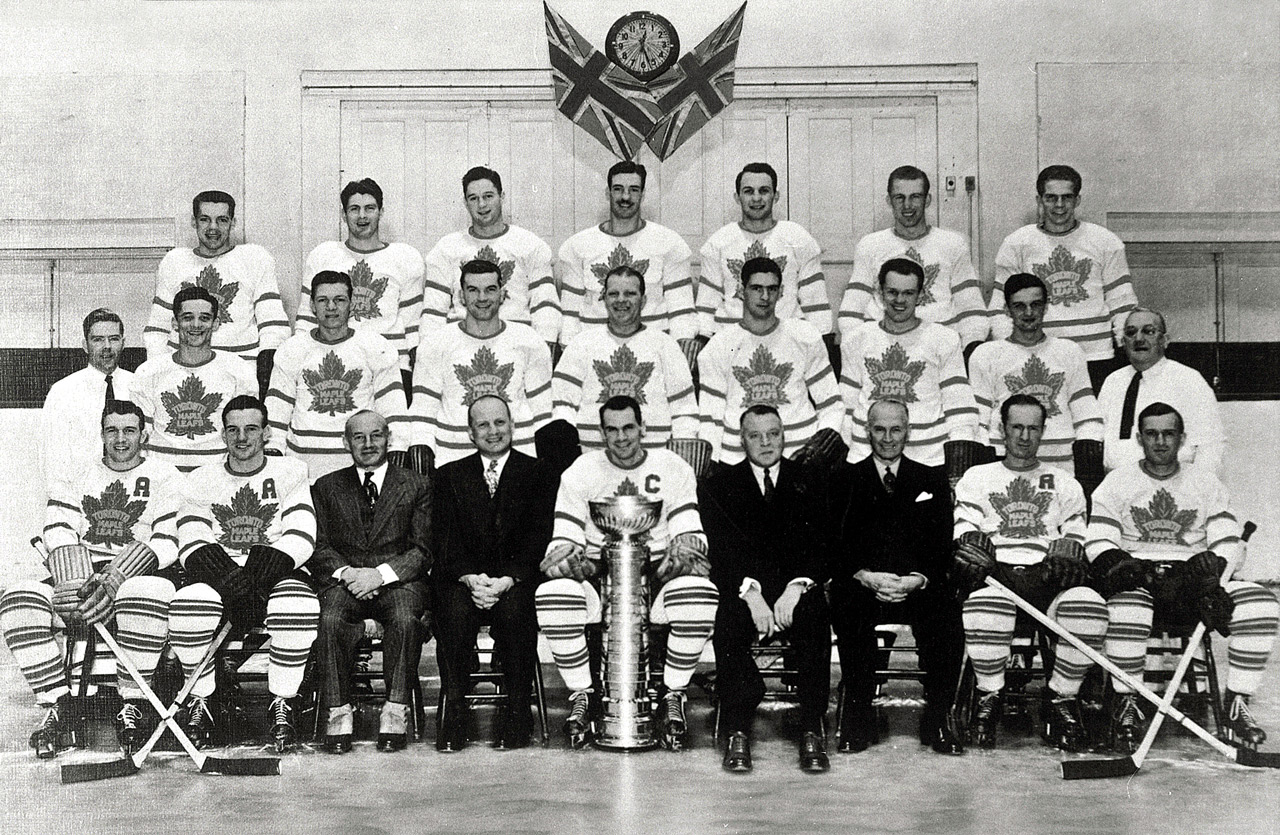 The rosters that comprised the dynasty that won four Stanley Cup championships in the five seasons from 1946-47 to 1950-51 bore little resemblance to the Maple Leaf team that won the Stanley Cup in 1945. The Second World War had decimated that lineup in 1945, but by the next season, several of the boys had returned from defending their country and had rejoined the Maple Leafs. In addition, manager Conn Smythe infused the roster with youth, and together, they formed formidable units that captured the Stanley Cup in 1947 against Montreal, 1948 with a victory over Detroit, 1949 again against Detroit and in 1951 facing the Canadiens.
The championship in 1951, secured on the dramatic overtime goal by Bill Barilko, was overshadowed by the disappearance of the defenceman who scored the Stanley Cup-winning goal. The team didn't win another Stanley Cup until 1962, the same year that Barilko's remains were discovered in the unforgiving forests of Northern Ontario, a casualty of a plane crash in August 1951.
Honoured Members who were part of this dynasty include Syl Apps (1961), Max Bentley (1966), Turk Broda (1967), Fern Flaman (1990), Ted Kennedy (1966) and Harry Watson (1994). Hap Day, inducted into the Hall as a Player (1961) coached the first three championships while Joe Primeau, also inducted as a Player (1963) was the coach in 1951.
Quotables
"We have two great centres in Syl Apps and Ted Kennedy. If we could get one more, our strength down the middle would make us the best."
- Conn Smythe. In 1948, Smythe trades the youthful and talented Flying Forts Line of Bud Poile, Gaye Stewart, and Gus Bodnar, as well as highly regarded Bob Goldham and 1942 Cup hero Ernie Dickens to Chicago. In return, the Maple Leafs receive 1946-47 scoring champion Max Bentley and minor-leaguer Cy Thomas. Toronto wins the Cup three times over the next four years.
"Each man is his own absolute law giver and dispenser of glory or gloom to himself, the maker of his life, his reward, his punishment."
- Conn Smythe
Summary
Stanley Cups: 4 (3 consecutive)
Stanley Cup Finals Record: 16-3
Regular Season Winning %: .586
Regular Season 1st-Place Finishes: 1
Individual Trophy Winners: 3
Individuals Selected To All-Star Teams: 6
Hockey Hall of Fame Members: (13) Syl Apps, George Armstrong, Max Bentley, Turk Broda, Hap Day, Fernie Flaman, Tim Horton, Ted Kennedy, Frank Mathers, Bud Poile, Joe Primeau, Conn Smythe, Harry Watson
Players On All 4 Stanley Cup Champions: (8) Bill Barilko, Turk Broda, Ted Kennedy, Joe Klukay, Howie Meeker, Gus Mortson, Jim Thomson, Harry Watson
Tidbits
Captain Syl Apps retired after the 1948 season, despite the fact he was only 33 and had just enjoyed the finest season of his career. Leafs President Conn Smythe convinced Apps to return for the 1949 campaign, but when he learned that Coach Hap Day had already appointed Ted Kennedy captain and would not change his mind, Apps decided not to report.
---
All five games of the 1950-51 Final were decided by overtime, including Bill Barilko's Cup-winner in Game 5. Tragically, the goal was Barilko's last, as he died in a plane crash three months later.
---
Toronto becomes the first team to win three straight Stanley Cups since 1906 when Ottawa equaled the feat.
Recap
Stanley Cups: 4 (3 consecutive)
Stanley Cup Finals Record: 16-3
Regular Season Winning %: .586
Regular Season 1st-Place Finishes: 1
Individual Trophy Winners: 3
Individuals Selected To All-Star Teams: 6
Hockey Hall of Fame Members: (13) Syl Apps, George Armstrong, Max Bentley, Turk Broda, Hap Day, Fernie Flaman, Tim Horton, Ted Kennedy, Frank Mathers, Bud Poile, Joe Primeau, Conn Smythe, Harry Watson
Players On All 4 Stanley Cup Champions: (8) Bill Barilko, Turk Broda, Ted Kennedy, Joe Klukay, Howie Meeker, Gus Mortson, Jim Thomson, Harry Watson