Presented By
NHL Dynasties
Toronto Maple Leafs
1961-62 to 1966-67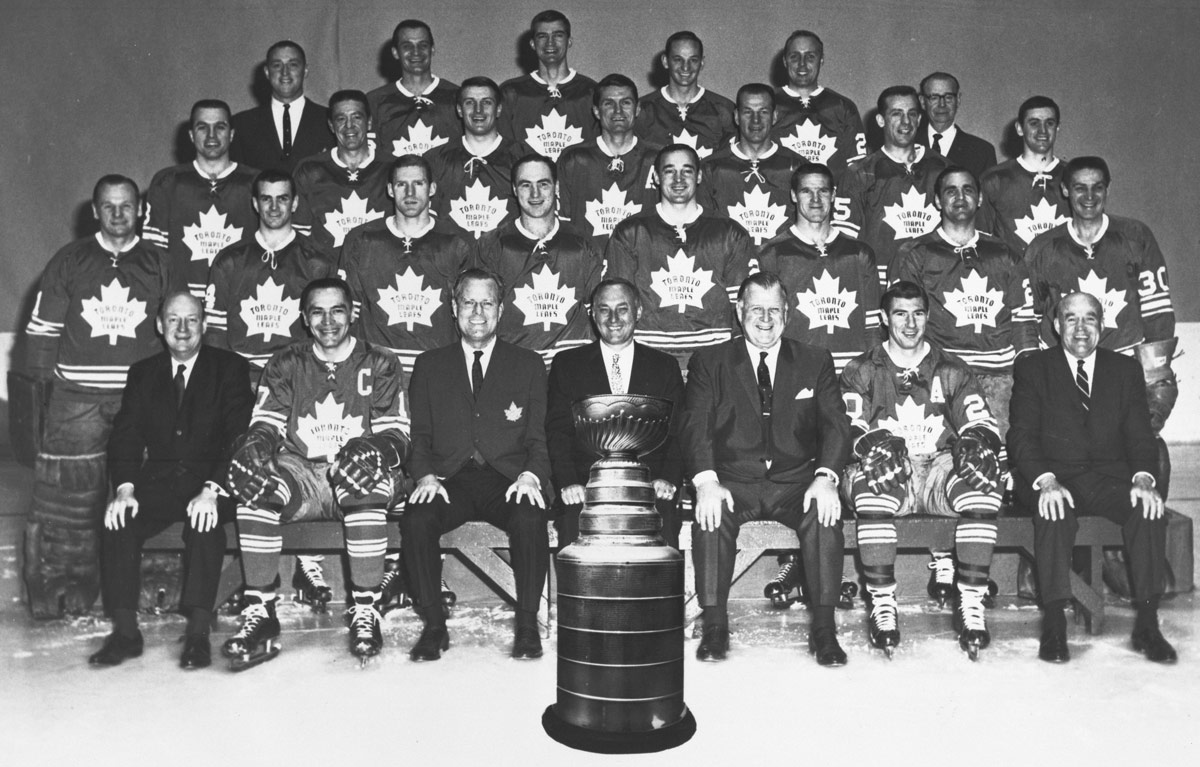 The 'Original Six Era' came to an end with the Stanley Cup celebration enjoyed by the Toronto Maple Leafs in 1967, their fourth in six seasons. By the next season, the NHL expanded from six to twelve teams. Toronto beat the reigning Stanley Cup champion Chicago Black Hawks in 1962, defeated Detroit in 1963 and 1964, and beat the Montreal Canadiens in 1967.
The Maple Leafs had endured a challenging decade following their Stanley Cup victory in 1951, but with the arrival of Punch Imlach, originally hired as assistant general manager but soon to become both coach and general manager, the franchise saw a resurgence. Through an influx of promising juniors from the Toronto Marlboros and Toronto St. Michael's Majors and shrew acquisitions of veterans, the Maple Leafs went to the Stanley Cup Final in 1959 and 1960 before the run of Stanley Cup wins.
Eight Honoured Members participated in each of the four Cup wins with Toronto: George Armstrong (1975), goaltender Johnny Bower (1976), Tim Horton (1977), Red Kelly (1969), Dave Keon (1986), Frank Mahovlich (1981), Bob Pulford (1991) and Allan Stanley (1981). Others who contributed to the dynasty were Andy Bathgate (1978), Dick Duff (2006), Bert Olmstead (1985), Marcel Pronovost (1978) and Terry Sawchuk (1971), while Al Arbour played defence with the Leafs during this era but was inducted into the Hall of Fame as a Builder (1996). Punch Imlach also was elected as a Builder for his role overseeing this team (1984).
Quotables
"On Toronto ice, we look like we left our skates at home and came with our overshoes."
- Chicago Coach Rudy Pilous, lamenting his club's 0-3 mark at the Maple Leaf Gardens in the 1962 Stanley Cup final.
"In 1964, (Leaf President Harold) Ballard sent champagne out to my house when we won the Stanley Cup. I wasn't there (at the Gardens) because they had taken me to the hospital, so I missed all the celebrations. Harold brought a bottle of champagne, the Stanley Cup, and a photographer to my house. With my children, my wife, and the Stanley Cup, we had a picture taken. I don't know of anybody else who would ever have thought about doing that."
- Red Kelly
Summary
Stanley Cups: 4 (3 consecutive)
Stanley Cup Finals Record: 16-8
Regular Season Winning %: .563
Regular Season 1st-Place Finishes: 1
Individual Trophy Winners: 6
Individuals Selected To All-Star Teams 13

Hockey Hall of Fame Members: (16) Al Arbour, George Armstrong, Andy Bathgate, Johnny Bower, Gerry Cheevers, Tim Horton, Punch Imlach, Red Kelly, Dave Keon, Frank Mahovlich, Dickie Moore, Bert Olmstead, Marcel Pronovost, Bob Pulford, Terry Sawchuk, Allan Stanley
Players On All 4 Stanley Cup Champions: (11) George Armstrong, Bob Baun, Johnny Bower Larry Hilman, Tim Horton, Red Kelly, Dave Keon, Frank Mahovlich, Bob Pulford, Eddie Shack, Allan Stanley
Tidbits
On June 6th 1962, seven weeks after the Leafs claimed their first title since 1951, the wreckage of Bill Barilko's plane is found in the dense Northern Ontario bush. Barilko was the player who scored the 1951 Cup winner but died tragically in a plane crash a few months later.
---
With his team down 3-2 in games to Detroit in the 1964 Stanley Cup Final, Toronto defenseman Bob Baun is carried from the ice on a stretcher after being hit in the right ankle by a Gordie Howe shot. But Baun returns and is a hero when his shot beats Terry Sawchuk 1:40 into OT. Baun plays Game 7 as Toronto wraps up the title with a 4-0 win. Only after the game does he go for X-rays, which reveal he has a cracked bone in his foot.
---
Mid-way through the 1966-67 season, the Leafs hit a 10-game losing streak, and Punch Imlach had to take time off to recover from trauma and strain. King Clancy stepped behind the Leafs' bench and the team had a 7-1-2 record during this time, climbing into the playoff picture and staying there. When Punch returned, the Leafs were much more relaxed and had a new winning attitude that carried them to victory.
Summary
Stanley Cups: 4 (3 consecutive)
Stanley Cup Finals Record: 16-8
Regular Season Winning %: .563
Regular Season 1st-Place Finishes: 1
Individual Trophy Winners: 6
Individuals Selected To All-Star Teams 13

Hockey Hall of Fame Members: (16) Al Arbour, George Armstrong, Andy Bathgate, Johnny Bower, Gerry Cheevers, Tim Horton, Punch Imlach, Red Kelly, Dave Keon, Frank Mahovlich, Dickie Moore, Bert Olmstead, Marcel Pronovost, Bob Pulford, Terry Sawchuk, Allan Stanley
Players On All 4 Stanley Cup Champions: (11) George Armstrong, Bob Baun, Johnny Bower Larry Hilman, Tim Horton, Red Kelly, Dave Keon, Frank Mahovlich, Bob Pulford, Eddie Shack, Allan Stanley