Most Canadians knew little about the opposition when Team Canada faced the Soviet Union in 1972. Many predicted an eight‐game sweep for the Canadians. The country was shocked when the Soviets outclassed Canada in a 7‐3 victory to open the series and the feeling was as much one of relief as it was joy when Paul Henderson scored his winning goal with 34 seconds remaining in the final game. No one would be taking the Russians lightly in 1974. Back were many of the familiar names that had so impressed Canadian fans two years earlier: Tretiak, Yakushev, Maltsev, Mikhailov, Petrov and Kharlamov. Many in Canada knew these players better than the ones who would be representing them this time.
Team Canada 1974 was stocked with players from the World Hockey Association, the rival league which had sprung up to battle the NHL in 1972‐73. Many had previously played in the NHL, but nobody was about to confuse Ralph Backstrom or Mike Walton with Phil Esposito. Bobby Hull ‐ barred from playing for Canada in 1972 after his departure to the rival league ‐ would be on hand this time, as would Gordie Howe, who had retired prior to the 1972 series but had returned to hockey with the WHA in order to play with sons Mark and Marty. Three members of Team Canada 1972 would be back to face the Soviets a second time: Pat Stapleton, Frank Mahovlich and Paul Henderson.
Canadian hockey fans had not entirely warmed to the World Hockey Association during its first two seasons and the 1974 series was played as much to lend credibility to the WHA as it was to pit Canada against the Soviet Union. As such, the series did not elicit the same excitement, but Canadians did come around. The series opened in Quebec City on September 17 and Bobby Hull's goal with 5:42 remaining lifted Team Canada to a 3‐3 tie. "I thought this would be just another game," said Gordie Howe afterwards, "but you put on a Canadian sweater and realize that it's not just another game. Too many Canadians are counting on it." Game two in Toronto resulted in a 4‐1 Canadian victory (just as it had in 1972). The third game in Winnipeg was won 8‐5 by the Soviets and a 5‐5 tie in Vancouver meant that the two teams headed to Moscow with a win, a loss, and two ties apiece.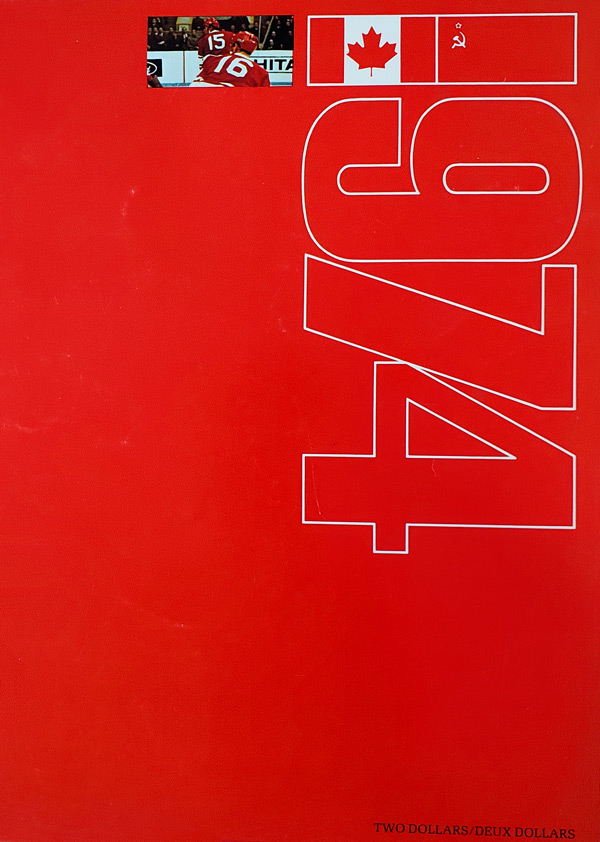 Tempers were on edge when the series resumed with game five on October 1 and the Soviets were 3‐2 winners in a chippy game. "Oh, the Russians trip and hook, all right," commented Gordie Howe. "But we're not angels, are we?" Two nights later the Soviets won 5‐2 in a contest marred by a post‐game punch‐up that saw Rick Ley bloody the face of Valeri Kharlamov. The players were able to maintain their cool in game six, a contest Canada needed to win in order to salvage a tie in the series. Bobby Hull scored a late goal that appeared to give Canada a 5‐4 victory, but the referee (Canadian Tom Brown) ruled that time had expired. Though Canada had received only two minor penalties in game seven, the Soviets announced that they would pull their team off the ice in game eight if the WHA players persisted in their dirty play. As it was, the Soviets rested several of their stars (including Vladislav Tretiak and Vladimir Petrov) and still beat a dispirited Canadian squad 3‐2.
As had been the case in 1972, Aleksander Yakushev was the Soviets top scorer, netting five goals and adding three assists in seven games played Vladimir Petrov (two goals, five assists) and Valeri Kharlamov (one and six) each contributed seven points. Bobby Hull was the series leader with seven goals and two assists and Andre Lacroix's six assists were tops among Canadians. The ageless Gordie Howe had three goals and four assists. Gerry Cheevers handled the bulk of Canada's goaltending, allowing 24 goals in seven games for a 3.43 goals‐against average. He actually outperformed Vladislav Tretiak, who surrendered 25 goals in seven games for a 3.57 mark.
"My first idols," said Yakushev when the games were done, "were Boris Mayorov and Anatoli Firsov. When I was growing up, they were big in our game. After this series, I have another hero. Bobby Hull." Hull signed a photograph for his newest admirer and requested an autograph in return. "If I could," the Golden Jet admitted, "what I'd really like Yakushev to do is sign a contract with Winnipeg. God, but he's good."
| Country | Games | Wins | Losses | Ties | Points |
| --- | --- | --- | --- | --- | --- |
| USSR | 8 | 4 | 1 | 3 | 11 |
| Team Canada | 8 | 1 | 4 | 3 | 5 |