Eight countries started the tournament with the World Cup in their sights. By the time the semi‐finals began, Canada, the Czech Republic, Finland and the United States were the final four standing. When the dust had cleared, Canada's undefeated 5‐0‐0 record was pitted against Finland's four wins and a tie. Canada advanced to the final with an overtime goal by Vincent Lecavalier to top the Czechs 4‐3, while Finland eliminated the Americans 2‐1 with Saku Koivu scoring the game winner with just under four minutes remaining in the third period.
"This is the greatest achievement in Finnish ice hockey," gleamed veteran forward Teemu Selanne. "Being world champions in 1995 was a major achievement as was the bronze (medal) in Nagano. But this (victory over the U.S.) supersedes both of those. It's the World Cup and all the best players are here."
The Canada/Finland final was held Tuesday, September 14, at the sold‐out Air Canada Centre in Toronto. Joe Sakic opened the scoring just 52 seconds into the opening period. The Finns tied the game at 6:34 when Riku Hahl redirected a Toni Lydman blast from the slot past a screened Martin Brodeur.
The Finns stymied the Canadians, slowing the pace to a crawl. But at 3:15 of the second stanza, Scott Niedermayer restored Canada's lead, slipping a shot between the pads of Miika Kiprusoff. But Tuomo Ruutu's brilliant solo rush for Finland resulted in the tying goal at 19:00 of the second.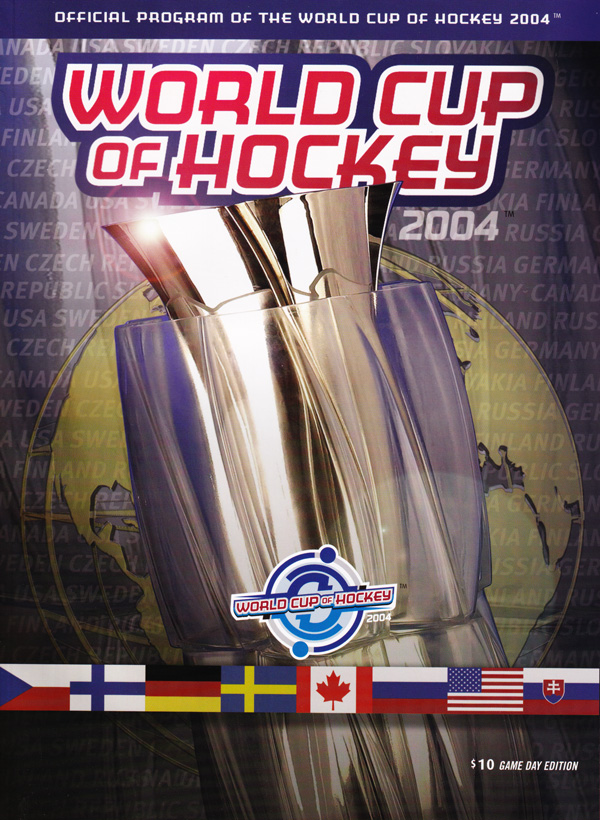 Team Canada
Team Finland
Shane Doan of Team Canada scored the winning goal at the 34 second mark of the third, converting a pass from Joe Thornton behind the Finnish net. This marked the third time in the game that the Canadians scored on their first shot of the period. Canada held on, inspired by brilliant defensive play from captain Mario Lemieux and superb netminding from Martin Brodeur, who returned to the Canadian crease after sitting out the semi‐final contest nursing a wrist injury.
"Every time you have success, it's something you'll never forget. And the way we dominated the tournament was probably the key for me. How many times are you going to be able to say you never lost a game?" stated Brodeur.
Although disappointed with the result, Finnish coach Raimo Summanen, was pleased with his team's moxy. "I'm proud of the players. Their attitude through this whole tournament was great," he said. "The Canadian team deserved to win. Great hockey team. What a hockey country and what a tradition. What players, coaches and management. I really respect their work."
Team Canada's Vincent Lecavalier was named the tournament's most valuable player, collecting two goals and five assists in six games. Of note, Lecavalier was a last minute replacement for the injured Steve Yzerman.
| Country | Games | Wins | Losses | OT Losses | Points |
| --- | --- | --- | --- | --- | --- |
| Canada | 6 | 6 | 0 | 0 | 12 |
| Finland | 6 | 4 | 1 | 1 | 9 |
| Czech Republic | 5 | 2 | 3 | 0 | 4 |
| USA | 5 | 2 | 3 | 0 | 4 |
| Sweden | 4 | 2 | 1 | 1 | 5 |
| Russia | 4 | 2 | 2 | 0 | 4 |
| Slovakia | 4 | 0 | 4 | 0 | 0 |
| Germany | 4 | 0 | 4 | 0 | 0 |