THREE DAYS IN TORONTO
The Hockey Hall of Fame Celebrates Its Newest Honoured Members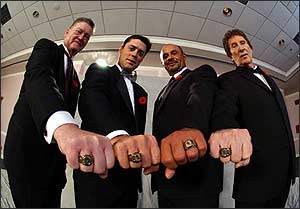 The Induction class of 2003 proved to be quite a fraternity. (From left to right) Brian Kilrea, Pat LaFontaine, Grant Fuhr, and Mike Ilitch display their Honoured Member rings.

The hockey world held a family reunion Monday, November 3 under the guise of the Hockey Hall of Fame's 2003 Induction Ceremony. Four new members were added to the sports' most illustrious family - in the Players' Category, the Hockey Hall of Fame welcomed Grant Fuhr and Pat LaFontaine while Mike Ilitch and Brian Kilrea were added in the Builders' Category.

Grant Fuhr grew up in the shadow of Edmonton, the city in which he would later star and assist in the winning of five Stanley Cup championships. Joining the Oilers in 1983, Fuhr won the Vezina Trophy as the NHL's top netminder in 1988. Through nineteen seasons, Grant would later join Toronto, Buffalo, Los Angeles, St. Louis and Calgary before retiring prior to the 2000-2001 season. Through 868 regular season contests, Fuhr collected 403 wins, including 25 by shutout, as well as 114 ties.

Pat LaFontaine was born in St. Louis, Missouri, but developed his skills in the hockey-rich Detroit area. In 1982-83, playing his sole season as a junior, LaFontaine ripped up the Quebec Major Junior Hockey League, scoring 104 goals and 234 points and was named the Canadian Hockey League's Player of the Year. Pat played eight seasons with the New York Islanders, six with the Buffalo Sabres and one year in a New York Rangers uniform. After a series of head injuries, Pat LaFontaine was forced to retire, but not before totaling 468 goals and 545 assists for 1,013 points in 865 NHL games.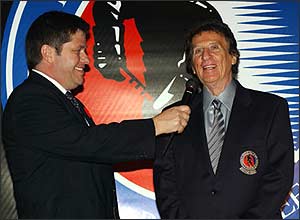 Host Gord Stellick (left) poses a question to
Mike Ilitch during the official Ring Presentation at the Hockey Hall of Fame.

Mike Ilitch is a builder in every sense of the word. In 1959, he founded Little Caesar's, which has grown to become the world's largest pizza chain. By 1968, he initiated the Little Caesar's minor hockey program that spawned players like Mike Modano, Bryan Smolinski and Pat LaFontaine. But it was his 1982 gamble that led directly to his Induction into the Hockey Hall of Fame, as that was the year he purchased the floundering Detroit Red Wings from the Norris family and, in turning the franchise around, contributed to three Stanley Cup championships and a franchise Forbes magazine values at $250,000,000.

Brian Kilrea comes by his love of hockey honestly. Thee uncles played in the NHL, and Brian followed with a single game as a Detroit Red Wing in 1957-58 and played with the Los Angeles Kings in 1967-68, the team's inaugural season. Primarily a career minor leaguer, Kilrea helped Eddie Shore's Springfield Indians win three consecutive Calder Cup championships in the early 1960s. But Kilrea's Induction is intrinsically linked to coaching. 'Killer' joined the Ottawa 67s of the Ontario Hockey League as coach and general manager in 1974 and, with the exception of two seasons working with the New York Islanders, has spent his entire career with the junior franchise. On March 9, 2003, Brian earned his 1,000th OHL coaching victory. He has led the 67s to two Memorial Cup championships, has won Coach of the Year honours on five occasions and in March 2003, commemorating his accomplishments, the Canadian Hockey League re-named its coach of the year trophy, the Brian Kilrea Award.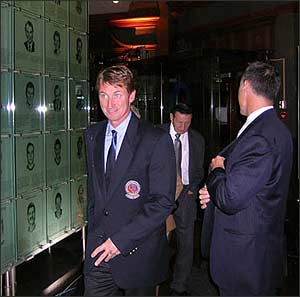 A number of ex-Edmonton Oilers, including
Wayne Gretzky (far left) and Paul Coffey (far right), attended Induction 2003 in support of former
teammate Grant Fuhr.

These newest Honoured Members converged on Toronto from all over North America. Grant Fuhr was the first to arrive, flying in from Edmonton with his wife Candice and their children on Friday, October 31. Brian Kilrea and his wife Judy took the train from Ottawa to Toronto on Saturday, November 1. Pat LaFontaine drove up to Toronto from his Long Island home, joined by his wife Marybeth, their three children and a collection of friends. Mike Ilitch flew up from Detroit in the family's private jet, joined by his wife Marian. Their seven children with their families arrived later.

It was a whirlwind weekend, yet amidst dreary skies, the stars shone brightly. Saturday night, the newest Inductees were introduced on-ice at the Air Canada Centre before the Maple Leafs/Flyers game - combatants in this year's Hockey Hall of Fame Game. Fuhr, LaFontaine, Ilitch and Kilrea strode to centre ice on the red carpet, shaking the hands of the extended family already gathered there: Johnny Bower, Fern Flaman, Bill Gadsby, Clark Gillies, Ted Lindsay, Denis Potvin, Darryl Sittler and Bryan Trottier. Although the game was uncompetitive (a 7-1 Philadelphia victory), it was a night of celebration for the new Inductees. Each had his own suite for the evening, with invited guests reveling in the celebration. Mike Ilitch had a special guest in his suite - actor Mike Myers. Brian Kilrea welcomed Ed 'Box Car' Hospodar, a former junior with Kilrea's 67s and later, a Philadelphia Flyer himself.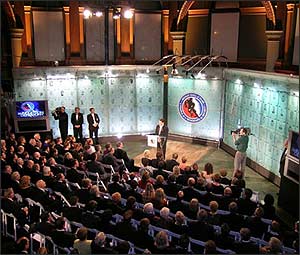 The historic Great Hall served host to Induction 2003.

Sunday, the boys congregated at the Hockey Hall of Fame prior to a special interview session. A special bond had formed between the four new Inductees. Brian Kilrea, who had been part of the Red Wing organization during the mid-fifties, thanked Mike Ilitch for rejuvenating a franchise that was close to both him and his family (all three of his uncles, Hec, Ken and Wally, had worn the Red Wing proudly on their chest). Meantime, Pat LaFontaine and Grant Fuhr caught up on each other's lives. The two had been teammates with Buffalo in 1993 and 1994, but had a healthy respect dating back even further to an old rivalry between the Oilers and the Islanders. While talking animatedly, the four signed items that will be sold on-line (www.hhof.com) or in the Hall's retail store, the Spirit of Hockey. Then, at 1:30 Sunday afternoon, the gentlemen took part in an interview session that allowed fans to participate. Moderated by Gord Stellick of Toronto's FAN 590, Grant, Pat, Mike and Brian were introduced, then exposed to questions from fans. One question lobbed to Grant Fuhr was, "Was Pat LaFontaine the toughest forward you ever faced on a breakaway?" "Nah," Fuhr laughed. "I stoned him every time!" Then, he and LaFontaine roared at the answer.

Monday was Induction Day for the Hockey Hall of Fame, one of only three days the Hall closes its doors to visitors. While the Hall of Fame was being converted into a party venue, a media conference took place at 10:30. Bill Hay, the Chairman of the Hockey Hall of Fame, was joined by the Chairman of the Hall of Fame's Selection Committee, NHL Senior Vice President Jim Gregory, for this special occasion. Each Inductee was introduced and awarded his Hockey Hall of Fame blazer and ring. The rings are magnificent - gold with the Hockey Hall of Fame logo in the centre and the words 'Hockey Hall of Fame' on top and 'Member' below. On one side is the Honoured Member's name and year of Induction while on the other is the image of the Hall and the words 'Established 1943.' For the record, Grant Fuhr wears a size 10 ring, Pat LaFontaine a size 9.5, Mke Ilitch sports a size 10.5 ring and Brian Kilrea, a 13.5. Media from all over the world covered this unique and terrific opportunity to photograph and/or interview the four new Hall of Fame Honoured Members.

At noon on Monday, Fuhr, LaFontaine, Ilitch and Kilrea attended the Elmer Ferguson/Foster Hewitt Awards Luncheon, where Rod Phillips, the longtime play-by-play announcer of the Edmonton Oilers was awarded the Foster Hewitt Award for broadcast excellence and Sports Illustrated's Michael Farber was recipient of the Elmer Ferguson Award for excellence in hockey writing.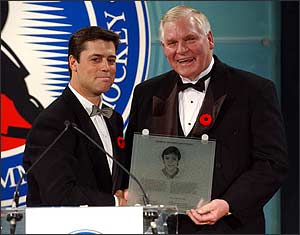 Pat LaFontaine (left) receives his Induction plaque from Hockey Hall of Fame Chairman Bill Hay.

The new Honourees and their families spent Monday afternoon getting dressed in their formal attire, and were recorded for posterity in a special photo shoot. Each Honoured Member was photographed with his family, then the four Inductees posed together for a selection of shots.

6:25. Anxiety is peaking. Limousines carried the new Honoured Members and their families from the hotel to the Hockey Hall of Fame. As the limo door swung open, each was greeted by Jeff Denomme, the President of the Hockey Hall of Fame and its chairman, Bill Hay, who escorted them down the red carpet to the Great Hall. A former Bank of Montreal building at the corner of Yonge and Front Streets in the heart of Toronto's downtown core, the Hockey Hall of Fame has enjoyed ten years at its current location. An extraordinary stained glass dome rainbows the ceiling of the Great Hall. The former bank vault now houses the original Stanley Cup, donated by Canada's Governor-General, Lord Stanley of Preston, in 1892. The images of each Honoured Member comprises a wall that most days serve as a backdrop to the Stanley Cup, but on Induction Day, surrounds the stage where the ceremony takes place. Down the red carpet strode some of hockey's greatest talent and most respected personalities - Wayne Gretzky, Paul Coffey, Ted Lindsay, Marty Pavelich, Commissioner Gary Bettman, Harry Sinden, Don Cherry, Pat Quinn, Scotty Morrison and so many others. They were followed by this year's harvest of hockey talent - Grant Fuhr, Pat LaFontaine, Mike Ilitch and Brian Kilrea.

Broadcasters Dick Irvin and John Wells hosted the proceedings. First up was Pat LaFontaine. His video tribute illustrated not only an exceptional playmaker, but an exceptional human being. Compassionate, modest and giving, LaFontaine embodies all that is good about hockey. "To have this as the final stop in your hockey career is as good as it gets," Pat said. "Some people think because an injury ended my career that I might be resentful toward the game, but it's actually helped me become what I am today." LaFontaine has founded a charitable foundation called Companions in Courage that assists those facing challenges. Humbly, LaFontaine concluded, stating, "To be here with these three guys, I feel like the luckiest guy in the world,"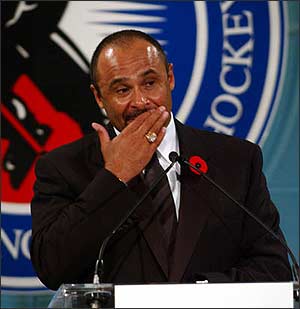 An emotional Grant Fuhr addresses the audience
during his Induction speech.

The next presentation was for Mike Ilitch. He laughed about showing up at his first owners' meeting with flour in his hair, pizza sauce on his sleeve and a bank statement under his arm. But when he was approved as the owner of the Detroit Red Wings, the franchise evolved positively. "I sometimes wonder how it all happened," Ilitch said. "But we brought in colorful players and the fans related to them immediately."

As likeable as any Honoured Member in the Hockey Hall of Fame, Brian Kilrea represents the system that helps feed professional hockey. "I feel like I'm representing a lot of amateur coaches who prepare players for the NHL," Kilrea demurred. "I'm here mainly because of the players who played for me."

Finally, Grant Fuhr got his moment in the sun. He was quick to include his teammates in his speech. "We had a huge family in Edmonton - much more than a team." Friends and former teammates Paul Coffey, Wayne Gretzky and Kevin Lowe looked on as Fuhr continued. "I think I was fortunate to be on a lot of good teams and win a lot of games, and that is the key, that I can say I was always a winner," Grant stated. He joked about what he called 'glitches' in his career, moments that saw him frequently sitting in the office across the desk from a coach. Then, Fuhr made a special mention. "It's an extra special honour to be the first man of colour in the Hockey Hall of Fame. I'd like to thank Willie O'Ree," Fuhr said, referring to the first player to break the colour barrier in the NHL.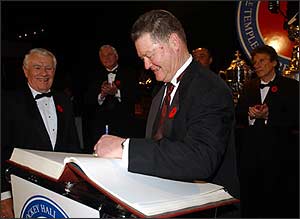 Brian Kilrea signs the ceremonial
Honoured Members book.

And with that, the hockey world got a little brighter and the Hockey Hall of Fame a bit more proud as four new Honoured Members - Grant Fuhr, Pat LaFontaine, Mike Ilitch and Brian Kilrea - were added to the gallery of stars that make hockey the outstanding game we've come to know. After the ceremony, each of the four celebrated separately. Grant Fuhr was guest of honour at a private dinner held at Wayne Gretzky's restaurant, with guests including Willie O'Ree, Tony McKegney, Grant Ledyard, Kevin Lowe, Paul Coffey and Wayne Gretzky. Pat LaFontaine spent time with his wife, children, parents and closest friends. Mike Ilitch and his family flew back to Detroit immediately after the ceremony and Brian Kilrea toasted the evening with great Churchillian cigars, beer and friends and former players with the Ottawa 67s, Doug Wilson, Bobby Smith and Jim Ralph.

Mike Ilitch got back to work first thing Tuesday morning, Brian Kilrea took the train back to Ottawa Tuesday morning with one of his assistant coaches to prepare for his team's road trip. Grant Fuhr flew back to Edmonton Tuesday afternoon and Pat LaFontaine drove back to Long Island on Tuesday as well. Four guys, bleary-eyed and tired but with smiles you couldn't remove with a crowbar, saw their lives irreversibly altered, first, through a career of success, and most recently, through three days in Toronto.

Kevin Shea is in the Hockey Hall of Fame (every weekday between nine and five).