It's a marriage made in rock 'n' roll heaven, if you'll excuse the expression. Hockey and music have enjoyed a particularly close relationship over the past several decades. Perhaps it's that both involve unique talents specific to their own universe. Or maybe, without over thinking this too much, it's that every kid grows up dreaming of being either a rock star or a hockey player.
The Hockey Hall of Fame has woven a healthy amount of music into the 2004 Induction Weekend taking place from Friday, November 5 through to the actual Induction on Monday, November 8.
On Friday, November 5, the Hockey Hall of Fame will unveil six custom goalie masks designed and autographed by Don Cherry, Mike Weir, Nickelback, the Barenaked Ladies, Tom Cochrane and The Tragically Hip. The creation of these unique masks was initiated by the Canadian Spinal Research Organization under its fundraising initiative 'Shoot For A Cure,' and each of the celebrity participants has customized a mask that will be sold through an on-line auction. The six masks will be displayed in the Hockey Hall of Fame's new Collector's Corner exhibit and will be available for on-line bidding during the month of November.
On the Saturday evening, November 6, following the 2004 Legends Classic hockey contest between the Original Six Legends and the Expansion Legends, the Hockey Hall of Fame hosts a concert featuring Jim Cuddy's All-Stars along with special guests, the Skydiggers.
* * *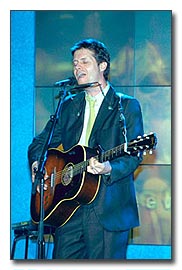 A perennial favourite of the Hockey Hall of Fame, Jim Cuddy performs at the 2002 Induction Gala.

Most of us know Jim Cuddy of Blue Rodeo as the owner of one of the most distinctive voices in music. Blue Rodeo's current CD, 'Palace of Gold,' is the group's tenth since debuting with 'Outskirts' in 1987. The group has won five Juno Awards (the Canadian equivalent of a Grammy) -- Single of the Year for 'Try' in 1989 as well as Canada's Group of the Year in 1989, 1990, 1991 and 1996. Besides fronting Blue Rodeo, Jim Cuddy released a solo album titled 'All in Time' in 1998, which earned him the Juno for Best Male Vocalist in 1999. In November 2003, Toronto's weekly NOW Magazine selected Cuddy as Best Male Vocalist.

"I learned to skate when I was five and living in Brantford (Ontario)," recalls Cuddy, explaining his love of hockey. "At the foot of our yard, there was an outdoor rink that somebody made. We moved to Montreal West when I was ten. I wasn't one of the better players. I shot right so they put me on right wing. I always played neighbourhood house league and then I played for my high school. After high school, that was it and I gave it up until my mother, for some unknown reason, bought me a pair of skates when I was starting Blue Rodeo in 1985. I've played more seriously as an adult than I ever did as a kid."

Jim is married with three children, yet still manages to juggle Blue Rodeo, the Jim Cuddy Band, a hectic home life and a regular hockey schedule. His hockey teammates include Hockey Hall of Fame Inductee Paul Coffey and former NHL forward, Bill Berg. "My first flush with meeting hockey players was at Maple Leaf Gardens around 1993," remembers Cuddy. "A friend of mine had tickets right behind the visitors' bench. In order to get to the seats, you had to walk right by the Leafs dressing room. When the game ended, I just burst into the Leafs dressing room. The guys were all changing. The usher came over and very politely said, 'Come on Jim, you've got to go.' Then Bill Berg stuck his head out of the crowd and said, 'It's okay, he's my guest.' I had never met Bill Berg. They let us stay, and Bill told me how much he liked our band. I got to be good friends with Bill and remain good friends with him to this day."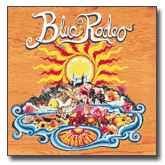 Blue Rodeo released 'Palace of Gold' in 2002 and are currently working on their next release.

"There's a reason I came back to hockey," admits Cuddy. "Yes, it's a chance to stay in shape and yes, it's the thrill of a personal challenge. The actual physical nature of the game is very enjoyable -- skating, feeling your balance, scoring. But I was about thirty. At that point in your life, you realize you cannot completely control and contain everything. You're in a bigger economic system; a bigger relationship system. At the end of the day, those things are joyful experiences but they're also slightly befuddling. But hockey is containable. Boards provide boundaries. The game is an hour long. One team scores more, it's over. It has rules and it has a very regulated code of behaviour. If people don't follow it, they are shunned by the rest of the wolf pack. It has all these elements that are finite, containable and controllable. Hockey is very satisfying to me for that reason."

Jim Cuddy is excited about performing at the Hockey Hall of Fame on Saturday, November 6. A favourite of Hall of Fame guests, Jim performed with Blue Rodeo at the 1999 Induction, long remembered as the evening Wayne Gretzky was inducted into the Hockey Hall of Fame. Blue Rodeo also played at the party celebrating the Hockey Hall of Fame's tenth anniversary at Yonge and Front streets. Earlier that day, the Jim Cuddy Band performed a free concert in the galleria of BCE Place.

* * *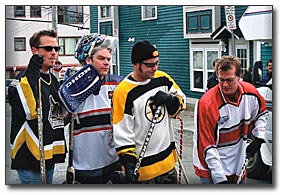 In April 2002, Great Big Sea competed in a street hockey game against the Barenaked Ladies in St. John's. (Left to right) Great Big Sea members Bob Hallett, Alan Doyle, Sean McCann and former
member, Darrell Power.

Joining Jim Cuddy's All-Stars at the Hall of Fame is Alan Doyle, guitarist and lead vocalist of Great Big Sea. Doyle grew up playing hockey in Petty Harbour, Newfoundland. "Playing hockey was, by far, the most popular pastime," he reveals. "With the exception of the one paved road that went through the town, when I was a little kid, the only flat piece of pavement was right next to the fish plant down at the wharf. It made for a good surface with one obvious shortcoming —: the ball constantly went into the Atlantic Ocean! We devised several ingenious ways to get the ball back. In true sports form, we became very good at throwing large rocks just past the ball and the waves would float it back in. One of the local fishermen donated a rodney (small fishing boat) so we could go out to retrieve the balls. Then we devised several intricate netting barriers to keep the ball from going out there in the first place."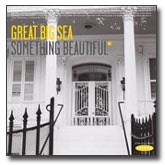 Great Big Sea's most recent CD, 'Something Beautiful.'

Alan and Great Big Sea joined a select group of musicians who have recorded songs about hockey. On their most recent CD, 'Something Beautiful,' is a hockey song titled 'Helmethead.' But outside the studio or stage, Alan enjoys strapping on the pads to play goal. "I wanted to be Ken Dryden," Doyle begins. "When I was 19, I tried out for one of the junior teams in St. John's. At that time, I was working full-time, I was playing in two different bands and I was attending university. There were eight goalies trying out and I was probably number seven at the first practice. They had five practices a week and three games. I thought, 'I can't do this!' I had to either give up university or give up playing in the bands or give up playing hockey, so I stopped playing hockey for almost eight years. In my late twenties, I started playing again, but during those years I didn't play hockey, I really missed it."

Alan will be one of the many All-Stars joining Jim Cuddy at the Hockey Hall of Fame on Saturday, November 6. He recalls another time he appeared at a high profile hockey event — the 2001 NHL All-Star Game in Denver, Colorado. "The NHL gave us a call and said, 'Alan, we want you to come down and play in the All-Star Game.' So I said, 'Wow! That's awesome! Should I bring my goalie gear?' and they said, 'No no no. We want you to play some songs!' But it was a big thrill to open the All-Star Game. It was something you don't forget! I took my brother and a couple of the buddies from back home. They really thought we'd made it when we were backstage at the All-Star Game!"

* * *

Also joining Jim Cuddy's All-Stars at the Hockey Hall of Fame concert is Kathleen Edwards. She, too, has her own hockey connection. On her critically acclaimed CD 'Failer,' Kathleen has a song called 'The Hockey Skates.'

* * *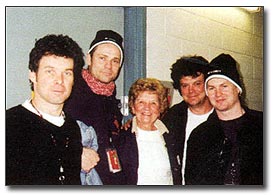 Celebrating 'Fifty Mission Cap' with Bill Barilko's sister, The Tragically Hip pose before a show in Mississauga. (Left to right) Gord Sinclair, Gord Downie, Anne (Barilko) Klisanich, Paul Langlois and Johnny Fay. Guitarist Robby Baker was unavailable.

The Tragically Hip is acknowledged as having the most played song about hockey in history: 'Fifty Mission Cap,' the story of tragic Toronto Maple Leafs hero Bill Barilko. "There must be something in Bill Barilko that people relate to. We're all united in tragedy," states the band's lead singer, Gord Downie. Bassist Gord Sinclair agrees. "We always thought it was such an amazing story. The way Bill Barilko's life played out was almost like a made-for-TV kind of story."

The Tragically Hip has designed one of the six masks being used to raise funds for the Spinal Cord Research Association's Shoot for a Cure. The band members are enormous hockey fans. "Like most kids, everything was hockey and hockey was everywhere and you could turn anything into hockey. And would -- in your rec room or in your garage or on a puddle that's larger than normal. You can make hockey anywhere and you do, so that's what I did," Gord Downie explains. "I was a goaltender from my second year on. Hockey is such a strange game that I wanted to check it out from all angles and had some foam rubber in the garage and I had an older brother who manipulated me into becoming a moving target. That's how most goalies are born. I had a proclivity towards it and I enjoyed it. You either do or you don't. I did. It becomes a love/hate relationship from then on out." Downie still enjoys a respite from music in the form of a hockey game. "I live across from a rink and I chart my movements a lot by it. If I'm around, I play goal with guys in my neighbourhood. Sticks in the middle sort of thing."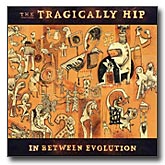 The Tragically Hip's latest release is 'In Between Evolution.'

Gord Sinclair recalls his roots in hockey, too. "Like most other kids, I played hockey until I was twelve or thirteen years old. I was never all that good at it but I played it all the time. Hockey was everything, from collecting the hockey cards. It's a fantastic game." Unlike bandmate Downie, Sinclair no longer plays organized hockey. "A friend of mine just retired from the league and he's got a rink down in front of his place (near Kingston) so we lace 'em up with some of the guys. We used to play in a league but I stopped that three or four years ago. A guy took a stick to the face and lost a bunch of teeth and I realized I was getting a little old to be doing that and I didn't want to put the visor on," Sinclair laughs.

Hockey and music; music and hockey -- as intertwined as any two disciplines can be. Join the Hockey Hall of Fame during the 2004 Induction Weekend for an interesting taste of music with your hockey. On Friday, November 5, it's the unveiling of Shoot for a Cure's custom goalie mask display, including a mask designed by The Tragically Hip, in the Hall of Fame's Collector's Corner. Then Saturday, November 6, Jim Cuddy's All-Stars, featuring Alan Doyle of Great Big Sea and Kathleen Edwards, entertain in the Hockey Hall of Fame. Tickets are $40 each (plus GST) and can be purchased online. Doors open at 8, and the Skydiggers will open the show. The event will include a cash bar and complimentary food stations.

Click here for more information on the 2004 Induction Weekend.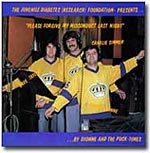 Vinyl record featuring Marcel Dionne & the Puck-Tones (Triple Crown linemates Dave Taylor and Charlie Simmer)
Notable Songs About Hockey
"Fifty Mission Cap" by The Tragically Hip
"The Hockey Song" by Stompin' Tom Connors
"Big League" by Tom Cochrane
"Hockey Night in Canada Theme" by Dolores Clamen
"Hit Somebody" by Warren Zevon
"Clear the Track (Here Comes Shack)" by Douglas Rankine & the Secrets
"Hockey" by Jane Siberry
"Helmethead" by Great Big Sea
"I Wanna Drive A Zamboni" by the Gear Daddies
"Gretzky Rocks" by The Pursuit of Happiness
Notable Songs By Hockey Players
"Honky (the Christmas Goose)" by Johnny Bower, Little John & the Rinky Dinks
"Please Excuse My Misconduct Last Night" by Dionne & the Puck-Tones
(Marcel Dionne, Charlie Simmer and Dave Taylor)
"Hockey Sock Rock" by the Ranger Rockers
(John Davidson, Ron Duguay, Phil Esposito, Pat Hickey and Dave Maloney)
"Everything" by Grinder
(featuring Darren McCarty)
"Bomber" by Ken Baumgartner
Kevin Shea is the Manager of Special Projects and Publishing at the Hockey Hall of Fame.