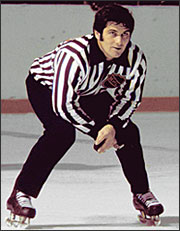 Ray Scapinello broke into the National Hockey League on October 17, 1971 working his first game between the Buffalo Sabres and the Minnesota North Stars.
(Portnoy/HHOF)

Few hockey fans will forget long-serving linesman Ray Scapinello dart down the ice retrieving an iced puck or standing on the toes of his skates to intercede between two scrapping behemoths.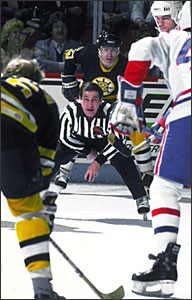 Ray Scapinello sets up a faceoff between the Montréal Canadiens and the Boston Bruins. According to Scapinello, Stan Mikita was the best faceoff man he's seen while officiating. (Paul Bereswill/HHOF)

Born in Glen Christie, Ontario in 1946, Ray Scapinello played minor hockey in Hespeler, Ontario, now part of Cambridge. A fine player, he played Junior with the Guelph Platers and Senior Hockey with the Guelph Regals. But while pursuing a playing career, Mel McPhee (later to become colleague Bill McCreary's father-in-law) convinced Ray to become an official.

Scapinello joined the Guelph Referees' Association in the late 1960's, and officiated amateur and junior leagues. After attending Bruce Hood's officiating school in 1968, Ray officiated in an outlaw Junior League as well as the Ontario Hockey Association where he was noticed by NHL officials, Frank Udvari and Scotty Morrison.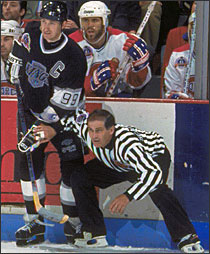 Through 33 years as an NHL official, Scapinello remarkably never missed a game. (Paul Bereswill/HHOF)

Although invited to the NHL Officials' camp in 1970, Scapinello wasn't hired. But undeterred, he went back a year later and was invited to the NHL rookie camp.

While holding down a full-time job in Guelph during the week, Ray officiated AHL games on weekends, until he was hired as an NHL official prior to the 1971-72 season.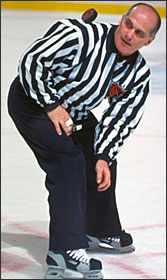 Scapinello retired after officiating his 2,500th regular season game appropriately in the same city in which it had begun: Buffalo, New York. (Dave Sandford/HHOF)

Ray's first game saw the hometown Buffalo Sabres take on the Minnesota North Stars on October 17, 1971. Never dreaming how long his officiating career would last, Scapinello officiated his final game on April 2, 2004. That game, Ray's 2,500th, featured the Toronto Maple Leafs visiting the Sabres in Buffalo. Through thirty-three years, he never missed an assignment and on twenty occasions, was selected as the best linesman in the business.

In addition to his landmark regular season contests, Ray also officiated 426 Stanley Cup playoff games, including twenty years in the Stanley Cup Finals. He also was a linesman in three NHL All-Star Games and was one of the officials hand-selected to work at the 1998 Winter Olympic Games in Nagano, Japan.

Giving back has always been important to Ray, who started the Ray Scapinello Foundation in 2006 to help Guelph area students pay for their post-secondary education. The Ray Scapinello Road Hockey Tournament is held annually to raise funding for local charities.

Since his retirement, Scapinello has been a supervisor for Central Hockey League, and has written a best-selling book about his storied career.