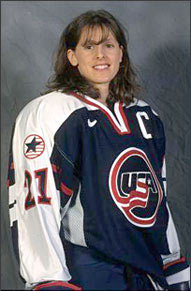 Starring at forward, Granato played on all boys' teams until the age of sixteen.

Born into a large hockey family, Catherine Michelle Granato, soon to be known as Cammi, entered the world on March 25, 1971 in Downers Grove, Illinois, a village 20 miles (31 kilometers) west of Chicago. Cammi was one of six children in the Granato household, which included a sister, Christina and four brothers. Among them was Tony, who went on to enjoy a fine NHL career. Cammi was determined to be an elite hockey player, and although her brothers insisted she play goal for them, Cammi balked and was steadfast in her determination to become a goal scorer.

Registered on a boys' team at the age of five, Cammi immediately embraced the game and excelled, establishing herself as one of the better players in the area, regardless of gender. In her most fervent dreams, she hoped to one day play for the Chicago Blackhawks.

Starring at forward, Granato played on all boys' teams until the age of sixteen, but chose not to play in her last two years of high school. By then, body contact was permitted and the boys had not only grown larger and stronger, but also targeted the skilled but smaller Cammi. Instead, she played basketball, handball, soccer and tennis on women's teams and baseball on the boys' team.

A return to hockey came in 1989 when Cammi was offered a hockey scholarship at Providence College. In her inaugural year at the college, she was named freshman player of the year and later, was selected as the Eastern College Athletic Conference's Women's Hockey Player of the Year. In 1992 and 1993, Granato led Providence to league titles. In 93 college games, she scored 135 times and assisted on 110 others for 245 points.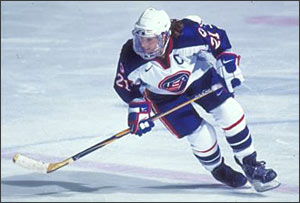 In 1996, Granato was named USA Women's
Player of the Year.

While playing at Providence, Cammi became a founding member of the United States Women's National Team, and helped lead the team to a silver medal at the inaugural Women's World Championships in 1990.

After graduating from Providence and without any NCAA eligibility remaining, Cammi moved to Montreal to earn her masters degree in sports administration at Concordia University. In 123 games, Granato scored 178 goals and 148 assists for 326 points, and was instrumental in Concordia capturing three consecutive provincial championships. In 1996, she was named USA Women's Player of the Year.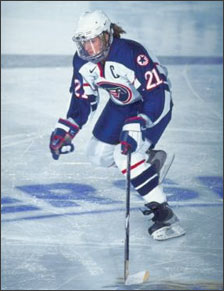 In 1998 Cammi was able to devote herself to the U.S. Women's National Team, helping Team USA win the Olympic gold medal.

Women's hockey became an official Olympic Sport at the 1998 Winter Games in Nagano, Japan. Cammi had graduated from Concordia in 1997, and was then able to devote herself to the U.S. Women's National Team. Named team captain, Cammi and her American teammates earned an upset gold medal victory over the favoured Canadians. Cammi was honoured with the opportunity to be the flagbearer at the closing ceremonies at those Olympics.

Although invited to attend a New York Islanders' training camp, she declined, choosing instead to contribute to Los Angeles Kings' broadcasts. That choice was abandoned after one season so she could continue her playing career. 2002 saw Cammi captain Team USA at the Winter Olympics in Salt Lake City. The United States took the silver medal after losing a close contest against Canada.

With full intention of returning to the Olympics one last time in 2006, Granato was bitterly disappointed when she did not make the final line-up. "I'm heartbroken right now," she said. "I could never fathom (that) this is how my hockey career would end. My only focus was the Olympics because in my sport, that is the ultimate. Everything is geared toward that, and my entire life was geared around getting there and winning gold."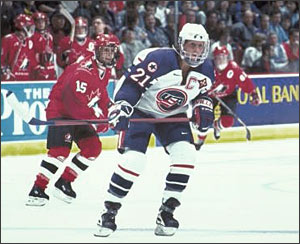 Granato won Olympic Gold in Nagano in 1998 and a
World Championship title in 2005.

Cammi Granato's international career concluded having played 54 games, scoring 54 goals and 42 assists for 96 points, making her the all-time leading scorer in women's international hockey. During that time, teams on which she played won an Olympic gold medal, Olympic silver, one World Championship and eight silver medals in World Championship tournaments. In 2007, Cammi was awarded the Lester Patrick Trophy for her contributions to hockey in the United States. The next year, Cammi broke the invisible ceiling when she was inducted into the IIHF's Hall of Fame along with Geraldine Heaney and Angela James. That same year, Granato made history by being the first female inducted into the U.S. Hockey Hall of Fame.

Her hockey career far from over, Granato was rinkside reporter for NBC's NHL coverage and a colour commentator on NBC's coverage of women's ice hockey at the 2010 Winter Olympic Games in Vancouver. She started the Golden Dreams for Children Foundation, providing support for special needs children. She also operates an annual hockey camp for girls during summers in Chicago and is a partner in BelaHockey, a company that creates hockey accessories for girls. Cammi is married to former NHL star Ray Ferraro.

In 2010, Cammi Granato made history by earning the right to become the first woman inducted into the Hockey Hall of Fame.
Career International Tournament Statistics

Year
Tournament
No.
GP
G
A
TP
PIM
1990
Women's World Championship
21
5
9
5
14
4
1992
Women's World Championship
21
5
8
2
10
2
1994
Women's World Championship
21
5
5
7
12
6
1995
Pacific Women's Championship
5
4
7
11
4
1997
Women's World Championship
5
2
3
5
2
1996
Pacific Women's Championship
5
5
3
8
0
1997
Women's World Championship
21
5
5
3
8
4
1998
Olympic Games -- Women's Hockey
21
6
4
4
8
0
1999
Women's World Championship
21
5
3
5
8
0
2000
Women's World Championship
21
5
6
1
7
0
2001
Women's World Championship
21
5
7
6
13
0
2002
Olympic Games -- Women's Hockey
21
5
6
4
10
0
2004
Women's World Championship
21
3
0
2
2
0
2005
Women's World Championship
21
5
1
3
4
2
Totals
64
63
52
115
22